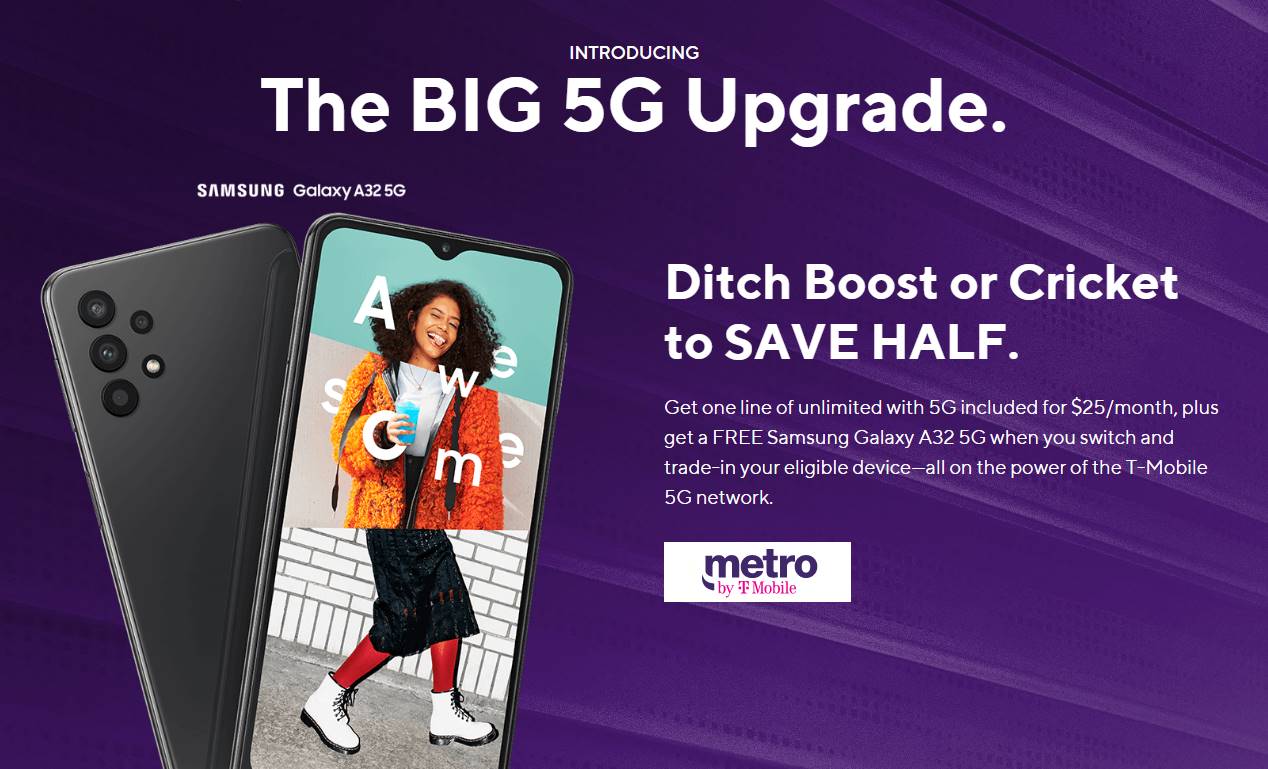 ---
Yesterday, with its usual pomp and circumstance, T-Mobile unveiled a new switcher promo for Metro by T-Mobile telling customers they can save half off Boost Mobile and Cricket's top plans. The new deal went live today. Customers that switch to Metro by T-Mobile can get an unlimited 5G data plan for just $25/month, taxes included, plus a free 5G phone. Despite T-Mobile describing the offer in its press release as "no hoops, no BS," the offer actually has plenty of both. Let's take a closer look at this new deal, and compare it to other offers currently on the market.
For starters, Metro's offer is only available through dealer stores. You can't get it online. Second of all, although it's an unlimited data plan, you're not getting any hotspot data with it. Cricket's top unlimited plan ($55 with autopay) includes 15GB of hotspot data, and Boost's flagship $60 35GB plan allows for 30GB of data to be used for hotspot. Hotspot isn't a feature used, needed, or understood by everybody, still, that's a limit for this unlimited plan.
Another Metro plan limit is that video streaming is restricted to a resolution of 480p. Furthermore, the plan only contains 35GB of priority data before throttling may occur. Customers that use more than 35GB of data in a month will have their data speeds temporarily reduced during times of network congestion.
The offer also requires customers to port-in with ID validation and to trade in a phone. Yep. To get the phone plan, you must trade in your phone. Metro does at least say any working device will do, including an old flip phone. You also get a free Samsung Galaxy A32 5G with your trade-in. Tax on the phone's full retail price of $289.99 is due at the time of purchase, and the phone will be made "free" minus taxes via a rebate at time of the sale. If you are a current customer of T-Mobile or have been active on Metro anytime within the past 180 days, you do not qualify for the promo unless you are porting in a new line from an unrelated carrier.
The last big limit with the plan is that the plan's price is only locked in for 24 months. Metro by T-Mobile says after 24 months, the price of the plan may increase. Metro currently does not offer an unlimited data plan with no hotspot as part of its regular plan lineup. The current closest regular plan to the promo offering is an unlimited plan priced at $50/month that includes 5GB of hotspot data. So, if Metro doesn't change the pricing of its plans much in the next 24-months, expect the promo plan's price to increase to somewhere slightly below the $50 price point.
There's a little more BS to get to in T-Mobile's press release. Directly from that press release is a quote from Jon Freier:
"Our smartphones are our lifelines, and yet a generation of prepaid customers are being left behind in the 5G era by providers with over-priced connections. If Cricket or Boost won't upgrade their customers with free 5G devices, Metro by T-Mobile sure will." -- Jon Freier, Executive Vice President, T-Mobile Consumer Group.
The press release continued with "when you switch to Metro, you don't get left behind. Boost and Cricket continue to charge premiums for 5G devices."
Well, those claims aren't exactly true. Boost Mobile was offering the Moto Stylus 5G for free to switchers weeks ago. And Boost Mobile started offering the Samsung Galaxy A32 5G for free to switchers before that T-Mobile press release even came out. Ouch. Freirer's statement is a bit of a stretch. Cricket Wireless isn't currently offering any free 5G phones, but they do offer a few with nice discounts. For instance, the Samsung Galaxy A32 5G and Moto G Stylus 5G are both $99.99 and regularly priced at $279.99 and $229.99 respectively.
As far as unlimited data plans go, Metro's does at least match the industry's best priced unlimited plan for single line customers depending on how one defines Visible's unlimited plan. Visible offers an unlimited plan that's regularly priced at $40/month, but subscribers who join a Party Pay group with at least 4-members pay just $25/month for their plan. Visible's Party Pay groups can consist of total strangers with no limits on the number of member's in a group. And they're super easy to join. All you have to do is head to Visible's Party Pay webpage and click "join a party" to find one. Visible operates on the Verizon network, and its unlimited plan includes unlimited hotspot data at 5Mbps, and 5G network access although 5G data speeds are capped at 200Mbps.
---
---