Google Fi Has New SIM Kit At Best Buy And Target That Includes Bill Credits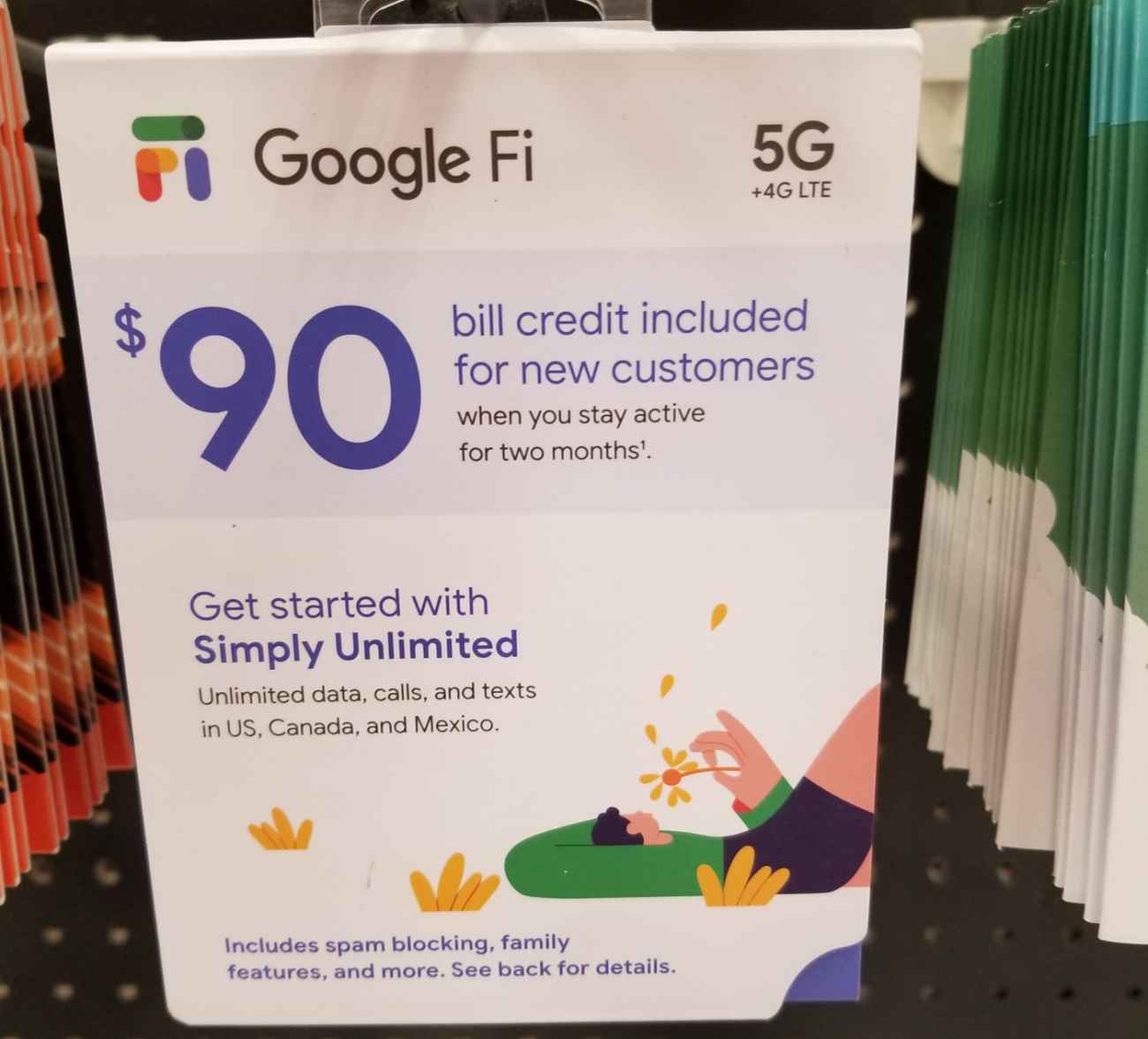 Google Fi has launched a new SIM card kit in both Best Buy and Target stores. The SIMs were first spotted and detailed in a recent prepaid report released by the firm Wave7 Research. BestMVNO has observed them locally in each store.
The new "Simply Unlimited" SIM kit sold in stores costs $60 and is marketed as coming with $90 in bill credits for new customers who stay active for two months. Of course, customers are paying $60 to receive $60 in credits. But there is a bonus offer of $30 in free credits for new customers. Here's how that offer works.
Google Fi Best Buy/Target $30 Bill Credit Offer Fine Print
The SIM kit does appear to require customers to signup for Google Fi's $60 unlimited plan, at least initially. The description for the SIM kit on Best Buy's product page specifies that "when you buy the Simply Unlimited SIM kit you get $60 towards your first bill" (emphasis mine). New customers who stick with Fi then get a $30 credit towards their next month's bill. I am unsure if unused credits from the $60 credit would carry over to the next month if not all used in the first month. The Best Buy product description also reads "Start with the Simply Unlimited plan if you want unlimited data, calls, and texts in the U.S., Canada and Mexico. If you need more data abroad or just want to pay for the data you use, our Unlimited Plus and Flexible plans are great options too. No matter what plan you choose, the bill credits still apply."
Google Fi's $60 unlimited plan is a relatively new plan. It was released earlier this year in April. The plan includes unlimited everything with the first 22GB of data available at high speeds before throttling. Throttled data speeds are a little faster than what most other providers offer and are at 256Kbps. Most others are at 128Kbps or less.
Google Fi's $60 unlimited plan does not allow subscribers to use their phone's hotspot. Customers would need to upgrade to Unlimited Plus for $70/month to get that feature as well as international data usage at no extra cost while traveling outside the USA, Mexico, and Canada. All Fi plans do include data usage in Mexico and Canada and free calling to those countries.
The front packaging of the new SIM card kit emphasizes that Fi includes spam blocking, family features, and more. Other service features such as a built-in VPN to help protect your online activity are highlighted on the back.
Google Fi has been trying to emphasize its VPN privacy and spam blocking features as points of differentiation compared to other providers. In May of 2021, BestMVNO detailed several Google Fi TV commercials and online ads that highlighted those particular features. And Wave7 Research noted in its latest prepaid report that since 9/20, Google Fi has aired a TV ad more than 400 times that highlights Fi's spam blocking features.
"Generous offer from Google Fi, but even more interesting is the fact that Google Fi has resumed airing TV ads. Google has very deep pockets and yes, the Pixel 6 is now out there, high visibility." -- Jeff Moore, Principal of Wave7 Research
Google Fi operates primarily as a T-Mobile MVNO and uses that network as well as US Cellular's for coverage.
---
---