Gen Mobile Offering New Customers A Multi-Month Plan, Get 3 Months With 1GB Data For $13/Month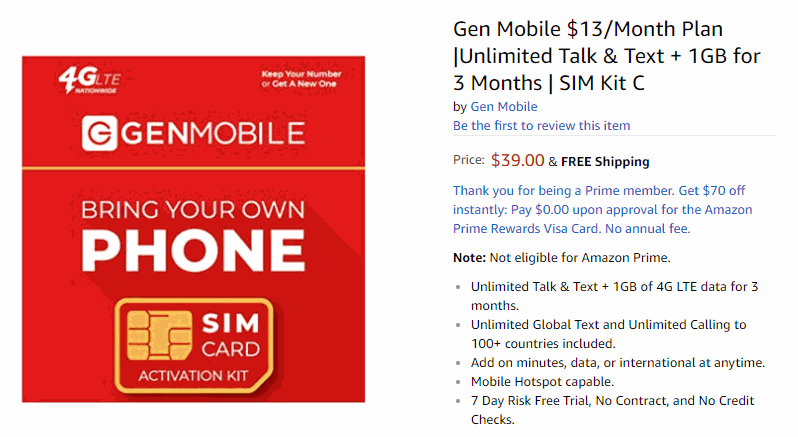 Multi-month phone plans are becoming an industry trend.    BestMVNO has tracked several providers over the past year that have either launched multi-month plans or have made them more widely available.  Some of those providers include Unreal Mobile, Total Wireless, and Ultra Mobile.
Multi-month plans require consumers to pay for several months of service in advance.  This can be a benefit to both the consumer and the cellular provider.  Consumers get better pricing on their wireless plans and prepaid providers hold onto their customers for longer periods of time.
Now you can add Gen Mobile to the list of wireless providers that have recently begun to offer multi-month plans. Gen Mobile's offering does differ from other providers in that it is for new customers only.  Gen Mobile customer support informed BestMVNO that once the multi-month billing cycle is finished customers can only renew on a single month plan.
Gen Mobile is a Sprint based wireless provider that launched last summer. The company offers several monthly low cost phone plans ranging in price from $5/month to $25/month.
Gen Mobile's new multi-month plan is available exclusively at Amazon.  It offers new subscribers 90 days of wireless service with unlimited talk and text and 1GB of monthly 4G LTE data.  The plan also includes unlimited international calling to over 100 countries, unlimited international texting and mobile hotspot.   It is priced at $39 which works out to an average cost of $13/month. That's a small discount over the $15/month single month plan that the multi-month plan is based on.  Data is hard capped for both plans, but extra data can be purchased priced at $5 for 500MB.
Both the single month plan and the multi-month plan include a 7-day money back guarantee.  Customers who are unhappy with their service within the first 7 days of plan activation can get a refund for their plan minus the costs for shipping and handling.
Those interested in service on Gen Mobile can bring their own Sprint compatible phone over to the network as long as it is free of contract and has no unpaid balance on it. Boost Mobile and Virgin Mobile phones are also compatible but typically need to be used on either Boost Mobile or Virgin Mobile for up to 12 months before they can be used on another provider.
---
---