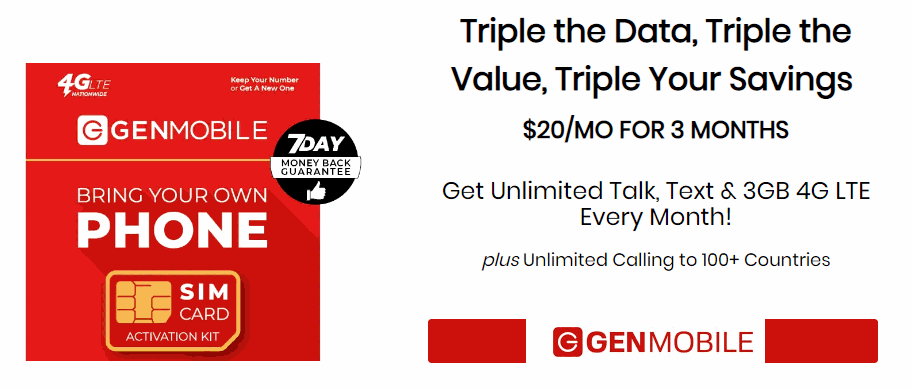 ---
A few weeks ago, Gen Mobile quietly launched a 90-day plan sold exclusively through Amazon.  At launch, it was only available to new customers, and subscribers who took advantage of the offer could not renew it after expiration.  Instead, they had to opt for a slightly more expensive pay by the month plan.  Now, thanks to a plan update from Gen Mobile, customers will be able to renew that plan.  They'll also have the opportunity to choose from several other 90-day plan options.
Gen Mobile's New Multi-Month 90-Day Phone Plans
Gen Mobile has announced 4 new multi-month plans that are available for purchase through the MVNO's website.  The plans are currently only available through hidden links on the Gen Mobile website which are linked to in the plan descriptions below:
$27 (average cost of $9/month) - includes 300 minutes, unlimited text, and 1 GB of 4G LTE data each month.  Regularly priced at $10/month.  Available here.
Unlimited Talk And Text Plans
$39 (average cost of $13/month) - includes 1GB of 4G LTE data each month.  Regularly priced at $15/month. Available here.
$48 (average cost of $16/month) - includes 2GB of 4G LTE data each month.  Regularly priced at $20/month.  Available here.
$60 (average cost of $20/month) - includes 3GB of 4G LTE data each month.  Regularly priced at $25/month, a savings of 20% off the plans regular price.  Available here.
Taxes and fees are not included in the prices shown and cost extra.
All plans shown include unlimited global texting and mobile hotspot.  Data is hard capped.  There is no additional data available at slower speeds if you run out of data.  However, if a customer does run out of data they can add more at a cost of $5 for an additional 500MB of 4G LTE data.  The unlimited talk and text plans also include unlimited global calling to over 100 countries.
All plans also include what Gen Mobile calls a "15 day text freebie."  The text freebie offers subscribers the ability to send domestic and international text messages (SMS only, no MMS/picture messages) for up to 15 days after plan expiration.  After that, if a plan fails to get paid for and renewed, service is suspended.
Plans purchased online directly from Gen Mobile or sold by Gen Mobile on Amazon include a 7-day risk-free trial.  Within the first 7 days of activating a plan, if a customer is unhappy for any reason, Gen Mobile will refund the customer for the cost of their plan and activation fee minus the costs associated with shipping and handling.
Gen Mobile operates on the Sprint network.
Editor's Take
Gen Mobile is another provider to jump on the multi-month plan bandwagon.  Just a few days ago Republic Wireless announced annual plans.  Earlier in the year, Total Wireless announced one, and Ultra Mobile recently made their 90 day plans more accessible. Multi-month plans can be advantageous for both the provider and the customer.  The provider gets guaranteed revenue out of the deal and should also have a lower customer churn rate.  The customer benefits with cheaper pricing, although the subscriber also takes on some risk.  If the provider goes out of business, or another provider comes out with a better offer, the subscriber may lose out.
---
---