Republic Wireless Adds Annual Plans, Pricing Starts At $12.50/Month For Unlimited Talk & Text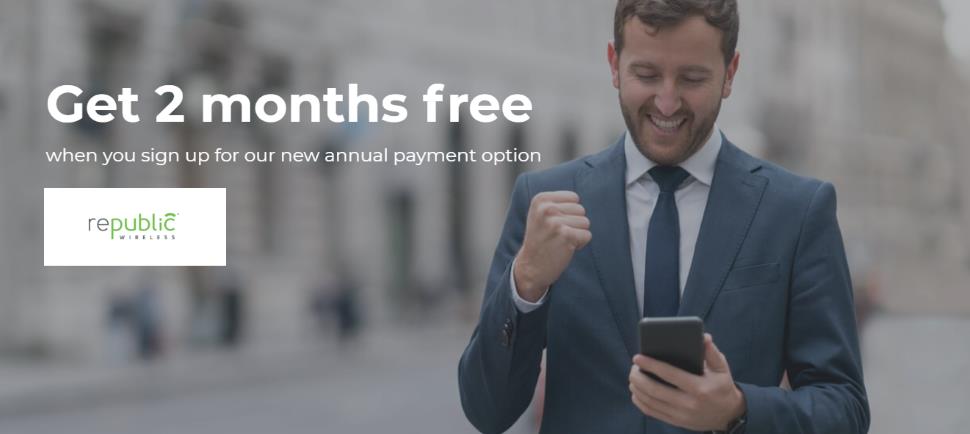 Republic Wireless is the latest MVNO to jump on the multi-month plan bandwagon.  Today the company announced the availability of annual plans.  Republic Wireless is advertising that customers "Get 2 months free when you sign up for our annual payment option."
The annual plan options break down as follows:
Republic Wireless Annual My Choice Plan Options
$150/yr - average cost of $12.50/month for unlimited talk and text.  Regular pay by the month rate is $15/month
$200/yr - average cost of $16.67/month, includes unlimited talk and text with 1GB of data.  Regular pay by the month rate is $20/month.
$250/yr - average cost of $20.83/month, includes unlimited talk and text with 2GB of data.  Regular pay by the month rate is $25/month.
Data is hard capped with each plan, however, subscribers can add additional data to any plan at any time at a cost of $5/GB.  Taxes and fees cost extra and are not included in the prices shown.
Some other things you may want to know about the annual plan include the following:
The annual plan is not refundable.  Before subscribing to an annual plan you first have to subscribe to a monthly plan.  The monthly plan does come with a 14-day money back guarantee.  So if you are unhappy with your service during that time span, you can get your money back.  Once you commit to an annual plan though, you are locked in.
The plan does not auto-renew.  If at the end of the year you'd like to renew for another year you have to manually renew, otherwise, you'll automatically be placed back on the monthly plan you were on before signing up for an annual plan option.
You cannot make changes to the base plan during the 12th month period, however, you can always add a one-time data purchase to the plan.
Those interested in a Republic Wireless annual plan may first want to take advantage of the MVNO's get 2 months of free service option that is being offered to those who port their number to Republic Wireless.
More About Republic Wireless
Republic Wireless offers nationwide cellular coverage via the Sprint network and the T-Mobile network. Service is also provided over WiFi networks. At this time, Republic Wireless only supports Android devices.
---
---