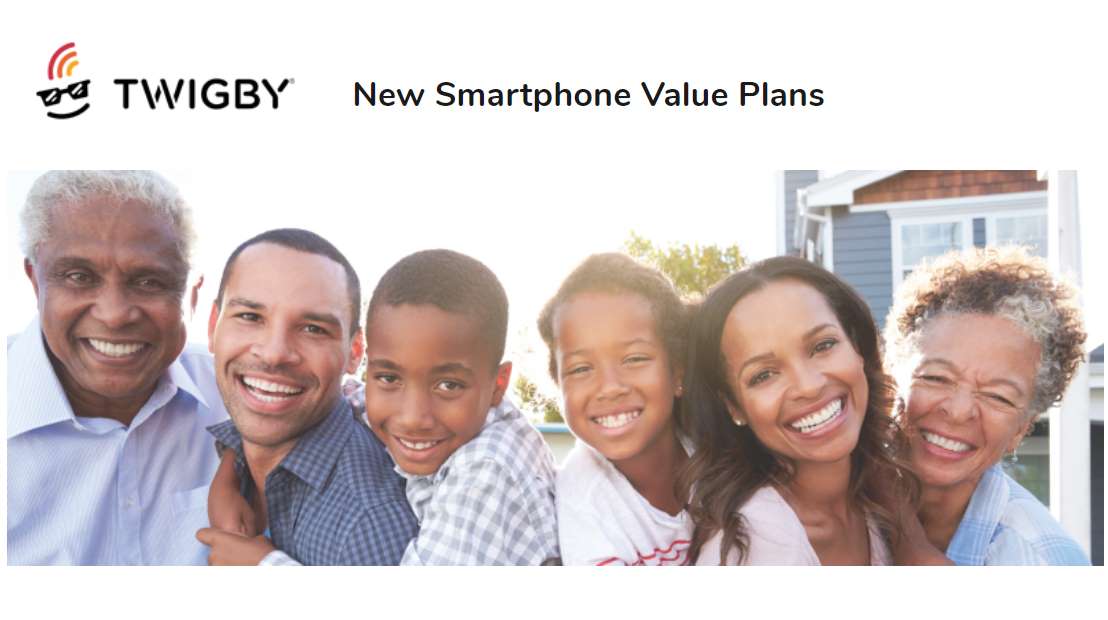 ---
Twigby has updated its wireless plans.  The Sprint MVNO with roaming on Verizon has some new "Value Plans" that will live alongside their build your own plan options.  The new plans start at $20/month but a perpetually running promotion from Twigby gives new customers 25% off for their first 6-months of service which lowers the plan price to $15/month.  Twigby's 25% off promotion has been in effect since March of 2018.
Twigby's 2020 Smartphone Value Plans Explained
Twigby's Smartphone Value Plans all include unlimited talk and text with the potential for unlimited data at 2G data speeds.  In order to get unlimited data at 2G data speeds once a plans high-speed data allotment runs out, customers must enable overage protection in their accounts.  Without overage protection enabled, customers who run out of high-speed data mid-billing cycle will automatically be moved up to the next higher-priced plan for the remainder of the month.  Customers will then be billed for the difference in price between the two plans.  At the start of the next billing cycle, the customer's plan will automatically drop down to the previous plan that they had.
Twigby is offering 3 Value Smartphone Plans which are broken down as follows:
$20/month ($15) - 3GB of high-speed data
$25/month ($18.75) - 5GB of high-speed data
$35/month ($26.25) - 10GB of high-speed data
Pricing shown in parentheses is what new customers pay for their first 6 months of wireless service.
All plans include WiFi calling and texting, international calling and texting, domestic talk and text roaming on the Verizon network, and mobile hotspot at no extra charge.  Taxes and fees cost extra.
The new Smartphone Value Plans will co-exist with Twigby's custom build phone plan options which have not been updated.  The custom build options are shown in the table below.
Twigby's Custom Build Phone Plan Options

| | | | |
| --- | --- | --- | --- |
| | 300 Minutes | 500 Minutes | Unlimited |
| 0GB | $9.00 | $11.00 | $13.00 |
| 200MB | $12.00 | $14.00 | $16.00 |
| 1GB | $15.00 | $17.00 | $19.00 |
| 2GB | $19.00 | $21.00 | $23.00 |
| 3GB | $24.00 | $26.00 | $28.00 |
| 5GB | $29.00 | $31.00 | $33.00 |
| 10GB | $39.00 | $41.00 | $43.00 |
New customers do get 25% off the pricing shown in the chart for their first 6-months of service.  The plans come with all the same features that the new Smartphone Value plans include.
What's peculiar is that some custom build plan options are more expensive than their Smartphone Value plan counterparts.  For instance, a subscriber that custom build an unlimited talk and text plan with 5GB of data would pay $33/month, yet the same Smartphone Value plan would only be $25/month.
Twigby tells me that most subscribers that custom build a plan are subscribed to their lowered tiered plans.  They also stated that they have been letting subscribers on custom build plans know if they would benefit by switching to one of the new offerings.  The plans are said to be going over extremely well with customers.
Twigby's new phone plans were announced yesterday in a blog post.
---
---