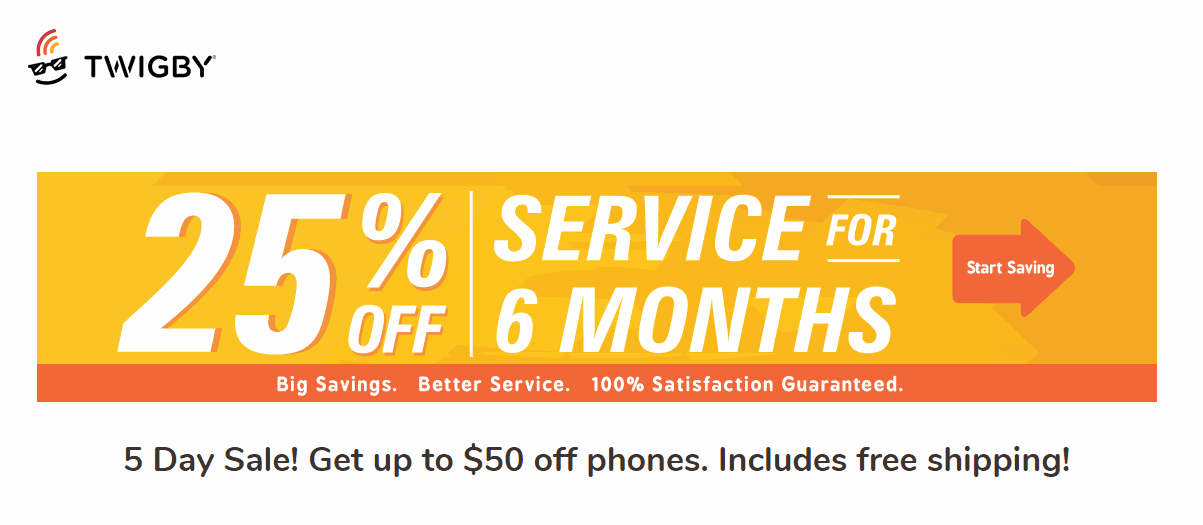 ---
Twigby has just launched a new promotion.  New customers can now get 25% off of their first 6 months of service. The new promotion is a replacement for a previous offering that gave new customers 50% off for their first two months of service.
Twigby's 25% Off Discounted Phone Plans
Twigby offers its subscribers the ability to custom build their own phone plans. Customers first choose the amount of minutes that they want, and then if desired, pair that with a data package. All plans come with unlimited domestic and international texting, free roaming on the Verizon network and unlimited 2G data.
Twigby is a Sprint powered MVNO.
Voice Packages
200 minutes - $9/month or $6.75 for first 6 months
500 minutes - $11/month or $8.25 for first 6 months
1000 minutes - $13/month or $9.75 for first 6 months
Unlimited minutes - $15/month or $11.25 for first 6 months
Data Add On Packages
150 MB - $3/month or $2.25 for first 6 months
500 MB - $6/month or $4.5 for first 6 months
1 GB - $10/month or $7.5 for first 6 months
2 GB - $15/month or $11.25 for first 6 months
4 GB - $25/month or $18.75 for first 6 months
Customers can move up to a different plan mid-month if they so choose, and they'll only be charged for the differences between each plan price.
Taxes and fees cost extra and are not included in the prices shown.
Twigby says that it is offering the discount only once per phone MEID number and that a maximum of 5 discounts can be had per person/account or household.
There is no word as to how long the promotional pricing will last. The company says that it can pull the plug on it at any time. Twigby's last promotion went on for 5 months.
In addition to the plan promotion, Twigby is also selling select phones such as the Samsung Galaxy S7 for $50 off which in this case amounts to $298.
---
---