Consumer Cellular And T-Mobile Named Top MVNO And Carrier In Latest Market Force Study
Market Force Information (Market Force), just completed a research study that named Consumer Cellular America's favorite MVNO and overall wireless provider.  T-Mobile was named the best out of the big 4 wireless carriers.  This marks the third year in a row that the customer experience research firm named those two providers tops in their respective categories.
Market Force reached these conclusions based on a consumer survey of over 8,800 persons conducted online in May of 2018.   The respondents represented a cross section of the four major US census regions with varying levels of income.  A total of 51% of household's surveyed reported income of over $50,000/year.  Approximately 69% of those surveyed were woman, while 30% were men.  Ages ranged from 18 years old to over 65.
To determine rankings, Market Force asked each participant to rate the level of satisfaction they had with their most recent experience with a wireless provider.  They were also asked about the likelihood that they would refer that provider to others.  The answers were then  averaged and assigned a score.   Market Force refers to this score as the Composite Loyalty Index Score (CLI).  The obtained data has a margin of error of 2%.
How The Major Carriers Performed In 2018
T-Mobile continued to rank number one in the major carrier category.  The brand obtained a CLI score of 46%, which was three percentage points better than last year.  Verizon Wireless also improved with a score of 38%, one percent better than the prior year.  AT&T suffered the biggest drop off with a score of 30%, down two points compared to the prior year.  Once again Sprint finished last with a score of 25%, which was 1% worse than 2017.  The survey also revealed that Sprint customers are the ones most likely to consider switching to another provider.
How Prepaid And Small Providers Faired
Consumer Cellular ranked as the clear winner with a CLI score of 71%, a decrease of 2% compared to the prior year.  Cricket Wireless came in tied for second with a score of 56%, an improvement of 5% compared to 2017.  Straight Talk Wireless also improved to a score of 56% tying it for second place.  US Cellular ranked last with a score of 36%, however that was an improvement of 4% compared to last year.
Prepaid Use Continues To Be On The Rise
The survey found that prepaid and pay as you go subscriptions continue to be on the rise.  Since 2016 contract plan use has dropped from 62% to 50% in 2018.  During the same time frame, prepaid subscriptions grew by 7% while pay as you go gained 5%.
How All Providers Compared On Call Quality And Data Speeds
Part of Market Force's research looked at several different categories and ranked each provider accordingly.  Providers received scores for call quality, data speeds, dropped call frequency, value and more.  A total of 9 categories were studied.  Consumer Cellular finished number 1 in 7 of the categories.  The major carriers tended to not fair so well.  You can see how your favorite carrier or provider ranked in the infographic below.
What's interesting is the huge difference in scores between some MVNO providers and their parent network's.  For instance Consumer Cellular received a score of 53% for data speeds, while AT&T received a score of 31%.  Consumer Cellular primarily uses AT&T's network to provide service to its subscribers, although in some instances T-Mobile is used.  T-Mobile only got a score of 39%.
So how can an MVNO receive a higher score for data speeds than the parent network?  MVNO's after all have their data speeds prioritized below that of the parent network.  This doesn't mean that an MVNO will have speeds that are slower, but that tends to be the case when the parent network has a lot of traffic going through it.  Perhaps survey respondents overlooked this given the cheaper price they generally pay an MVNO for service or they were just simply happier with what they got for the price.
A Comparison Of Each Provider's In Store Experience
The Market Force survey used 8 different questions to rank a provider's in store experience.  Cricket Wireless ran away with the lead in 7 out of 8 categories.  The only category it failed to take number 1 in was for friendliness, a category it finished number 2 in with a score of 67%.  T-Mobile came in first with a score of 70%.  You can see the scores of all the stores tested in the infographic below.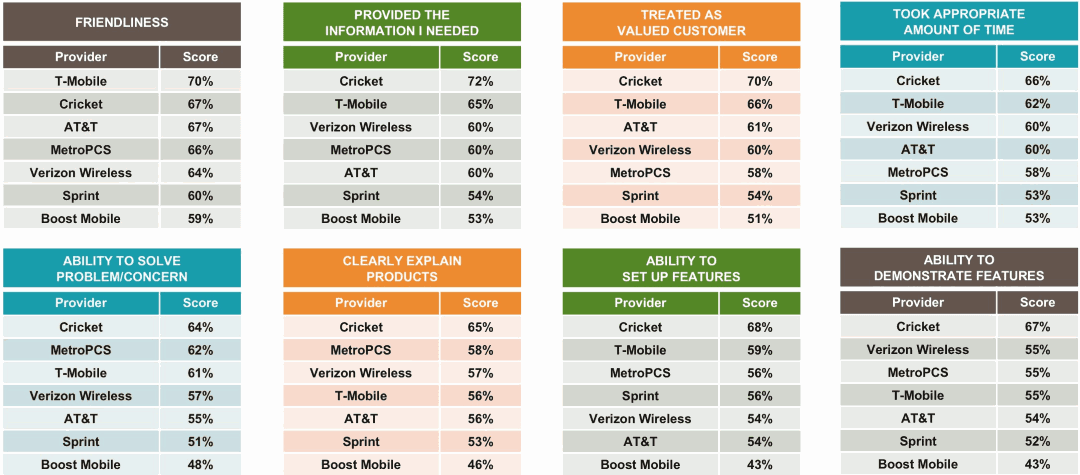 More About Market Force
Market Force Information® is a customer experience (CX) management company that provides location-level measurement solutions that help businesses protect their brand reputation, delight customers and make more money. Solutions include customer experience surveys, employee engagement surveys, mystery shopping, contact center services and social media review tracking, which are integrated into one technology and analytics platform, KnowledgeForce®. Founded in 2005, Market Force has a growing global presence, with offices in the United States, Canada, United Kingdom, France and Spain. It serves more than 200 clients that operate multi-location businesses, including restaurants, major retailers, grocery and drug stores, petro/convenience stores, banking & financial institutions and entertainment brands. The company has been recognized as one of the top 50 market research organizations in the AMA Gold Report. For more information about Market Force, please visit us online at www.marketforce.com.
---
---