Motorola G7 Is $100 Off Through Google Fi, Purchase From Motorola And Get A Free Moto G6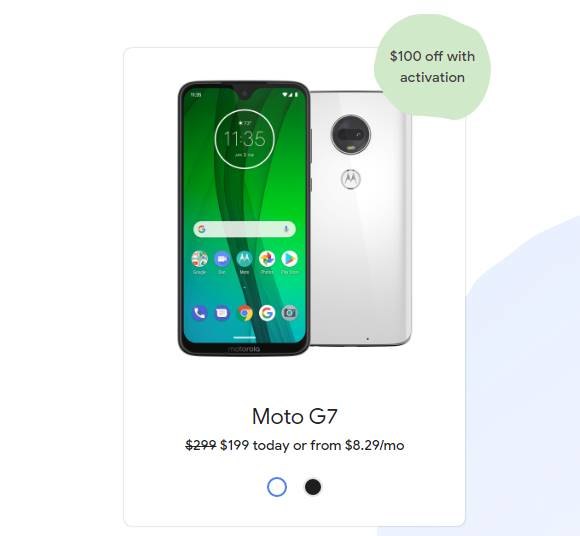 Google Fi is offering $100 off the purchase of a 64GB Moto G7 bringing the price down to $199.  This isn't as good of a deal compared to a previous offer from Google.  Back at the end of August, it was available for just $149.99. Still, it is currently available for a cheaper price than you can get it elsewhere, however, other deals may offer you more value.
Direct from Motorola you can buy one for $299.99 and get a free 32GB Moto G6 with your purchase when you add both items to your shopping cart.  The Moto G6 retails for $249.99, although it can be found on Amazon for as low as $139.99 with a Prime membership  The Moto G7 is available on Amazon starting at $239.99.
BH Photo has the G7 on sale for $229.99 and it also comes with a free 3-month subscription to T-Mobile MVNO Mint Mobile.  The included plan is likely for new Mint Mobile subscribers only, is valued at $60 and includes unlimited talk, text, and data with the first 8GB of data each month at 4G LTE data speeds.  BH Photo also throws in a free TPU case with your purchase.
Google Fi Moto G7 $100 Off Offer Fine Print
This offer will be available for a limited time.  It is available to both new and existing customers.  There is a limit of one device purchase allowed per individual and one per group plan member.  The offer is only available to residents of the USA aged 18 years or older.  To qualify for the discount, customers must activate the Moto G7 within 30 days of receiving the confirmation email stating that the device has been shipped.  The $100 discount will automatically be applied during checkout, however, if the phone is not activated within the required time frame, Google will chargeback the $100 discount to the payment method on file.  Customers are free to leave Google Fi after their first month of service.
Google Fi also continues to offer $300 of the purchase of select Pixel devices with activation.
Google Fi phone plans start at $20 for unlimited talk and text, and data is billed at a rate of $10/GB.  Customers can also opt for an unlimited data plan with the first 22GB of data at high speeds for $70/month.  Plans also include mobile hotspot usage, free text messaging while traveling internationally, and data usage while traveling internationally is billed at the same rate it is domestically.
---
---