Google Fi Plans Get An Unlimited Update, Get 22GB Of LTE Data For $70/Month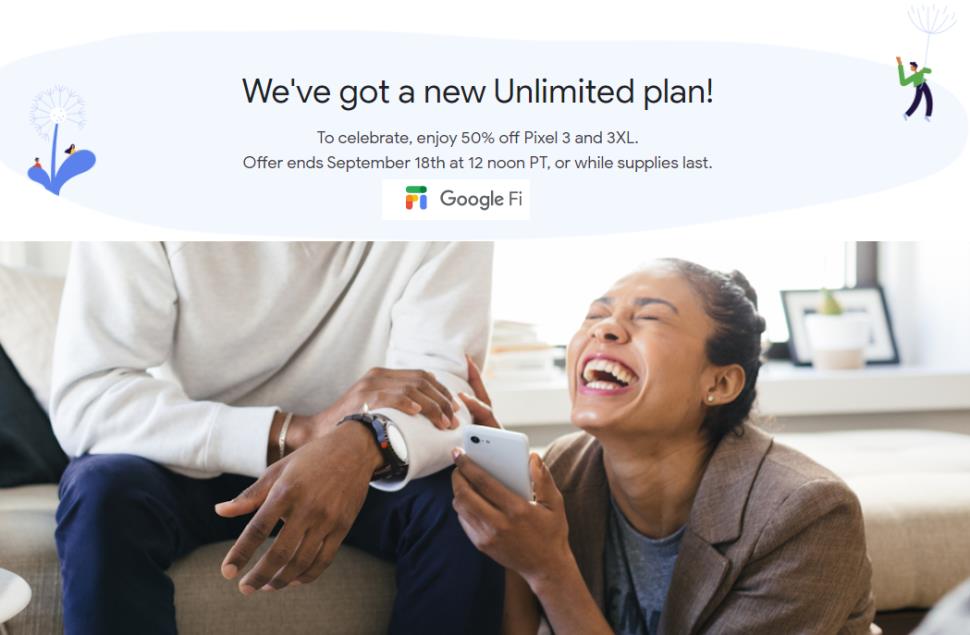 ---
Did you know BestMVNO is available to follow for free in Google News? Follow BestMVNO in your Google News app and keep up to date on wireless.
Follow BestMVNO In Google News
---
---
Google Fi has updated its wireless plans.  The Google-powered MVNO is now offering an "Unlimited" plan to go along with its standard "Flexible" plan option.  Google is using the term unlimited rather loosely by many standards, as data is not unlimited at 4G LTE data speeds.  Instead, subscribers to the new plan will get unlimited talk, text, and data with the first 22GB of data at 4G LTE data speeds before throttling to 256Kbps.  All for the hefty price tag of $70/month plus applicable taxes and fees.  That's not particularly competitive when compared to other truly unlimited data plans on the market.  However, those with multiple lines will get a break in pricing.  Multi-line pricing is as follows:
$45/line - 4-6 lines
$50/line - 3 lines
$60/line - 2 lines
Taxes and fees cost extra and are not included in the prices shown.
Google's Flexible plan starts at a rate of $20/month for unlimited talk and text and an additional $10/month per GB of data consumed.  Pricing for data is capped at a cost of $60/month with the plan which gets subscribers unlimited data with the first 15GB at 4G LTE data speeds before throttling to 256Kbps.  Google bills for data down to the cent on the Flexible plan, so if you use 2.43GB of data in a month you'll pay $24.30 for your data usage that month.
Google Fi Unlimited Plan Benefits And Fine Print
Most of the unlimited plan basic details and benefits have already been covered, but there are a few other things you may want to know about the plan.  Those who subscribe to it will automatically get a free subscription to Google One that includes 100GB of cloud storage.  Normally that plan is priced at $1.99/month or $19.99/year if paid for in advance.  It gives customers additional space to store photos in the cloud, back up their phone's data (if using Android), and "expert support" across Google.  Subscribers also get additional benefits such as savings on hotel rates and discounts on other Google Products.
Don't Miss Out On More Deals Like This!
Get the next deal delivered to your inbox as soon as it's announced!
The plan also includes free international calling from the US to over 50 countries and territories, a feature not included in the Flexible plan.  Both the Flexible plan and the new Unlimited plan come with data usage and texting while traveling abroad in 200 countries at no extra cost.  Both plans also allow mobile hotspot.
The Unlimited plan only offers 22GB of data at 4G LTE data speeds, but that is not the only restriction that the plan comes with.  Video streams are limited to a maximum resolution of 480p, whereas Google Fi's Flexible plan offers video streaming at a resolution of 1080p.
In addition to the new plan announcement, Google is also offering a one day sale on Google Pixel 3 devices.  Those who purchase a Google Pixel 3 device while selecting Google Fi as the carrier of choice at checkout will receive 50% off the purchase of their device.  The device must be activated on Google Fi within 30 days of the shipment confirmation email being sent.  If it is not activated within that time frame, customers will be billed for the full price of the phone.  Customers are free to port out after the first month of service without penalty.  Discounted phone options include the following:
Pixel 3 64 GB is discounted from $799 to $399.50.
Pixel 3 128 GB is discounted from $899 to $449.50.
Pixel 3 XL 64 GB is discounted from $899 to $449.50.
Pixel 3 XL 128 GB is discounted from $999 to $499.50.
The sale if from today September 17 until 2:00 PM PDT on September 18, 2019, or while supplies last (update: 10/2/2019 - this offer is once again available from Google Fi).
Editor's Take
Google Fi's new unlimited plan is far from being competitively priced.  There are plenty of other cheaper options out there for either a truly unlimited plan or a plan with large amounts of data.  Altice Mobile for instance just launched an unlimited data plan that includes 50GB of LTE data before any type of throttling takes place for $30/month or $20 if you are a subscriber to one of Altice USA's cable TV or internet brands.  Altice's plan even includes international calling, texting and data usage while traveling abroad in over 35 countries at no extra charge.
Google Fi customers get coverage on the T-Mobile, Sprint, and US Cellular networks as well as over WiFi.
---
Be sure to follow BestMVNO on Twitter for additional wireless coverage, deals, insights, and even debates!
Follow @BestMVNO Twitter
---
---