Cricket Wireless Again Offers Double Data On $40 Plan Through Select Retail Locations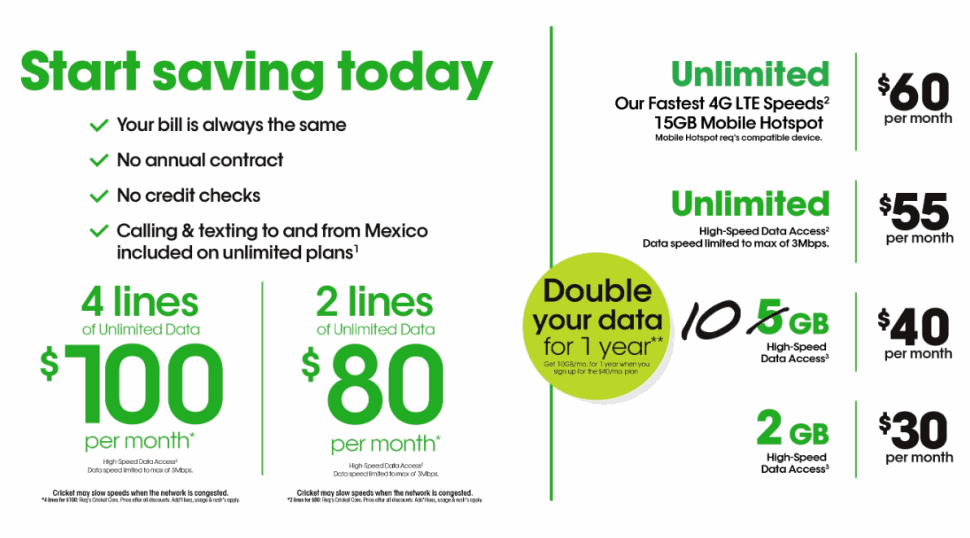 Earlier in the year, Cricket Wireless ran a double data offer.  Customers who purchased Cricket Wireless's $40 ($35 with auto-pay) phone plan at Walmart and enabled auto-pay billing were given 10GB of LTE data a month instead of 5GB.  Customers who took up the offer were promised double data each month for a year.
Cricket Wireless has elected to bring that offer back, and it is now available in more locations.  It is available at select Walmart, Target, and Best Buy locations.
Cricket Wireless Double Data Offer Fine Print
The double data deal is slated to be around until 11/1/2019.  It is available to new subscribers only and excludes upgrades.  Cricket Wireless's $40 phone plan includes unlimited talk, text, and data.  Those on the double data offer will receive unlimited data with the first 10GB each month at high-speeds before getting throttled to 2G data speeds or 128Kbps.  Cricket Wireless considers high-speed data in this case to mean a maximum of 8Mbps for downloads.  There is no maximum speed restriction in place for uploads.   Those who purchase a new phone to go with the plan will have it locked to the Cricket Wireless network for a minimum of 6 months.  After 6 months, subscribers can request a device unlock at no extra charge.
Taxes and fees are included in the plan price being advertised, however, the fine print for this offer says that there may be a one-time up to $3 customer assistance fee tacked onto your purchase.  Other one time fees and charges could also be applied.
Editor's Take
$35 per month for 10GB of data on the AT&T network is a pretty good deal, however, AT&T owned Cricket Wireless might still be behind the eight ball here.  There is an argument to be made that AT&T is currently offering better deals under its AT&T Prepaid brand name.  For instance, customers who purchase an AT&T Prepaid phone and activate on AT&T Prepaid's $50 phone plan ($40 with autopay enabled) at Walmart, will receive more than triple the amount of data the plan normally comes with.  Subscribers will receive 25GB of data each month instead of 8GB.  That's 2.5x the data that the Cricket plan comes with for a little more than $5 per month than what the Cricket plan costs.  AT&T Prepaid does charge extra for taxes and fees, but there are no data speed restrictions with the service and subscribers can use their plans while traveling in either Mexico or Canada.  Mobile hotspot is also included with the plan which is another feature that is missing from the Cricket Wireless offering.
Another offer from AT&T Prepaid is for an annual promo plan, customers willing to pay for one year of service in advance on AT&T's $50 plan can get it for just $25/month plus taxes and fees.  Subscribers who take that offer up won't get triple data but will receive the plans regular allotment of 8GB of data at LTE data speeds each month.
---
---