---
Several days ago a deal was posted on SlickDeals advertising a Walmart exclusive offer from AT&T Prepaid.  The promo was for bonus data on AT&T's $50 prepaid plan ($40 with auto-pay).  The promo was said to give shoppers 25GB of LTE data on the plan instead of 8GB. The deal "expired" quickly and the poster believed the offer was mistakenly displayed a little early in store at their local Walmart, as the deal could not be found by shoppers at other Walmarts or online.
Today, Dennis Bournique spotted the offer live on AT&T Prepaid's Walmart deals site.  It comes with the stipulation that you must purchase an AT&T Prepaid phone at Walmart and activate it.  The offer fine print says it excludes upgrades, meaning it is unavailable to current customers.  It officially went live on 6/9/2019.
Be informed of the latest deals, plans and promotions from AT&T and every one of its MVNO's when you subscribe to the AT&T weekly newsletter. No spam and you can unsubscribe at any time!
Offer Fine Print
AT&T Prepaid says that subscribers "will receive the 17GB of bonus data each month that you successfully renew your $50 8GB plan."  I believe that means subscribers get the bonus data for life, as long as they remain active on the plan.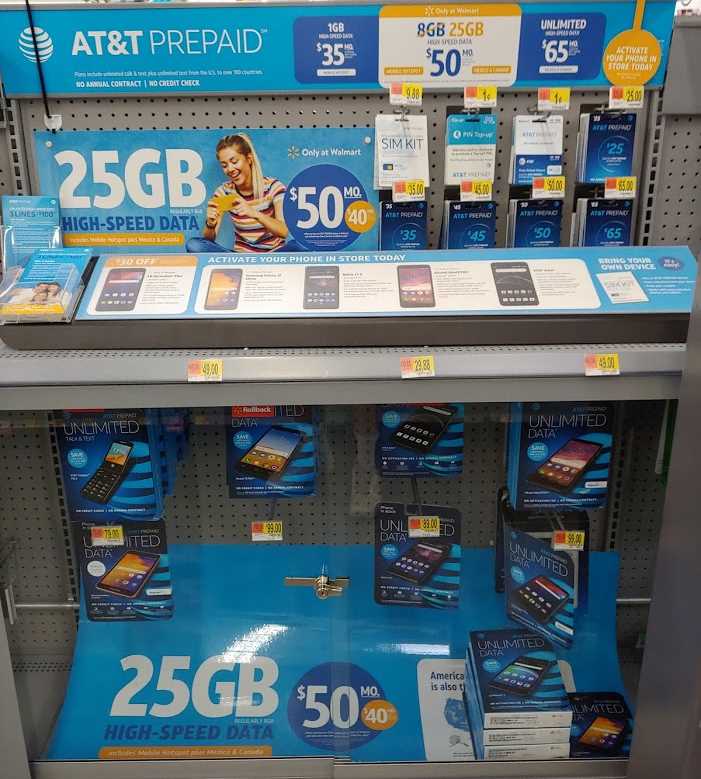 Subscribers will not be awarded the bonus data instantly upon activation. The bonus data will be added within 10 days of activation.  Upon plan renewal, the bonus data should appear in the customer's account within 2 days.
Besides the bonus data, the plan also includes unlimited talk, text, and data with data at 2G speeds once the plans high-speed allotment gets used up.  It also comes with mobile hotspot, and unlimited talk and text while traveling in either Mexico or Canada.  International texting from the USA to over 100 countries is available at no extra charge.
AT&T Prepaid has been offering double data on the $50 plan since April.  This new Walmart exclusive offer certainly comes as a big surprise and one-ups a rival offer from Verizon Prepaid in a big way.  Verizon Prepaid has been offering double data on its plans since May.  Customers who pick up a Verizon Prepaid plan from select dealers can get 16GB of data for life for $45/month with auto-pay.
The new AT&T prepaid Walmart exclusive bonus data offer is a great deal.  It might actually be the best offer currently available on the network.  AT&T Prepaid phones start at about $40/month at Walmart.  So if you want a cheap phone and a plan with a lot of data you are covered.  If you already have a device that you'd like to use you're also covered, but you'll just have to first invest a few dollars on a new device before transferring the SIM to your phone of choice.
---
---