Cricket Wireless Announces 5G Launch Date, Samsung Galaxy A11, And Updated Plans & Deals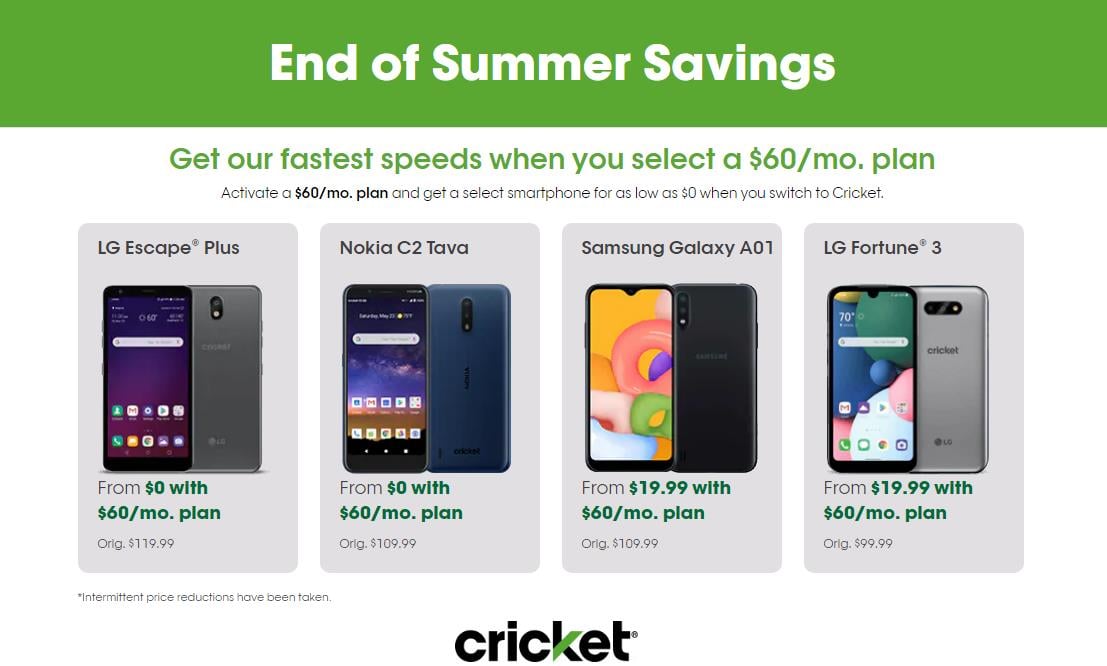 Cricket Wireless now has a launch date for 5G wireless. On August 21st, subscribers will be able to activate 5G service on the network. Cricket's first 5G device to become available for purchase will be the Samsung Galaxy S20+ 5G. Pricing and a release date for the phone have yet to be announced.
Cricket has also launched its "End Of Summer Savings" promos with updated phone deals and the launch of the Samsung Galaxy A11. The Samsung Galaxy A11 has been making the rounds lately as it was also recently launched at Boost Mobile and Metro By-T-Mobile. Cricket is currently selling it for $79.99 for new customers that port-in and current customers or new lines without a number port will pay $119.99. Lady Red's Tech Reviews already has an unboxing video up featuring the Cricket branded Samsung Galaxy A11.
There were also some phone plan updates made today. Cricket's $40 plan got more data, and its $55 unlimited plan got a speed boost.
Cricket Wireless End Of Summer Savings Promo Offers
Many devices are now on sale at Cricket. Some of the devices remain on sale from Cricket's Hot Summer Savings promo launched in June while there are a handful of new deals. You can check out all the latest deals in the tables below.
Featured Cricket Android Deals July 2020 - August 2020
Phone
Original Price
Upgrade/
New Line Price
Port-In Pricing
LG Escape Plus
$119.99
$59.99
Free*
LG Harmony 4n
$139.99
$139.99
$99.99n
Samsung Galaxy A10e
$149.99
$79.99n
$29.99*
Nokia C5 Endi
$169.99
$149.99n
$99.99n
Nokia C2 Tava
$109.99
$49.99
Free*n
Samsung Galaxy A11
$149.99
$119.99n
$79.99n
LG Stylo 6
$229.99
$229.99
$149.99n
Moto e5 Play
$99.99
$39.99
Free
LG Fortune 2
$99.99
$39.99
Free
Nokia 3.1 C
$139.99
$49.99
Free
Cricket Icon
$79.99
$19.99
Free
Alcatel INSIGHT
$79.99
$19.99
Free
LG Harmony 3
$139.99
$69.99
$19.99
Alcatel Tetra
$79.99
$19.99
Free
Alcatel ONYX
$119.99
$39.99
Free
Those in the market for a new discounted Apple iPhone can choose from one of the following offers.
Featured Cricket iPhone Deals
Phone
Original
Retail Price
Upgrade/
New Line Price
Port-In
Pricing
iPhone SE
$349.99
$349.99
$249.99*n
iPhone 7 32GB
$399.99
$199.99
$49.99*n
iPhone 8 Plus 128GB
$499.99
$299.99
$199.99*n
*= Port-in to $60 ($55 with autopay) unlimited LTE data plan required to get deal
n= updated price or new deal
Keep in mind that if you are interested in any of the phone offers, the phones will be locked to Cricket Wireless for a period of 6-months of use on the network. So you cannot just buy a discounted Cricket phone to take to another carrier until after that time frame has passed and you get the phone unlocked.
Important Switcher & Upgrade Promo Policy Changes
Cricket has also updated its new line port-in pricing and customer upgrade policies. Switchers porting back into Cricket and customers looking to get upgrade promo pricing on a phone will now have to wait 180 days to do so. Previously, former customers could port-in to get promo pricing on a phone 90 days after porting out. Current subscribers were also allowed to upgrade their devices with promo pricing after 90 days. The promo pricing eligibility period has thus doubled for each customer type.
Cricket Wireless's $40 And $55 Plans Have Been Updated
As noted by Dennis Bournique, Cricket also updated two of its phone plans today as follows:
$40 plan ($35 with autopay) -unlimited talk, text, and data with the first 10GB of data at high-speed. Plan previously included first 5GB of data at high-speeds. High-speed data is considered to be a maximum of 8Mbps.
$55 plan ($50 with autopay) - unlimited talk, text, and high-speed data with data speeds capped at a maximum of 8Mbps. Video streams at 1.5Mbps or a resolution of about 480p. Previously data speeds were capped at 3Mbps.
---
---