AT&T Prepaid And Cricket Wireless Are Pulling Out Of Best Buy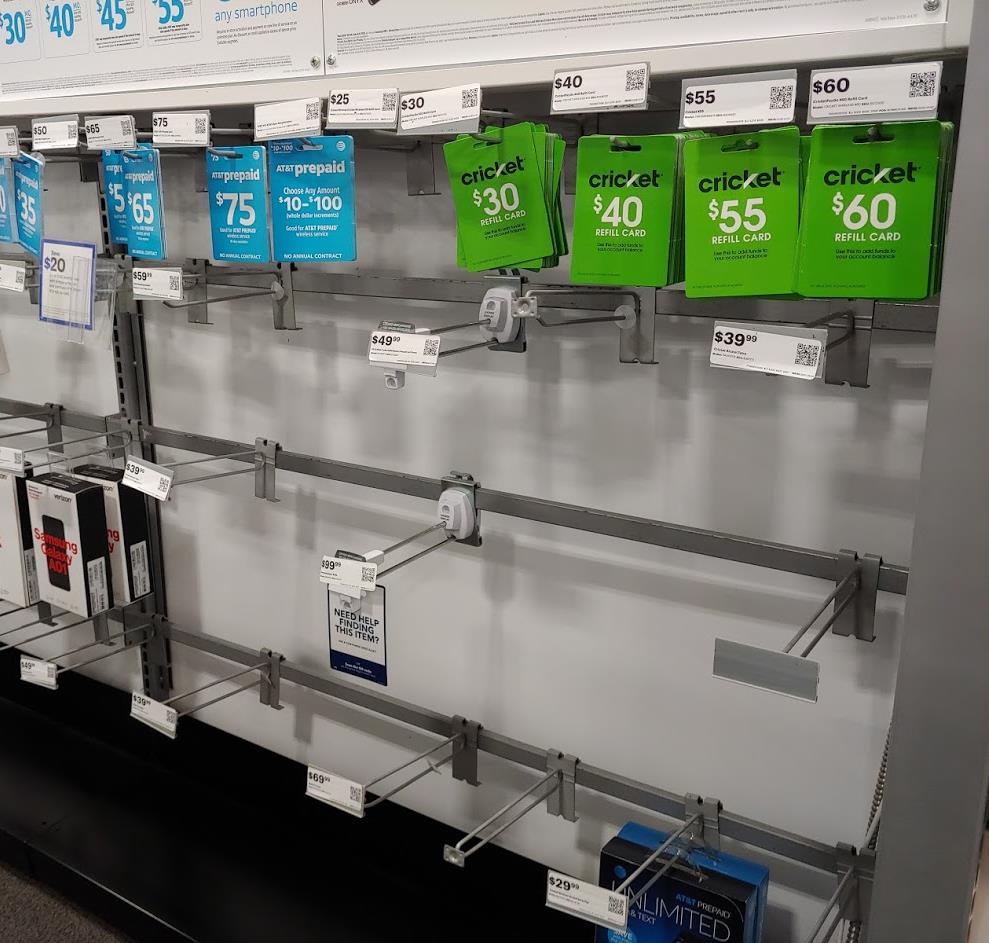 AT&T Prepaid and Cricket Wireless appear to be leaving Best Buy stores. Over the last several weeks, analysts from the firm Wave7 Research noticed inventory of both brands dwindling in stores across several states. Signage advertising each brand has been also taken down. Online checks of several zip codes also show little to no inventory available at local Best Buys for either Cricket or AT&T prepaid phones. SIM cards for each brand may remain in stores moving forward alongside prepaid SIM kits from several other brands that are carried there.
AT&T Prepaid And Cricket Are Still Available Through Other National Retail Outlets But For How Long?
Although Best Buy shoppers will no longer be able to pick up a new Cricket or AT&T Prepaid phone, the brands are both still sold at Walmart and Target stores nationwide.
Walmart continues to have AT&T Prepaid and Cricket Wireless exclusive deals. AT&T Prepaid's $50 phone plan ($40 with autopay) comes with 17GB of bonus data if purchased with a phone at Walmart. That gives Walmart customers 25GB of data with the plan instead of its regular 8GB allotment. And Cricket Samsung A-series of devices including the A01 (reg $69) and A11 (reg $99) are currently both $50 off with in-store activations. Deals like these were rarely seen at Best Buy, particularly ones like AT&T Prepaid's generous bonus data offer. The offers can be perceived as both brands having a continued and strong relationship with Walmart and its customers.
But having an overall smaller in-store and retail footprint seems to be part of the bigger picture for AT&T and Cricket Wireless. A recent Wave7 Research prepaid report indicated that since November of 2019, Cricket Wireless has closed 12% of its nationwide branded stores. Earlier this year AT&T also closed down some of its own stores. Some of the closings were planned but accelerated by the COVID-19 pandemic which has forced more consumers than ever to shop online. The increase in online shopping is believed to be here to stay even after the pandemic comes to an end. The brands electing to pull out of Best Buy may be a reflection of the change in how consumers are making their purchases.
Be informed of the latest deals, plans and promotions from AT&T and every one of its MVNO's when you subscribe to the AT&T weekly newsletter. No spam and you can unsubscribe at any time!
Prepaid Brands Leaving Best Buy, Is This A Trend?
Consumer Cellular was removed from Best Buy late last summer. The move likely had to do with Best Buy's August of 2018 acquisition of GreatCall Inc. Consumer Cellular and GreatCall both target similar audiences which consists primarily of older Americans. It should be noted that GreatCall Inc was sold in Best Buy stores prior to Best Buy's purchase of the brand.
Boost Mobile and Virgin Mobile are two other brands that were pulled from Best Buy. Their exits occurred simultaneously in April of 2019. Virgin Mobile's removal certainly made sense as the brand was being prepped to sunset and to ultimately fold into Boost Mobile. The reason for Boost's exit was less clear but still part of a larger trend. Boost Mobile was gradually being withdrawn from major retailers nationwide with the lone major retailer to keep the brand being Walmart.
And now with AT&T Prepaid and Cricket leaving Best Buy, the total number of prepaid brands withdrawn from the store since 2019 has increased to 5. Thus far, Best Buy has not replaced the losses with any other wireless brands. Wave7 Research's data indicates that roughly 20% of Best Buy stores have shifted focus towards the sale of unlocked phones. That could be a reason why the prepaid brands that have left the store haven't been replaced, or they're just don't sell enough, in general, to warrant replacing.
Jeff Moore, Principal of Wave7 Research believes the decrease in the number of brands being sold through the store creates a competition problem.
"There is far less display space for prepaid brands than was the case a couple of years ago. A growing concern is the lack of carrier diversity. With Verizon acquiring TracFone and with AT&T Prepaid and Cricket Wireless exiting Best Buy, Verizon will almost have a monopoly of prepaid phone sales at Best Buy, apart from senior-focused GreatCall." -Jeff Moore
---
---