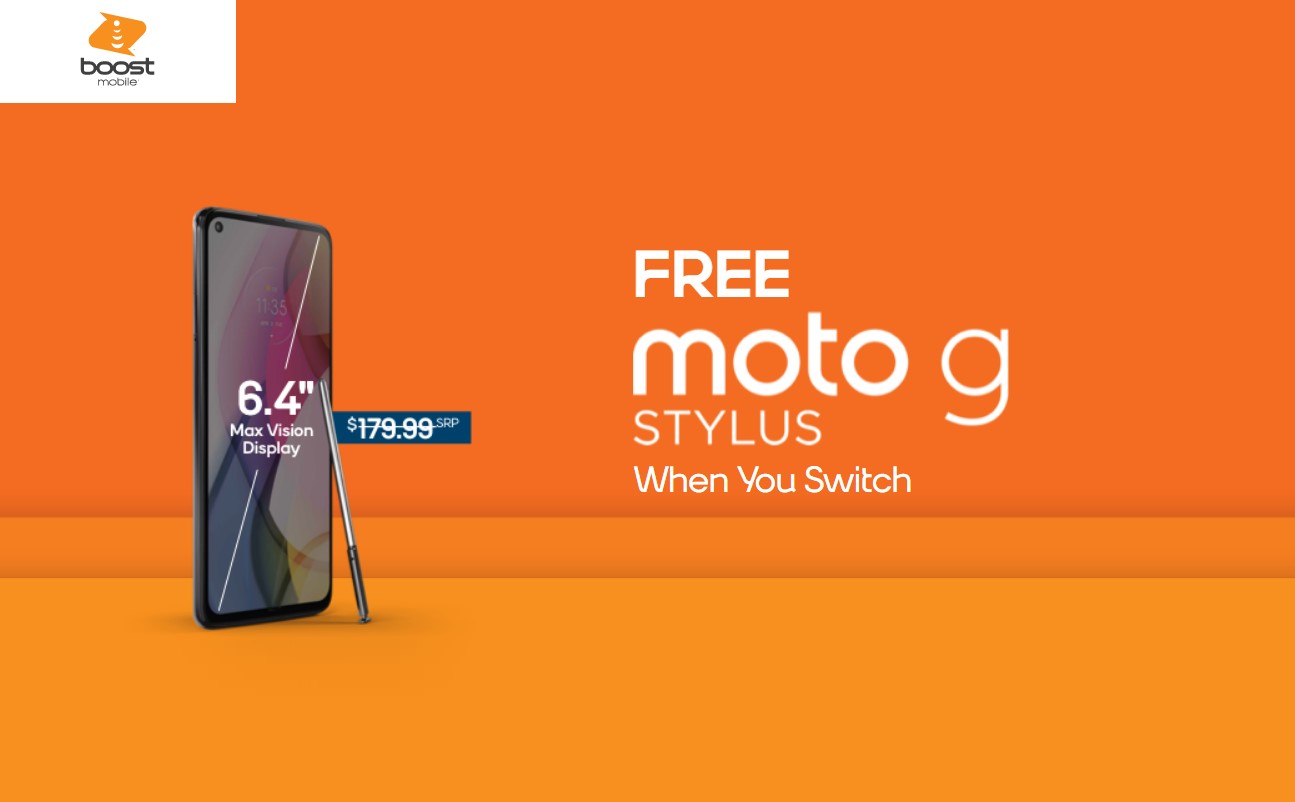 ---
Boost Mobile had a promo reset on 4/16/2021 as noted by a recent report from the firm Wave7 Research. With the latest reset, some promos got extended, others ended and there are some new ones to talk about. One new promo is giving BYOD customers $10/month off an "unlimited plan" for 6-months. Boost's unlimited plans include 35GB of monthly high-speed data before data speeds get throttled to 2G. The Motorola G Stylus is now a featured free phone switcher deal. An extended offer is that the iPhone SE continues to be available for $49.99 to switchers. This offer is now getting massive advertising support through Boost's digital marketing channels. A smaller TV marketing campaign is also in place. Boost Mobile has ended its Samsung Galaxy A21 and LG Stylo 6 BOGOs and the Samsung Galaxy A10e port one get two free offer. It also ended its offer that gave BYOD customers a free month of service.
Save $10/Month On Unlimited Plan And Other New Offer Details
The $10/month off an unlimited plan every month for 6-months is available to all new customers (Update: It also now includes a $50 bonus). It does not require a port-in. It is only available to customers activating on Boost's Expanded Data network, ie, T-Mobile's network. The discount is available to single lines and the primary line on a family plan. The discount starts in the second month of service. It is only for bring your own phone customers.
According to the Wave7 Research report, Boost is seeking to increase its bring your own phone activations. The report states that bring your own phone activations account for 13%+ of all activations on the network. This is up by less than 1% from when Boost was acquired by DISH in July of 2020. Boost seems to be pushing for BYOD activations to avoid handset subsidies and because its capable of supporting more BYOD phones now that it uses the T-Mobile network. A $10/month off service deal could certainly help inch those activations upwards.
Interestingly, Boost is warning its BYOD customers online that certain features may not work with their phones. The offer's fine print states "network experience may vary & other services/features, including MMS & some pre-installed applications, may not function or be avail. with Boost Mobile service."
Two Boost Mobile Plans Qualify For $10/Month Off
If you are interested in this offer there are two plans that you have to choose from. They are:
$50/month before discount - 12GB mobile hotspot, add a line for $30/month
$60/month before discount- 30GB mobile hotspot, add a line for $40/month, special offer available of 3-lines for $90
Both plans include unlimited everything with the first 35GB of data available each month before throttling to 2G data speeds.
Moto G Stylus Replaces LG Stylo 6 As Featured Free Phone Deal
The Moto G Stylus is a newly released device at Boost Mobile. It is being offered for free to switchers. The Moto G Stylus is now the featured free switcher deal highlighted on Boost's website. It replaces the LG Stylo 6 as the featured switcher deal being shown there.
LG is winding down its wireless phone division as it plans to shut down the business by the end of July 2021. The Moto G Stylus was designed to compete against the LG Stylo series as both phones come with a stylus. So the Motorola would seem poised to take its market share once the Stylo gets phased out. In fact, there is a big effort in place to train Boost representatives on the Moto G Stylus, indicating Boost will likely continue to feature that phone in promos moving forward.
This offer is only available in stores and while supplies last. It is available to new customers only that port-in. Those porting in from a Sprint related carrier are not eligible for the offer. The Moto G Stylus is valued at $179.99.
There Are Other Free Phone Offers Available And Discounts Too
The Stylus isn't the only free phone offer available to switchers. The LG K51, Samsung Galaxy A11, Coolpad legacy, and Samsung Galaxy A21 are additional options. The LG Stylo 6 is also still available. Additionally, customers that add a line of service will receive discounts on several devices. Here are the add a line offers:
Samsung Galaxy A10e - $10 plus tax, regularly $139.99
LG K22 - $15 plus tax, regularly $89.99
Samsung Galaxy A12 - $25 plus tax, regularly $179.99
The Samsung Galaxy A12 is another newly launched device at Boost Mobile. It continues to push its way into the prepaid market having also been recently launched by Cricket Wireless and Metro by T-Mobile.
Boost Mobile's $49.99 iPhone SE Deal Is Supported By New Commercial
Boost has recently tweaked its $49.99 iPhone SE offer to make it $49.99 outright for switchers. Back in February, it was advertised as being available for $49.99, but switchers had to pay $99.99 and after 3-months they got a gift card for $50. Interestingly, Metro's current iPhone SE deal is also for $49.99, but customers must pay $99 upfront and after 90-days receive a $50 gift card. Cricket Wireless recently ended its $49 iPhone SE switcher offer.
The updated iPhone SE deal is getting a lot of support through Boost Mobile's digital marketing channels. On 4/12/21, Boost publicly released a new video ad on its YouTube channel. It debuted on the public channel with 6.1 million views and as of 4/18/21, the number has rocketed up to 8.9 million views. The ad tells viewers that "Possibility is Power." It then goes on to say that "Boost Mobile puts all the possibility of iPhone SE in your hands." The ad then informs viewers of many iPhone SE features. You can watch it below. The ad is also airing on TV but in a much more limited capacity.
All offers discussed in the article are scheduled to end on 5/13/21.
"Tax season is winding down. Cricket hiked phone pricing on April 9 and now Boost has ended a couple of BOGO offers and an offer for the Galaxy A10e, while shifting it BYO offer. Offers become less enticing every April as tax season ends, so this is seasonal." – Jeff Moore, Principal of Wave7 Research
---
---