Boost Mobile Offering More Than A Dozen Free Phones & $49.99 iPhone SE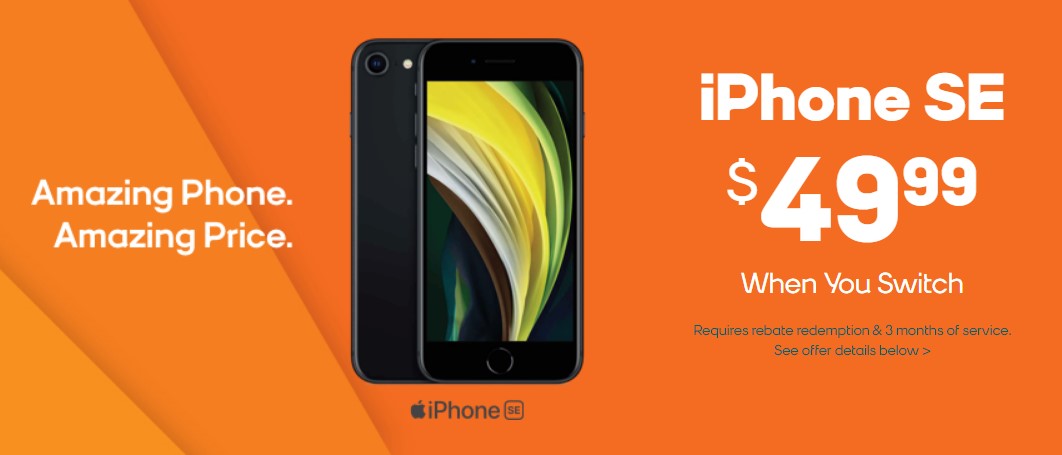 ---
Did you know BestMVNO is available to follow for free in Google News? Follow BestMVNO in your Google News app and keep up to date on wireless.
Follow BestMVNO In Google News
---
---
Boost Mobile now has more than a dozen free phones available to switchers. The offers are a part of Boost's tax season promos. The firm Wave7 Research recently detailed the offerings in a prepaid report sent out to the publication's subscribers.
Boost Mobile is also advertising an iPhone SE switcher offer for $49.99 and new bring your own device customers can take advantage of a free month offer. Several phones are also available online at a discount.
A $40 unlimited plan offer requiring payment 6-months in advance remains in place. However, Wave7 Research notes that activations on the plan have been very low.
Free Android Phone Offer Details
The free phone promos are available in-stores only. The selection of phones may vary by store and dealer. In order to get a free phone customers must port-in to an eligible plan from a provider that is not Sprint-related. Eligible plans include all plans except the $10-1GB, $15-2GB, and $25-5GB hard-capped data plans. For those that have been wondering, there are still free phone deals available for use on Boost Mobile with the Sprint network. So if you head on over to your local Boost Mobile store you can get one of the following Sprint compatible phones for free when you port-in:
Free Boost Mobile Sprint Network Compatible Phones
LG Tribute Empire
LG Tribute Royal
LG G6
Samsung Galaxy A6
The following T-Mobile only compatible Android phones are also free:
Free Boost Mobile T-Mobile Network Compatible Phones
LG Tribute Monarch
Moto E6
Moto E
Galaxy A10e
Galaxy A11
Coolpad Legacy
Coolpad Brisa
Moto G7 Play
Moto G Fast
LG K51
LG Stylo 6
Galaxy A20
Galaxy A21
The phones are scheduled to be available for free at least until 3/29/21. Taxes cost extra and are typically based upon the suggested retail price of a particular phone.
iPhone SE 2020 $49.99 Offer Details
Boost Mobile has been running a deal on the iPhone SE for months with frequent changes in the phone's price. The latest offer is again for switchers and requires porting into Boost's $60 unlimited plan with 35GB of high-speed data. Those porting from a Sprint-related carrier are not eligible for the promotion.
Boost Mobile is advertising the iPhone SE as a $49.99 deal, but technically that's misleading. Customers must pay $99.99 for the phone, and after 3-months of service and payments, they'll receive a $50 virtual prepaid card. So that's not exactly a $49.99 iPhone SE, it's a $99.99 iPhone SE with a $50 prepaid card.
This offer is scheduled to be available at least until 3/29/21. There is a limit of one device allowed per line. The offer is not valid in RI, CT, or Miami-Dade.
Free Month Of Service For BYOD Customers
The other big in-store only promo is for a free month of service for bring your own device customers. It too is scheduled to be available through at least 3/29/21.
This offer is available to both new customers and those porting into a single line or a primary line on a family plan. The free month will come in the form of a one-time credit after the customer pays for their first month of service. This seems to be a replacement for Boost's double data offer for new customers that ran from September of 2020 up until just a few weeks ago.
Online Phone Deals
There are a handful of phones available online at a discount. Here's what's on sale:
| | | |
| --- | --- | --- |
| Phone | Reg Price | Sale Price |
| Samsung Galaxy A10e | $139.99 | $49.99 |
| iPhone SE 64GB | $399.99 | $249.99 |
| LG Stylo 6 | $219.99 | $149.99 |
| Samsung Galaxy A21 | $249.99 | $149.99 |
| Samsung Galaxy A11 | $179.99 | $119.99 |
| LG Tribute Monarch | $109.99 | $69.99 |
| Moto G Fast | $149.99 | $89.99 |
| LG K51 | $149.99 | $89.99 |
| Samsung Galaxy S20 FE | $699.99 | $449.99 |
| Moto E | $119.99 | $119.99 |
| LG K22 | $89.99 | $89.99 |
| Coolpad Legacy Brisa | $159.99 | $79.99 |
| Coolpad Legacy | $149.99 | $59.99 |
| iPhone Xs | $899.99 | $799.99 |
"Boost's tax season set of promotions is not much different from what was offered in January, except that the LG Stylo 6 is now free for switchers and the switcher price of the iPhone SE has been cut in half to $49.99. The offer of six months of unlimited with advance payment of $240 has fallen flat, as urban prepaid customers are leery of large payments in advance." --Jeff Moore, Principal of Wave7 Research
---
Be sure to follow BestMVNO on Twitter for additional wireless coverage, deals, insights, and even debates!
Follow @BestMVNO Twitter
---
---