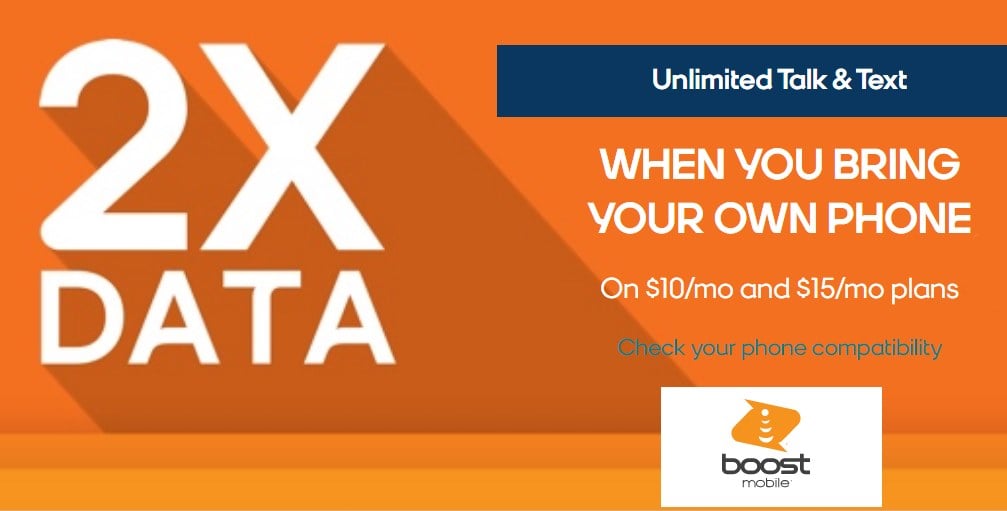 ---
Boost Mobile has launched a new double data offer. Customers who bring their own device (BYOD) to select Boost Mobile plans will get double data on that plan for their first 3-month of wireless service. Of course, restrictions apply, so let's have at it!
Boost Mobile's BYOD Double Data Offer Fine Print And Details
This is a new customer only offer. It is also only available in-stores. The offer launched on 9/23 and will be available at least until 10/5/2020 (update- offer has been extended until 2/8/2021 and is now available online). Eligible plans are Boost Mobile's new $10 and $15 plans. Both plans include unlimited talk and text with mobile hotspot. Both plans also include 50 domestic voice roaming minutes on select devices. Previous Boost Mobile policy indicated that "select devices" meant Android phones only. Boost Mobile has not updated its website since 2016 in regard to its domestic roaming policy, and it likely still has the same phone restrictions in place today.
The $10 plan normally includes 1GB of high-speed data that is hard-capped meaning data gets turned off once the customer reaches that allotment. The $15 plan normally includes 2GB of high-speed hard-capped data. Through the special offer, customers will get 2GB and 4GB of data on each plan respectively. After 3-months of service, the plans will go back down to their regular normal allotments.
The plans are available for use on Boost Mobile's expanded network, meaning T-Mobile. Customers interested in this deal can use Boost Mobile's device checker to see if they have a BYOD compatible phone before heading into a Boost Mobile store to signup for the offer.
Editor's Take
Boost Mobile's two cheapest phone plans are competitively priced plans to begin with for low-usage customers. Now the deal has been significantly sweetened. It's just unfortunate that the plans are restricted for use by new customers only and can only be subscribed to in a store.
---
---