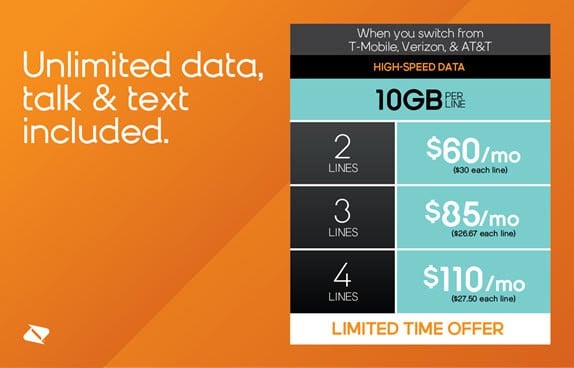 ---
Boost Mobile via Sprint today announced a new deal for those who are willing to switch from either Verizon, AT&T or T-Mobile to a Boost Mobile Family plan.  Starting today, March 3, 2016 through April 5, 2016 those who make the switch will get 10 GB of high speed 4G LTE data per line with prices starting at $60 a month for two lines.  Doing some basic math, that works out to $30 per line for 10 GB of data with unlimited talk or text.  This is indeed quite the steal for those interested in being on the Sprint network, as no other offer out there at least for the time being can compete with this special promotion.   A look at my cheapest mobile plans table and you'll see that the next best data offering is 5 GB for $30 via T-Mobile.
Boost Mobile's special promotion is valid for up to 4 lines.  Pricing is $85 for 3 lines, and $110 for 4 lines.  Data is unlimited on each plan, but speeds will be slowed to 2G once high speed allotments are used up.
Free Smartphone Offering
In addition to the 10 GB discounted data plans being offered, Boost is also providing free phones or a $50 instant device discount for every line a customer brings over from either T-Mobile, AT&T, and Verizon.  Available free phones include the ALCATEL ONETOUCH Elevate, Motorola Moto E, LG Tribute, LG Tribute 2, and the ZTE speed.  This offer will last until 4/5/16 and is only available through participating Boost Mobile retail stores.  New customers can get up to four free smartphones when they activate a family plan.
---
---