Target And Best Buy Are Giving Away $50 Gift Cards With Purchase Of AT&T Prepaid Phone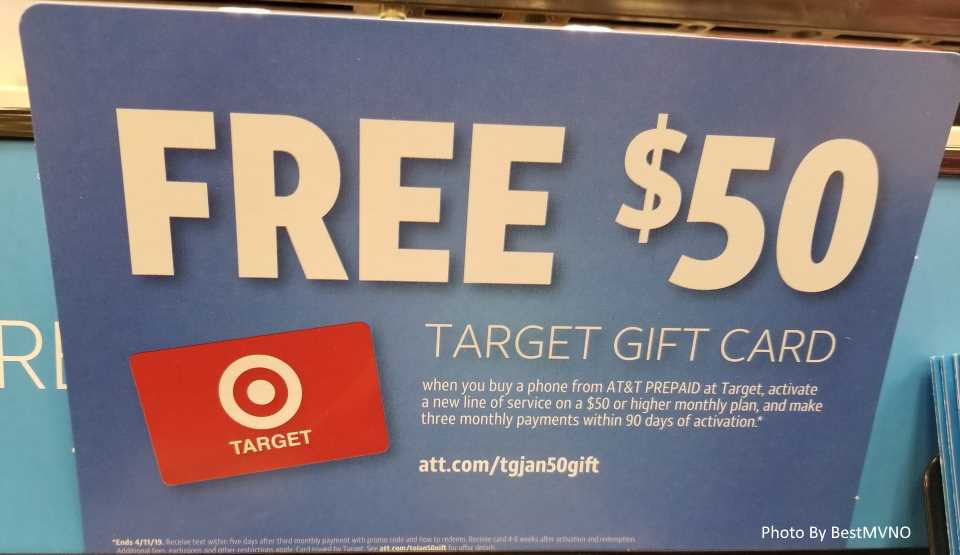 AT&T Prepaid is running a tax season promotional offer at both Target and Best Buy.  Customers who purchase a phone from either store and activate on a prepaid plan priced $50 or higher will receive a $50 gift card.  The gift card will be applicable to whichever store the phone purchase was made at.
Terms and conditions for each store promo are exactly the same.  Here they are:
Offer Terms And Conditions
The offers will be available until April 11, 2019.  Customers will be required to activate a new service line on a monthly plan priced $50 or more by the promo's end date.  A total of 3 monthly service payments must also be made within 90 days of account activation.  After the 3rd  monthly service payment, subscribers will receive a text message with an 8 digit promo code and instructions on how to redeem the gift card offer.  Once redeemed, it will take 4-6 weeks for the gift card to arrive.  Multi-line account holders and their members also qualify for the offer.  The gift cards will not expire.
Customers must add money to their accounts within the first 26 days of activation.  If a customer fails to do so, their account will be canceled.
See offer details for Target gift card.
See offer details for Best Buy gift card.
Eligible Prepaid Plans
AT&T Prepaid has 3 phone plans that can be purchased to take advantage of this offer.  The plans are as follows:
$50/month ($40 with autopay) - first 8GB of data at LTE data speeds, plus mobile hotspot.
$65/month (limited time $45 with autopay) - unlimited data with speeds limited to a maximum of 3Mbps, no mobile hotspot.  Video streams limited to 1.5 Mbps.  Data speeds may be temporarily slowed at any time the network gets congested.
$85/month (limited time $65 with autopay) - unlimited LTE data, 10GB of mobile hotspot at LTE data speeds.  Once more than 22GB of data has been consumed in a month, data speeds may be temporarily slowed during times of heavy network congestion.
All plans include unlimited talk and text and international texting to over 100 countries.  The 3 plans also include unlimited talk and text to Mexico and Canada, and free talk, text, and data roaming while traveling in either country. On top of the autopay savings, there are also multi-line discounts.  Subscribers can save an additional $10/line for up to 4 lines.  That means you can get 2 lines on the $65 plan for $80/month with autopay enabled.  Three lines would cost $115/month.  It should be noted that Walmart currently has a deal for three lines where customers can get 3 unlimited lines for $100.
Other Promotional Offers
Besides the gift card offer at Best Buy, shoppers can get a Moto E5 Play for just $39.99 when they activate AT&T Prepaid service in store.  Customers must purchase an airtime card costing at least $35 to get the discount. The phone is regularly priced $99.99 without account activation.
AT&T Prepaid's $35 plan is $30 with an autopay discount and it includes unlimited talk, text and data with the first 1GB of data at LTE data speeds.  It also includes mobile hotspot and unlimited texting to over 100 countries.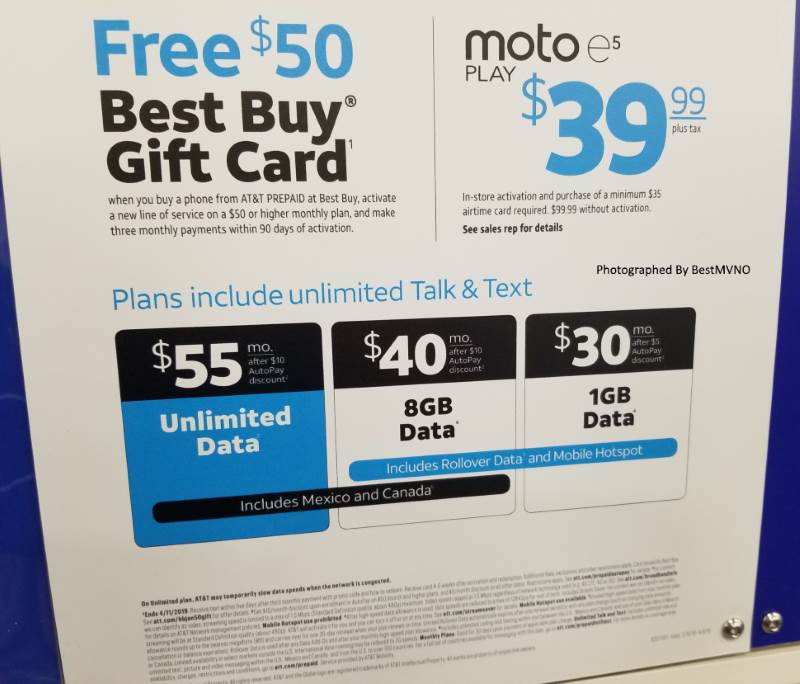 ---
---