AT&T Prepaid Offering Unlimited LTE Data Plan For $45/Month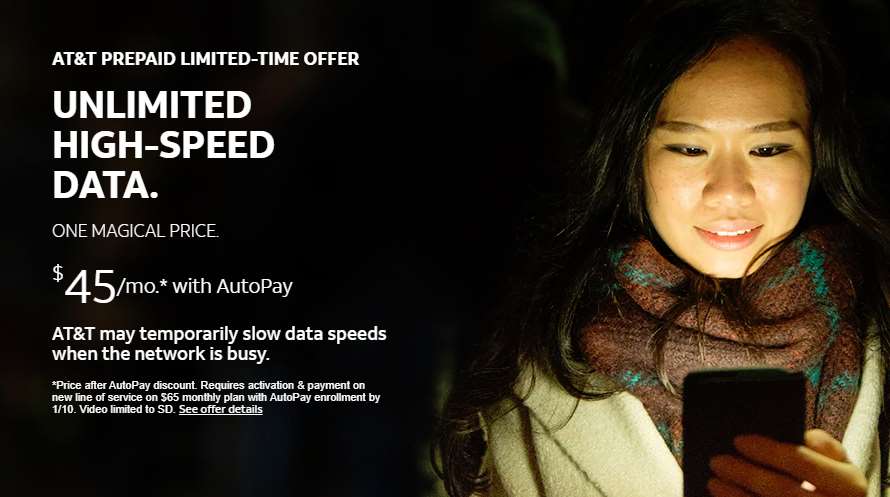 For a limited time AT&T Prepaid has dropped the prices of its unlimited LTE data plans.  The $65 plan with always on data prioritization is now $45/month.  The $85 plan with data prioritization only applied after 22GB of LTE data has been consumed in a month is now $65/month.  Data prioritization is a practice carriers employ to help ensure a good user experience for a majority of their subscribers.  With it enabled, during times of network congestion a subscriber may experience temporarily slower data speeds.
Offer And Unlimited Plan Details
The discounted pricing is available to new lines of service with auto-pay billing enabled.  It is not valid for current customers.  The offer will only be available online until 12/26/18.  It will be available in stores until 1/10/19 (update: 2/16/2019 AT&T Prepaid has brought this offer back and it will be available at least until 4/11/2019).  Subscribers who signup before the promotion ends will get to keep the discount on their plan for life as long as they remain subscribed to it.  Taxes and fees are not included in the prices shown but should only amount to just a few dollars in most places.
Plan Details
Both plans include unlimited talk, text and high speed data while in either the USA, Canada or Mexico.  Unlimited texting from the USA to over 100 countries is also included.  International data roaming speeds may be reduced to 2G.
Other highlights between the two plans are as follows:
Be informed of the latest deals, plans and promotions from AT&T and every one of its MVNO's when you subscribe to the AT&T weekly newsletter. No spam and you can unsubscribe at any time!
$45 plan ($65 w/o auto-pay discount) - Video streaming limited to a maximum speed of 1.5 Mbps or a resolution of about 480p.  Mobile hotspot is prohibited.
$65 plan ($85 w/o auto-pay discount) - By default, video streaming is limited to a maximum resolution of 480p.  The subscriber can disable this limitation at any time.  Also includes 10GB of mobile hotspot at 4G LTE data speeds before throttling to 2G speeds.
Multi-line discounts are still available with each plan.  Lines 2 and 3 would save an additional $10 per month so the $45 plan would be $35 for those two additional lines.  Lines 4 and 5 can save an additional $20 per month.
When I simulated an order online for the $45 unlimited plan as a bring your own phone customer, I received an additional $10 discount.  AT&T is selling SIM cards for 99¢.  So with the purchase of a SIM card and the additional $10 discount, the first month of service would have cost me just $35.99 plus taxes and fees.
Discounted Phone Offers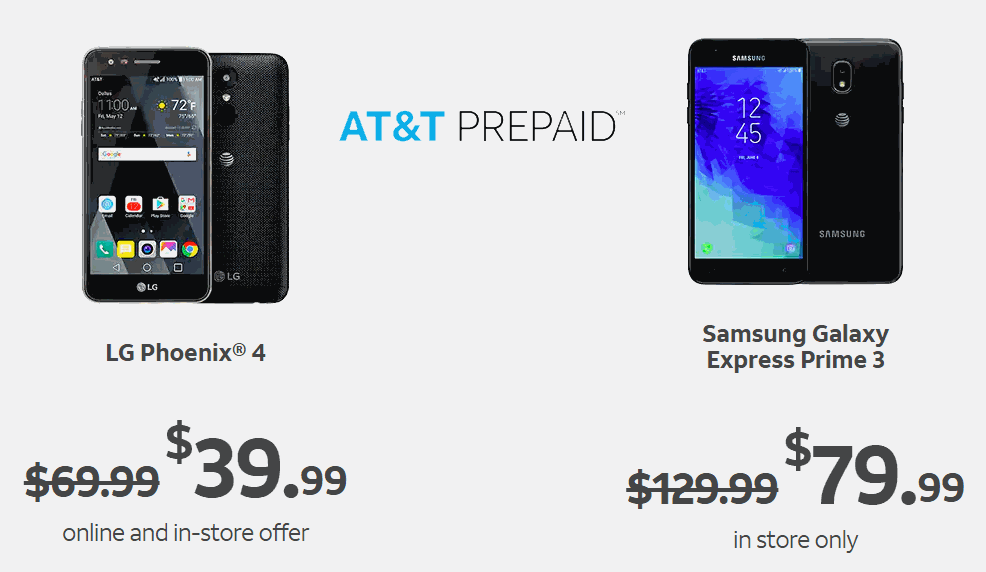 In addition to the unlimited plan offers, AT&T Prepaid is also offering discounted pricing on select phones.  Those who purchase either an LG Phoenix 4, Alcatel TETRA, Samsung Galaxy Express Prime 3 or LG Phoenix Plus will get $30 off the price of the phone when they purchase one with a $35 prepaid refill card.  This offer is available online only and is valid until 12/20/18.
The LG Phoenix 4 is regularly priced at $69.99, the Alcatel TETRA is $49.99, and the LG Phoenix Plus and Samsung Galaxy Express Prime 3 are both regularly priced at $129.99.
AT&T Prepaid is also offering discounts on select phones when they are activated as a new line of service on plans priced $50 or higher.  The Samsung Galaxy Express Prime 3 is available for $79.99 through the promotional offering.  The LG Phoenix 4 is $39.99.  These two offers are available in store only until 1/20/19.
---
---