AT&T Prepaid Offering 3 Unlimited Lines For $100 Only At Walmart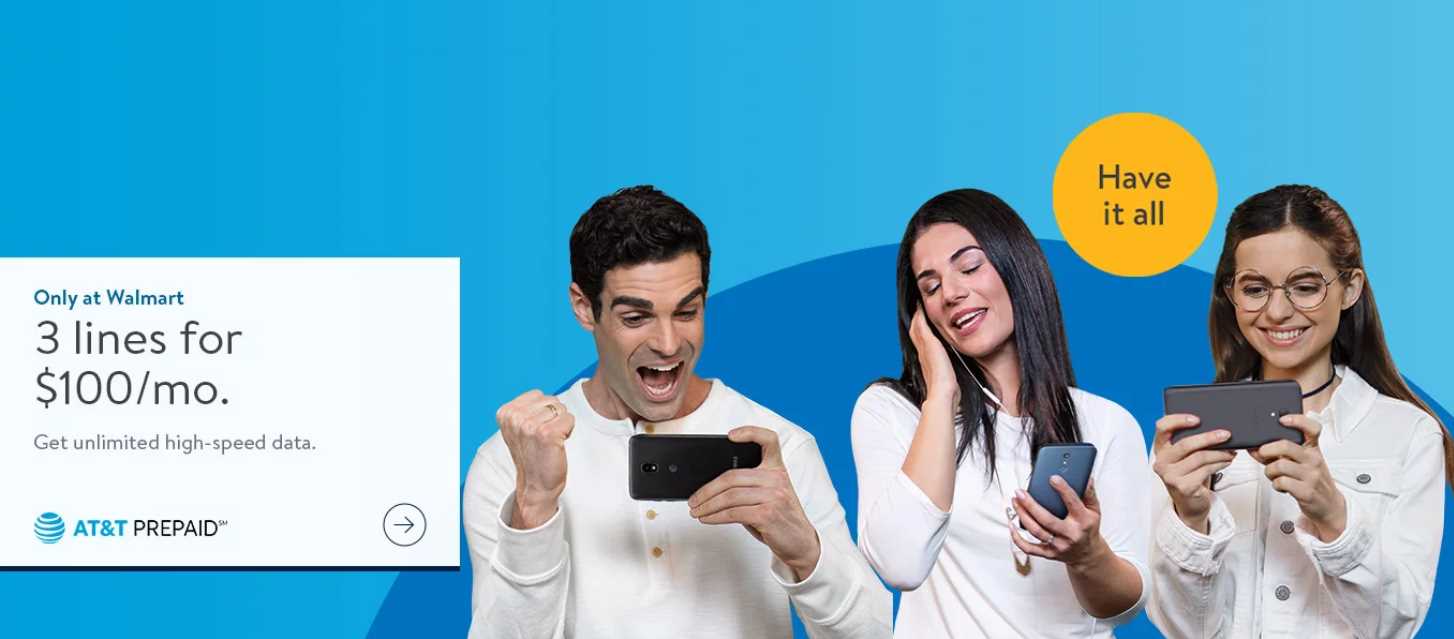 When it comes to prepaid wireless plans, Walmart is a retail force to be reckoned with.  The store offers several exclusive prepaid plans.  For instance, Total Wireless has for a long time offered an extra GB of data for life on the $35 plan that normally comes with 5GB of data, but the offer is only available at Walmart.  For over a year, Boost Mobile has offered double the data on its $35 plan exclusively at the store.  In December AT&T owned Cricket Wireless was also offering bonus data on its $40 phone plan there.  Now, AT&T itself is offering a Walmart exclusive.  New AND existing customers who signup for service at the store or on Walmart.com can get 3 lines of unlimited LTE data for $100.
Phone Plan And Offer Details
This offer requires customers to subscribe to AT&T Prepaid's $65 monthly plan, enroll in a multi-line account AND to purchase an AT&T Prepaid phone.  Only one prepaid phone needs to be purchased.  The owner of the account must also enroll in auto-pay billing.  Customers must complete the setup of their multi-line account within 21 days of purchasing a phone.  If those eligibility requirements are met, customers may get the discount applied to their account prior to their first plan renewal.
All subscribers must stay on the $65 plan and have at least 3 lines active to maintain the discount. If a line gets removed from the account, changes to another plan or plan renewal is not on time, the account loses the discount.
No other promotional discount offers can be applied to this one. Taxes and fees cost extra.
If customers do not need multiple lines, the $65 plan is available for $45/month with an autopay discount.  This offer is scheduled to be available until 4/11/19 and is now in store only.
Phone Plan Features
AT&T Prepaid's $65 phone plan includes unlimited talk, text and LTE data.  Similar to other unlimited plans there is a data prioritization policy in place.  If at any time the network becomes congested with traffic, subscribers on this plan may experience slower data speeds compared to other customers.  Video streaming is also limited to a maximum speed of 1.5 Mbps or a resolution of about 480p. The plan also includes unlimited texting to over 100 countries and full service roaming while in Mexico and Canada.  That means you can use your talk, text and high speed data in either country with no extra charges.  Mobile hotspot usage is prohibited and unavailable.
Editor's Take
January has been a busy month for new promotions and improved phone plans.  This is another win for the consumer.  Unfortunately though, it does come with the added requirement of needing to spend more money by purchasing a phone.   I suspect many of you reading this that are interested in the offer will already have your own phones that you'll want to use with this deal.  The cheapest AT&T Prepaid phone I could find at Walmart is the Alcatel TETRA priced at $39.99, so that may be the best option for you.
The offer is currently being pushed right on Walmart's homepage.
---
---