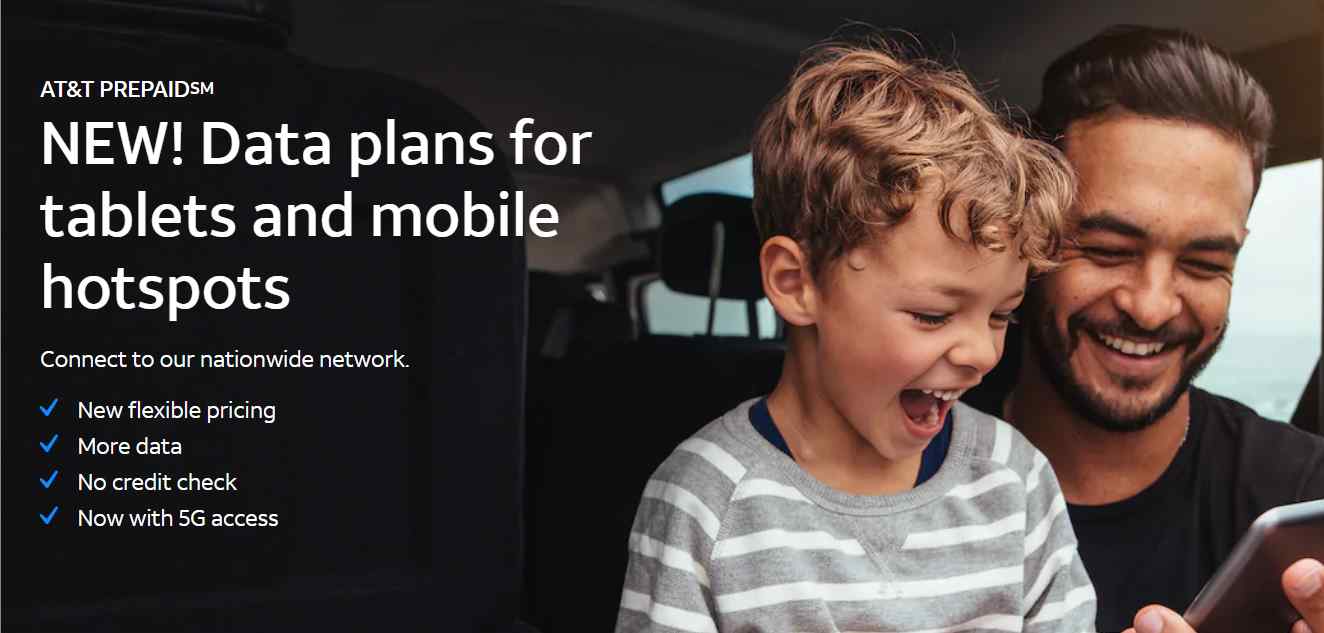 ---
For the second time this year, AT&T Prepaid has updated its data only plans. The Mobile Resource Internet Center first noted the plan changes over the weekend. BestMVNO last reported AT&T Prepaid data only plan changes back in February. BestMVNO noted that the provider's $75/month plan was updated from 18GB of high-speed data to 40GB. However, with the latest plan updates, that plan has been eliminated. Also noted in February was an increase in the data provided with AT&T Prepaid's $50 plan. Data was upgraded from 10GB to include 25GB. Now the plan has been updated again. The data allotment has been quadrupled to include 100GB of high-speed data and the price increased to $55/month. With the plan updates in place, AT&T Prepaid's full data only plan lineup now looks like this:
$25/month - 20GB high-speed data. This is an annual plan only, and $300 must be paid upfront and in full for 12 months of service
$35/month - 15GB high-speed data, monthly plan
$55/month - 100GB high-speed data, monthly plan
AT&T Prepaid's data-only plans can be used with tablets and hotspot devices. They also operate over AT&T's 4G LTE and 5G networks. Taxes and fees cost extra.
Cricket's Updated Data Only Plans
AT&T's other prepaid brand, Cricket Wireless also has updated data-only plans. Previously, three data only plans were offered priced as follows:
Old Data Only Plans And Prices
$35/month - 20GB
$50/month - 40GB
$90/month - 100GB
Updated Data Only Plans And Prices
The updated plans are as follows:
$35/month - 20GB
$55/month - 100GB
Both the old and new plans include nationwide 5G network access. Nationwide 5G network access is only available with Cricket 5G devices. The plans also work in Mexico and Canada. Taxes and fees are included in the price of each plan.
See Cricket Wireless Data Plans
Editor's Corner
In December of 2020, T-Mobile was falling all over itself to highlight its 5G network, something it has continued to do thus far throughout 2021. The company ended 2020 bragging about having a "powerful" and "industry-leading 5G network." It introduced what it claimed was the industry's best standalone hotspot plans. To quote T-Mobile, an "absolutely wild deal" was introduced, 100GB of data for just $50. The plan was available as a prepaid option. It didn't last long on the prepaid side though, as Dennis Bournique noted the data allotment was reduced to 50GB at the end of March.
Remember that $50 100 GB T-Mobile prepaid mobile broadband plan that launched 3 Months ago? It's gone, downsized to 50 GB https://t.co/wR6E8W6Gfy

— YesWap (@yeswap) March 29, 2021
So with the plan updates from AT&T Prepaid and Cricket Wireless, it looks like AT&T is trying to take advantage of T-Mobile's downgraded hotspot plan offering. Perhaps the two AT&T-owned prepaid brands should now brag that they are offering "absolutely wild deals." Of course, these aren't just "wild deals." They are permanent offerings, and T-Mobile has been one-upped.
Things have been going well for AT&T as of late. Just days ago AT&T reported its first quarter of 2021 earnings results. The company added 823,000 postpaid net subscribers and 207,000 prepaid phone net adds. Plan changes like the ones covered here today should continue to drive growth for the company.
---
---