Yahoo Mobile To Shut Off No Later Than August 31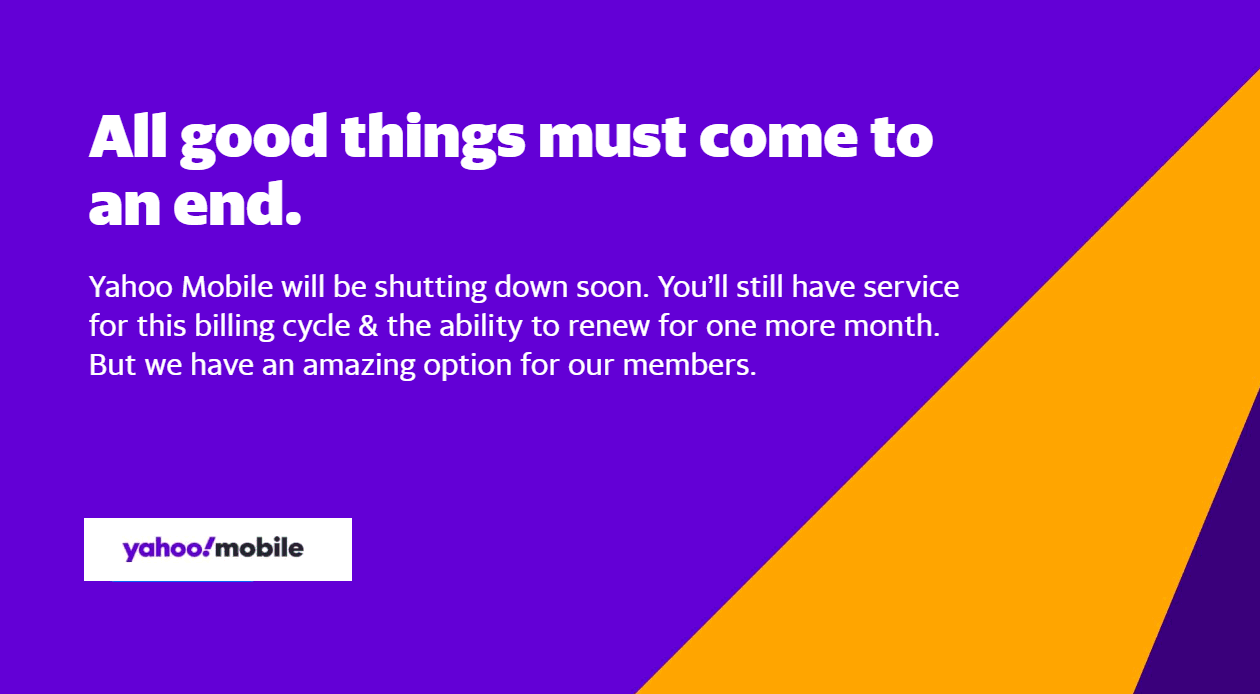 Last month, Verizon announced that it was selling its media business division that includes AOL and Yahoo to private equity firm Apollo Global Management for $5 billion. Verizon said it will raise $4.25 billion in cash from the sale and will retain a 10% stake in the new company which will be rebranded to Yahoo. The deal is expected to close in the second half of 2021.
With the sale, questions arose as to what would happen to Yahoo Mobile. Yahoo Mobile has formally announced that it will be shutting down. Today, June 17th, the provider began emailing its customers that they will still have service for their current billing cycle and will be able to renew their service for one more month. Yahoo Mobile says that the service will completely shut off by no later than August 31. The provider is encouraging its customers to switch over to its sister brand, Visible. An FAQ page has been setup on their website informing subscribers on how the shutdown will be handled.
In March of 2020, Verizon launched the Yahoo Mobile brand as a way to try and further monetize its Yahoo userbase. Verizon used its Yahoo platform which included Yahoo email to market the service. Yahoo Mobile offered one plan, an unlimited everything plan for $39.99/month with taxes and fees included. It came with a more premium Yahoo experience. Subscriptions included an ad-free Yahoo Mail Pro email account upgrade and 24/7 Yahoo account customer service. Yahoo Mobile was powered by Visible and was basically Visible rebranded for Yahoo users.
Visible currently has a special promotion running for new customers. They can get their first two months of service for just $15/month when they signup using promo code SUMMER at checkout. Regular pricing is $40/month including taxes for unlimited everything including mobile hotspot, or $25/month when joined to a Party Pay Group. The offer is scheduled to be available at least until July 1. The deal's terms and conditions say nothing at all about exclusion of Yahoo Mobile subscribers from the deal. So if you are a Yahoo Mobile customer, it looks like you should be able to seamlessly transition over to Visible and get a discount for your first two months of service. You can checkout the Visible promo here. If you would prefer another Verizon based provider instead, compare them with this Verizon MVNO list.
---
---