Visible Launches Midnight Phone At Walmart.com, Is Store Launch Pending?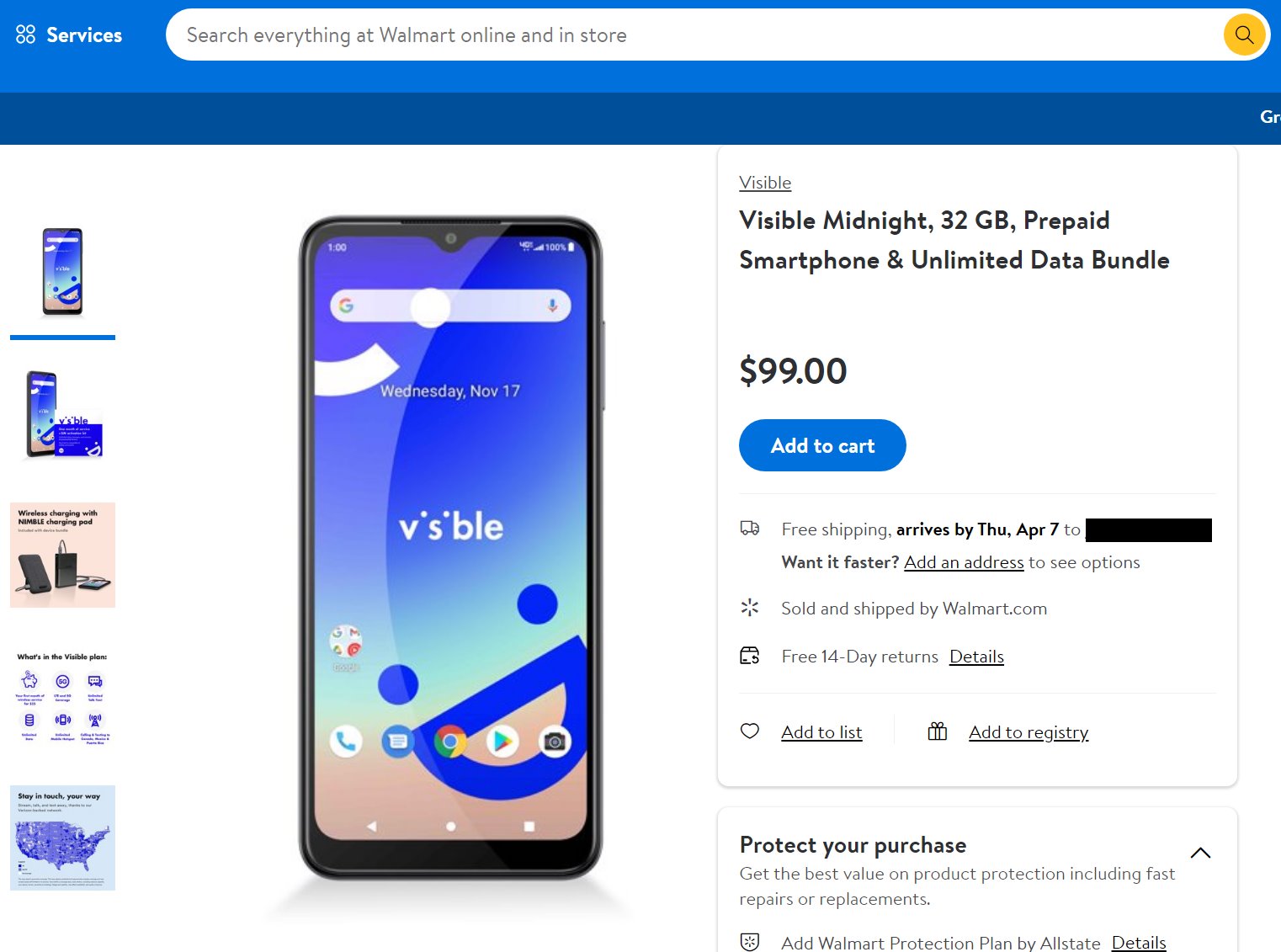 ---
Did you know BestMVNO is available to follow for free in Google News? Follow BestMVNO in your Google News app and keep up to date on wireless.
Follow BestMVNO In Google News
---
---
Visible has launched its Visible Midnight phone at Walmart.com for $99. The launch appears to have taken place on April 1st, and was first noted by a Redditor. The launch date is further supported by data from the Wayback Machine.
The Visibile Midnight phone comes bundled with service for one month of Visible's unlimited phone plan. According to Walmart.com you can buy the phone and start your service without any payment details needed for that first month of service. Visible sells the phone through its own website for $100 without any service included. However, customers going through Visible's website can get the Midnight for free with a device trade-in.
The Visible Midnight is the first phone sold by Visible through Walmart.com and appears to be the first phone ever sold by the company outside of Visible's own website. It is an entry-level phone with the following specifications:
Visible Midnight Phone Specs
6.5" 720p x 1600p HD+ LCD display
Mediatek Helio P22 MT6762 2GHz octa-core processor
Triple rear camera with 13MP main lens and 5MP (ultra-wide) + 2MP (depth) secondary lenses
8MP selfie camera
4000mAh battery with wireless charging support and wireless charger included
32GB of internal storage expandable with a microSD card
3GB Ram
Support for 4G LTE bands:
2/4/5/12/13/66
Believed to be manufactured by Wingtech Group
Visible At Walmart, More To Come?
Last November, BestMVNO reported that Visible began selling a Walmart.com exclusive starter plan. The Walmart plan offers new customers 3-months of unlimited service for just $60 total or an average cost of $20/month. Visibile normally costs $25/month for subscribers that are in a Party Pay group and $40/month for those that are not.
Subscribe to BestMVNO and always be informed of the latest deals, plans and carrier promotions!
With Visible now offering its first phone ever through Walmart.com, it begs the question, could an in-store launch be pending?
In order for Visible to launch in Walmart stores, it would have to completely reverse course on its long-standing sales strategy. Visible has always maintained itself as an online-only brand. In fact, the company, which is backed by Verizon, launched in 2018 and first marketed itself with the slogan "Visible. It's phone service. In an app." The slogan seems to have since been retired. Visible's website currently features the slogan "Wireless made for the single life." It matches the themes of some recent TV commercials that Visible has been airing which highlight that you can get a phone plan for just $25/month without a family.
The likelihood of Verizon launching Visible in Walmart stores does seem to be increasing by the day. There's been a slow rollout of a few SIM card and plan options at Walmart.com including the 3-month offer described above, a stand-alone SIM card for $3, and a one-month plan for $25. And now there's a phone and plan bundle option available.
Visible has even gone one step further by launching its own branded landing page on Walmart.com which you can check out here. Several other brands sold in Walmart stores, including AT&T Prepaid and Straight Talk, have their own branded pages on Walmart.com as well. So this could be a sign of things to come for Visible.
Last November, Verizon formally closed on its acquisition of Tracfone and all of its associated brands. Tracfone brands have dominated the prepaid and MVNO shelf space of Walmart stores for a long time with Straight Talk being the main entity. And thanks to that acquisition, Verizon now has a strong prepaid retail presence in the store. Verizon also sells its own Verizon Prepaid brand through Walmart stores. Adding Visible to the mix would only strengthen its position there and would do a great deal to help grow the brand.
Over the last several months, competition in prepaid and the MVNO space has been ever increasing in Walmart stores. Last fall, Ultra Mobile began to offer some phone plans through the store. Earlier this year, it expanded its offerings in select markets. Also last fall, Metro by T-Mobile entered the store. And this past January, BestMVNO reported that Consumer Cellular was making a move into Walmart. The increased competition could give Verizon one more reason to consider launching Visible at a physical location.
---
Be sure to follow BestMVNO on Twitter for additional wireless coverage, deals, insights, and even debates!
Follow @BestMVNO Twitter
---
---