---
Last year Verizon began testing sales of its prepaid service through exclusive dealers. Today, some of those dealers are now offering double the data for life on all Verizon Prepaid plans that have high speed data limits.
Dealers using the Vidapay platform have the special pricing.
Verizon Prepaid Double The Data For Life Plans And Pricing
Verizon Prepaid's double the data plans are priced as follows:
All plans include unlimited talk, text and data with the specified amount of data at 4G LTE data speeds.
$30/month - 1GB of data, normally includes 0.5GB
$40/month - 6GB of data, normally includes 3GB
$50/month - 14GB of data, normally includes 7GB when purchased directly from Verizon, and 9GB when purchased from Walmart
$60/month - 20GB of data, normally includes 10GB.  Also includes unlimited talk and text to Mexico and Canada.
All of Verizon's Prepaid plans also include unlimited international texting to over 200 countries, mobile hotspot, and data carryover.  Data only carries over for one billing cycle, and subscribers must make on time payments or have autopay billing enabled on their accounts to get it.  Video streaming is limited to a resolution of 480p, and during times of heavy network traffic, data speeds will be slower than Verizon's postpaid customers.
Multi-Line Discounts
Verizon's prepaid plans are multi-line discount eligible for up to 5 lines.  All plans except for the $30 plan are eligible for the discounts.  The discounts offered are as follows:
$40 plan - $10 off per month for lines 2-5
$50 plan - $15 off per month for lines 2-5
$60 plan - $20 off per month for lines 2-5
Independent Dealer Free Phone Offer
In addition to the exclusive double the data promotion, select phones are also being offered with discount pricing.
The LG Optimus Zone 3 is free after a $35 rebate. It is being sold for $69.99 directly through Verizon Prepaid's website although it is currently out of stock.
Independent dealers have the iPhone 6 available for $170 after a $15 rebate.  Direct through Verizon the phone costs $199.
Fine Print
The double data promotion is said to be for a limited time.  No end date has been given.  Subscribers will get double the data for life as long as they don't ever port out or deactivate their line.
Where To Find A Dealer
Finding a dealer that is offering this promotion may be a tough task.  If you are interested it, a good place to start would be to use Verizon's store locator.  If you are lucky enough to have a "prepaid only dealer" in your area, that is who you should call to ask about Verizon's double data for life prepaid promotion.  The prepaid only dealers will show up in yellow on the Verizon map.  The powder blue "authorized retailers" and Verizon stores highlighted in red will not have it. (Update:9/7/2018 - Double data for life is back, and now it's easy to find a dealer!)
Another place to check would be Craigslist.  I found a dealer in Ohio from Choice Communications advertising the deal on Craigslist as well as one in Harrisinburg, VA called Gadget Town, and another Lend Me An Ear Cellular from Eastern Idaho. It has also been confirmed that a dealer in Syracuse, NY called K&B Wireless has it.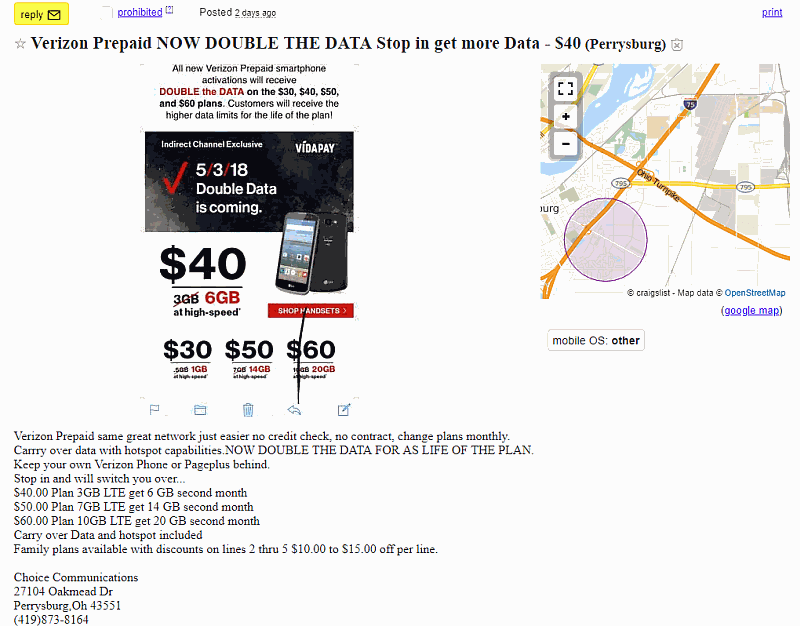 ---
---