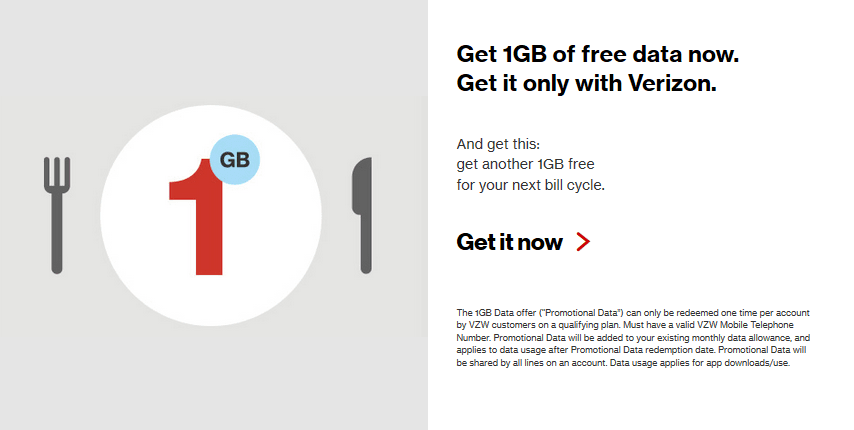 ---
As part of a holiday themed promotion, Verizon Wireless is offering its postpaid customers several goodies around the Thanksgiving holiday.  Verizon dubs this special promotion Thanksgetting.
For some, the biggest goodie will be the extra 1GB of data that postpaid subscribers can get right now as well as an additional 1GB of free data for their next billing cycle.
Be informed of the latest deals, plans and promotions from Verizon and every one of its MVNO's when you subscribe to the Verizon weekly newsletter. No spam and you can unsubscribe at any time!
Other promotional items are being offered on November 25th and they include a $5 iTunes gift card, a free 30 day trial of Pandora One, $20 off a Lyft ride, free 30 minute Wi-Fi session on select airlines, and free movies and music via Amazon.
Black Friday Deals
Verizon is also offering several Black Friday deals.  Customers who port over to Verizon, trade in their smartphone and buy a Samsung Galaxy S6, Samsung Galaxy S6 Edge, or Droid Turbo 2 will get $500.  The $500 comes in the form of a $200 Black Friday smartphone discount plus $300 in the form of a Verizon gift card or account credit for the trade in.
Prospective Verizon customers can also get $100 off the retail price of select Android smartphones from Black Friday through Sunday.  The deal is only available for Android phones retailing at $400 or more and a port in is required.
If you're looking to become a Verizon Prepaid customer you can check out this Walmart promo where you can get 1GB of extra data free each month for life on the $45/month prepaid plan.
---
---