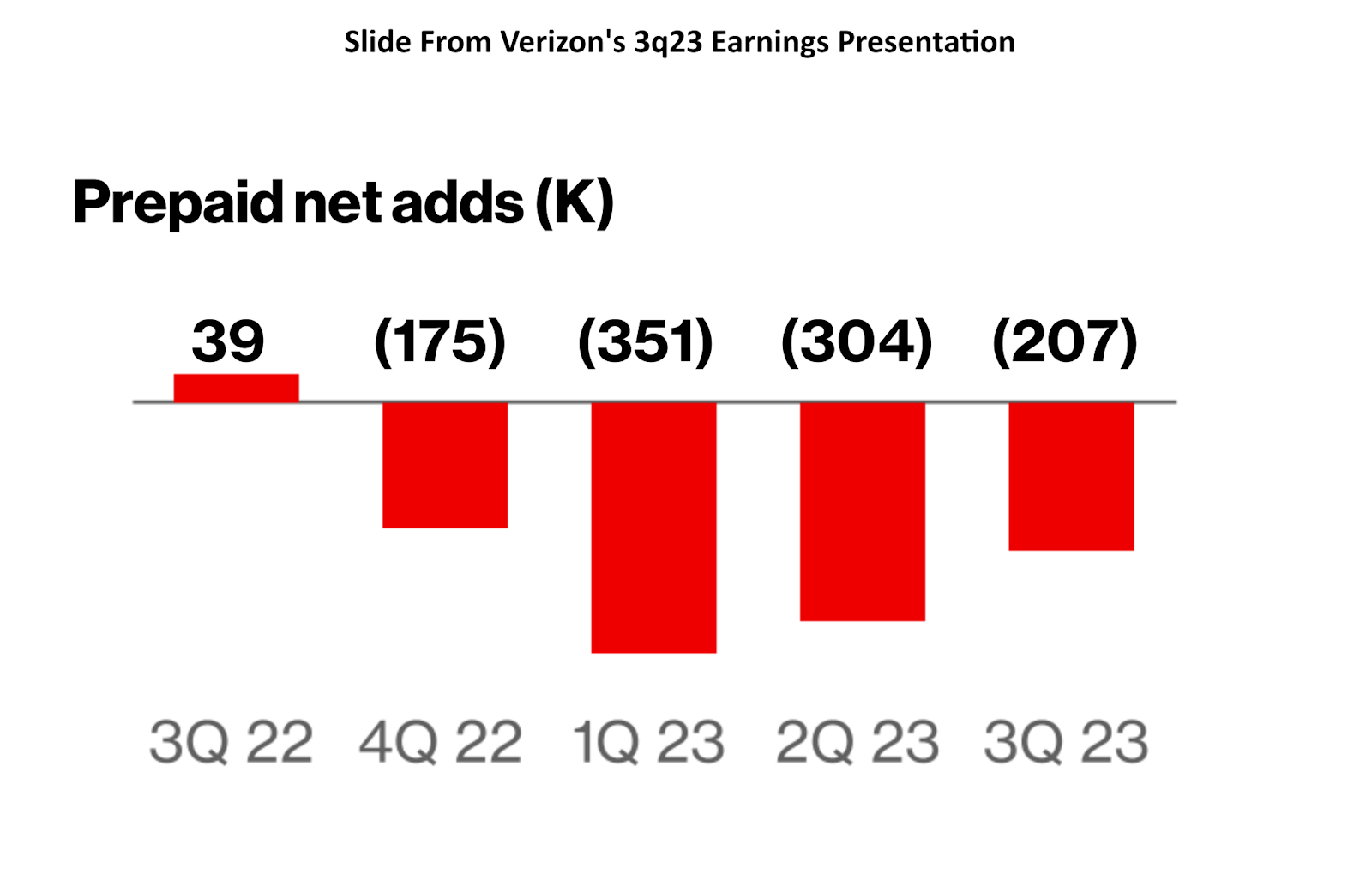 ---
Verizon released its 2023 third quarter earnings today. The company's stock closed up 9.27% on the day (to $34.40) on the heels of raising its guidance for the year by $1 billion, with total wireless revenue up 2.9% year over year, and 100k postpaid phone net additions for the quarter. However, Verizon's postpaid consumer, and more so prepaid segments leave a lot to be desired.
The company reported a loss of 51k postpaid retail consumer lines in the quarter, and a loss of 207k prepaid lines. Postpaid losses were an improvement over the previous quarter's 136k losses. Prepaid also improved from an astronomical 304k losses in the prior quarter. However, Verizon hasn't had a quarter of prepaid growth since 3Q22 when it added 39k lines. Since then, Verizon has lost 1.037 million prepaid subscribers.
Be informed of the latest deals, plans and promotions from Verizon and every one of its MVNO's when you subscribe to the Verizon weekly newsletter. No spam and you can unsubscribe at any time!
Back in September 2020, Verizon announced it reached an agreement to buy Tracfone and all of its associated brands from America Móvil in a deal valued at up to $6.9 billion. Verizon wanted the brands to give it a better footprint in prepaid. By the time the deal closed in November 2021, Verizon had about 4 million of its own branded prepaid customers, a number significantly behind Metro by T-Mobile and AT&T's Cricket Wireless which combined to account for more than 30 million prepaid subscribers. Verizon finished 2021 with 23.852 million prepaid subscribers thanks to the addition of roughly 20 million prepaid customers that it inherited from Tracfone.
Verizon Has Lost Over 2.4m Prepaid Subs Since Acquiring Tracfone
Verizon's current prepaid subscriber count stands at 21.420 million, representing a loss of 2.432 million subscribers since it acquired Tracfone. Of course, some subscriber losses were to be expected. Tracfone brands historically operated on the Verizon, T-Mobile, and AT&T networks. Verizon has been working as quickly as possible to try and convert customers using Tracfone on networks other than its own over to its own network. Inevitably, as noted in the latest quarterly multi-carrier prepaid dealer survey from Wave7 Research, some customers on other networks don't see Verizon as a viable option and would rather stick with the network they already have. So Verizon will continue to lose at least some customers until there are no more legacy Tracfone subscribers using other networks under its belt.
The Path To Growth Lies Ahead
Verizon may also lose some prepaid customers going forward over to its higher revenue generating postpaid side. Some analysts seem anxious for this to happen. Michael Rollins asked Verizon's executive team about this today during Verizon's earnings conference call. Rollins asked ".....on prepaid, just an update would be great on the integration of TracFone? And how Verizon is thinking about the opportunities and timing of potentially taking some of those prepaid customers and migrating them over to your postpaid base. Thanks."
Verizon's CEO, Hans Vestberg responded to the question. He stated that the first half of '23 was the low point for Verizon's prepaid brands. But that looking ahead, things should start to sequentially improve. For starters, he expects improvement because they are building and opening up Total by Verizon stores at great speed. BestMVNO previously noted that Total by Verizon had big plans for store openings in 2023. But, Vestberg also stated that the stores are going to help Verizon move prepaid customers that want it, over to the postpaid side.
Vestberg also believes prepaid growth will come in the months ahead thanks to its national retail partnerships. Verizon's prepaid brands are carried in stores like Walmart, Target, and Best Buy. He says that they are working with retailers to fortify their store offerings.
---
---