Venn Mobile Now Offering $22/Month Unlimited LTE Data Plan That Includes 50GB Hotspot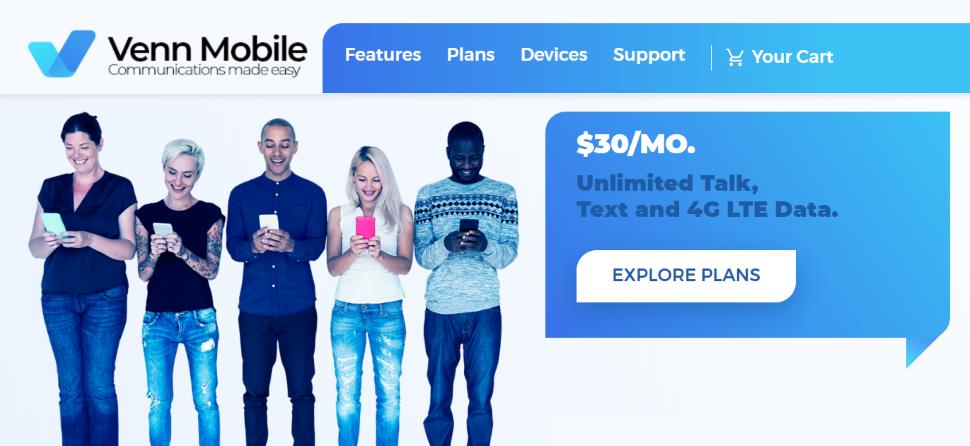 There is a new MVNO on the market with the brand name Venn Mobile.  According to the brand's social media posts, it looks like it was launched in late January.  Currently Venn Mobile is offering just one phone plan and it is highly competitive.  The plan comes with unlimited everything plus 50GB of mobile hotspot for just $30/month.
This article, originally published on 2/20/2020 was updated on 3/11/2020 to include a new promo code from Venn Mobile.  Promo code SOCIAL8 gives new subscribers $8/month off their plan for their first 6 months of service. The price is now $22/month.
Who Is Behind Venn Mobile?
Venn Mobile appears to be run by the same people behind the Teltik brand, as evidenced by the fact that both the Teltik brand and Venn Mobile brands are using the same address on their "contact us" page.  BestMVNO has reached out to Teltik representatives for clarification. Update:  Venn Mobile has confirmed to BestMVNO that the brand is operated by the same people behind Teltik.
Teltik is a T-Mobile business plan reseller that was founded in 2016.  So if you are apprehensive about a new brand launching with extraordinarily good pricing you can be confident in the brand's legitimacy given it is being run by experienced individuals who have been in the market for several years.
Venn Mobile's Wireless Plan Details Explained
Venn Mobile is operating on the Sprint network.  Just one plan is currently being offered priced at $30/month.  Taxes and fees cost extra.  New customers can get the plan for just $22/month for their first 6-months of service when they use the coupon code SOCIAL8 at checkout.  The plan comes with all of the following features:
Unlimited Talk
Unlimited Text
Unlimited LTE data*
50GB mobile hotspot
1080p video streaming
Free domestic roaming that includes 100MB of roaming data and unlimited calling and texting
Wi-Fi calling
Free calls to and from Mexico and Canada
10GB LTE data roaming while in Mexico or Canada
No contracts
*Like all unlimited data plans, there is a data prioritization policy in place.  Venn Mobile's data prioritization policy states that customers who consume more than 50GB of high-speed data in a billing cycle may have their data speeds temporarily reduced during times of network congestion. Venn Mobile's website states that the 50GB data prioritization threshold is an estimate.  So it's possible the threshold may kick in if a little more or less than 50GB of high-speed data gets consumed.
Venn Mobile's wireless plan also includes "secure WiFi."  Secure Wifi is described as being a "smart VPN" app that automatically turns on when a device is connected to an unsecure WiFi network and turns off when disconnected. Protection is also available for password-protected WiFi networks.  Secure Wifi works by encrypting the subscriber's data as it gets transmitted to the internet.
Update:  A Venn Mobile representative has confirmed to BestMVNO that customers already with Sprint cannot port directly to this plan.
Venn Mobile Editor's Take: How Does It Stack Up Against The Competition?
There have been a lot of good offers to hit the market recently.  For instance, Black Wireless is offering a plan with 50GB of LTE data and a separate allotment of 20GB of mobile hotspot for $16.67/month.  The catch with that plan is that it's a limited time offer and subscribers must be willing to prepay for service 6-months in advance to get it, otherwise, it costs $25/month for 3-months of service.
Another great offer is being provided by Sprint exclusively at Best Buy.  Best Buy shoppers can pick up Sprint's Unlimited Kickstart plan for just $25/month.  The plan includes unlimited talk, text and LTE data but no mobile hotspot, and video streams are limited to a resolution of 480p.
In my opinion, this new plan from Venn Mobile may be the best of all offers, particularly if you need unlimited LTE data and a large amount of mobile hotspot data.  It compares favorably to Sprint's Unlimited Kickstart plan because it includes domestic roaming just like Sprint's plan, however, Venn Mobile offers hotspot data whereas Sprint does not. Venn Mobile also offers higher-resolution video streaming.
Compared to the Black Wireless offer, to me, things may be a bit less clear.  If you don't need unlimited data and a large amount of hotspot data and don't mind paying for service several months in advance than Black Wireless is probably the better deal for you.  Either way, both plans provide excellent value to consumers.
---
---