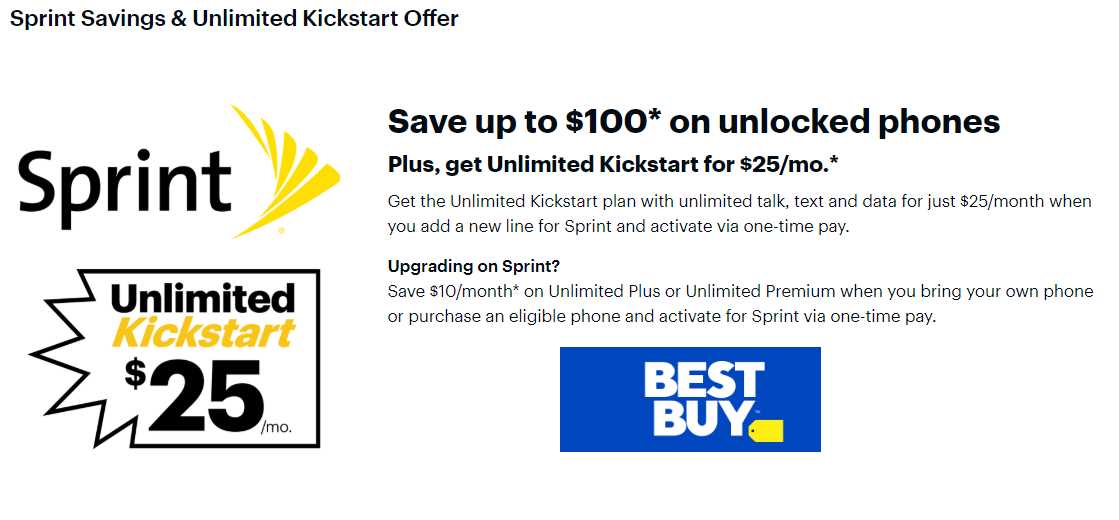 ---
Sprint has once again lowered the price of its Unlimited Kickstart plan from $35/month down to $25/month.  The catch is the plan is only available at Best Buy.  The plan is being marketed alongside Best Buy's long-running deal of "save up to $100 on unlocked phones" when activated on Sprint.
Sprint's Unlimited Kickstart Plan Best Buy Offer Fine Print
This is a limited time offer with no end date specified but is subject to change at any time.  Pricing is available to new lines of service only and also requires customers to either bring their own device to the network or to purchase a new unlocked or Sprint-branded phone at full retail price to use with the plan.  Autopay must also be enabled on the account.
Taxes, fees, and surcharges cost extra and may be applied as follows:
Sprint Surcharges including Universal Service Fund charge of up to 20.1% (varies quarterly), up to $2.50 administrative fee and a 40¢ Reg./line/mo. & fees by area (approx. 5%–25%).  An activation fee of up to $30/line may also be charged.
Sprint's Unlimited Kickstart plan comes with the following features and restrictions:
Unlimited talk, text, and 4G LTE data
Video streaming limited to a resolution of up to 480p
Music streams limited to up to 500Kbps
Gaming streams limited to up to 2Mbps
NO Mobile hotspot
Like other unlimited plans on the market, there is a high-speed data prioritization policy in place.  Subscribers that use more than 50GB of data in a month may have their data speeds temporarily slowed down during times of heavy network congestion.
When similar Unlimited Kickstart offers were previously available, customers could only pick up the plan if they ported in from a carrier that was not related to Sprint.  I imagine the same restriction is in place, so if you are with a Sprint MVNO, this offer is unavailable to you.
Save Up To $100 On Unlocked Phones When Activating On Sprint
If you need a brand new phone to use with Sprint's Unlimited Kickstart plan, Best Buy is probably the place to go for it.  Customers can save up to $100 on top of an already discounted unlocked phone when they activate one in-store on any Sprint phone plan.  There are currently over 60 phones available at a discount with activation, which is way too many to list here.  A few deals include:
64GB Moto G7 - $149.99
32GB Moto Z3 Play - $99.99
Samsung Galaxy S10e - $499.99
LG G8 ThinQ - $549.99
Customers should be aware though, that Best Buy says it will apply a $45 "return charge" on returned or unlocked phones that have been opened (excluding prepaid phones).
---
---