Sprint's Unlimited LTE Data Kickstart Plan Is Back, This Time For $25/Month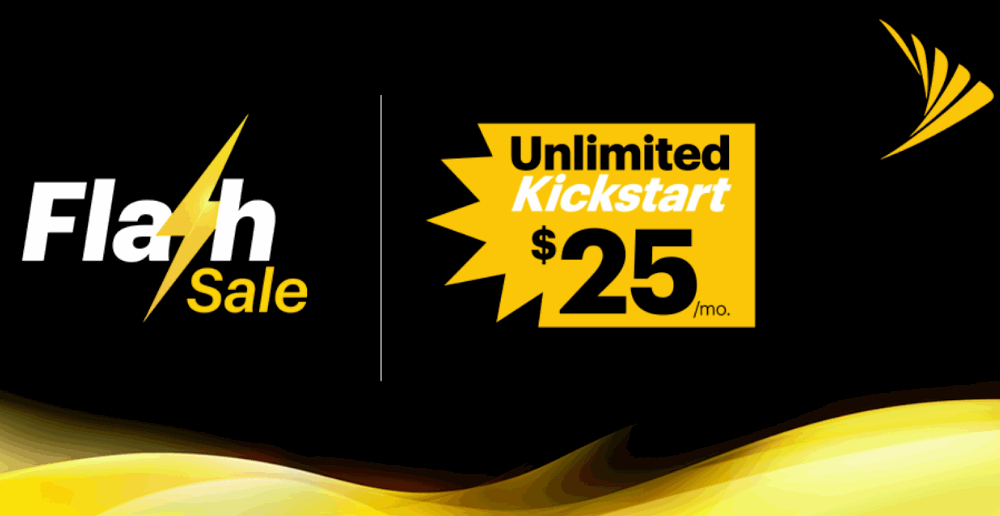 ---
Did you know BestMVNO is available to follow for free in Google News? Follow BestMVNO in your Google News app and keep up to date on wireless.
Follow BestMVNO In Google News
---
---
Back in June Sprint unveiled a deal called Unlimited Kickstart.  The plan offered unlimited everything including LTE data for just $15/month.  The promo expired just one week later after launch.  Now, Sprint is bringing Unlimited Kickstart back, this time at a price of $25/month plus taxes and fees.  Sprint is calling this a flash sale and it will officially start tomorrow, August 24, 2018.  There's no timetable as to how long the promo will be available, but Sprint says that it will be gone in a "flash." (Update, this deal continues to be available well into 2019.)
Offer Fine Print
Although Sprint's Unlimited Kickstart plan includes unlimited LTE data, there are some limitations tied to the plan.  Here they are.
Video streaming resolution limited to a maximum of 480p
Music streaming resolution limited to a maximum of 500Kbps
Gaming streams limited to a maximum of 2Mbps
Any time the network gets busy with a lot of traffic, data speeds will temporarily be reduced as compared to other Sprint customers
The $25 promotional price is with autopay billing enabled.  Sprint doesn't say how much the plan will cost if you don't enable it, but typically the savings amounts to $5-$10/month.
To get the plan you'll be required to either bring your own smartphone or buy a new one from Sprint at full price.  You'll also need to port in from another wireless carrier.
The last time Sprint offered the Unlimited Kickstart promo, readers chimed in to BestMVNO that they couldn't get the deal if they were trying to port-in from a Sprint MVNO.  I imagine the same limitation will be in place this time as well.
The offer will not be available in stores.  It will only be available online or by calling Sprint.
Sprint is promoting this deal as a way to show former customers how much their network has improved.  The carrier cites a report from Ookla that says that Sprint was the most improved network in the first half of 2018.  However, even with the improvements, the same report shows that Sprint is still the slowest of the big 4 networks.
If you are currently a postpaid customer on another of the big 4 networks considering Unlimited Kickback, Sprint is still offering a free year of unlimited LTE data to you (Update - the free year of unlimited data offer has ended).  You may want to check that offer out instead of Unlimited Kickback.
---
Be sure to follow BestMVNO on Twitter for additional wireless coverage, deals, insights, and even debates!
Follow @BestMVNO Twitter
---
---