Venn Mobile Earth Day Sale Will Get You Unlimited Plan With 50GB Hotspot For $17/Month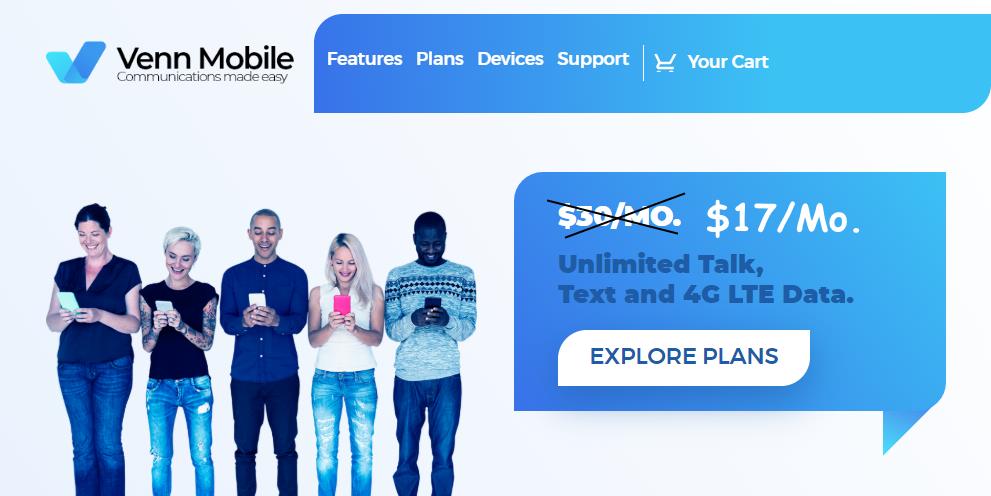 Venn Mobile quietly launched as a wireless service provider back in late January. The brand is run by the same people behind Teltik which was founded in 2016.
Venn Mobile offers just one phone plan and it uses Sprint's towers to provide service. The plan is regularly priced at $30/month and includes unlimited 4G LTE data with 50GB of mobile hotspot. For a limited time the plan is being offered at a discount. In honor of earth day, new customers can get it for just $17/month for their first 6-months of service when they apply code EARTH13 at checkout. Taxes cost extra.
Things You Should Know
This offer is only available to new customers who port-in from a provider that isn't already on the Sprint network. So if you want the deal, you'll have to port from AT&T, T-Mobile, Verizon, or one of their associated MVNOs. In fact, Venn Mobile's plan even at its regular rate is unavailable to those porting in with a Sprint based number.
Like all unlimited plan providers on the market, there is a data prioritization policy in place. During times of heavy network congestion, subscribers that use more than approximately 50GB of data in a month may have their data speeds temporarily slowed until the congestion gets relieved.
All features that come with the plan include the following:
Unlimited Talk
Unlimited Text
50GB mobile hotspot at high-speed then unlimited at 3G data speeds
1080p video streaming
Free domestic roaming that includes 100MB of roaming data and unlimited calling and texting
Wi-Fi calling
Free calls to and from Mexico and Canada
10GB LTE data roaming while in Mexico or Canada
No contracts
Venn Mobile does not specify how fast their 3G data speeds are. I reached out to a company representative for clarification and will update the post if I receive a response.
This certainly looks like a great deal on paper, although some customers may be apprehensive about it given the recent fiasco with Black Wireless and Mango Mobile who offered somewhat similar plans albeit on the T-Mobile network. Black Wireless and Mango Mobile, however, ended up having to cancel their plans and refund their customers likely for selling a plan they didn't have proper approval from T-Mobile to sell. I don't think Venn Mobile subscribers will suffer the same fate as there isn't a previous track record of something like this happening with Sprint based MVNOs as there is with T-Mobile based MVNOs.
---
---