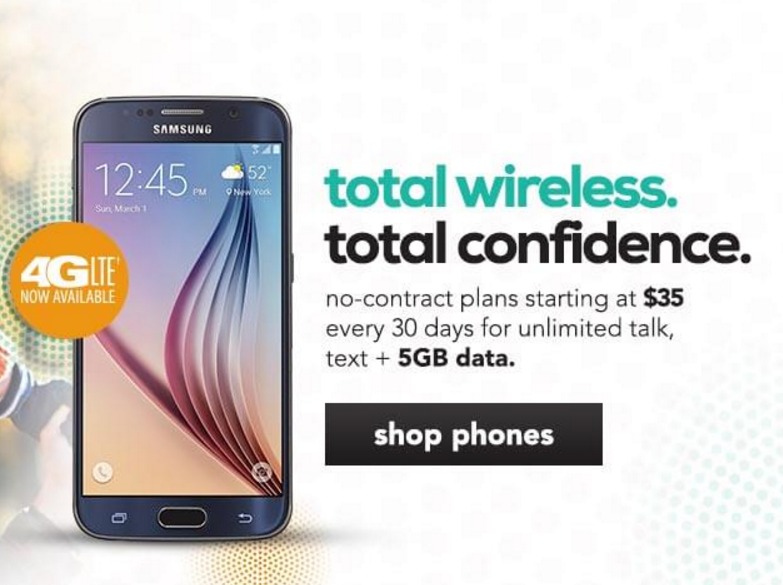 ---
UPDATED 5/13/2016: See Total Wireless plans now feature 4G LTE data.
May 30, 2015
Total Wireless, an MVNO that operates on Verizon's network has been rumored for a few days to be getting LTE data speeds.  Today, at least one reader at BestMVNO.com reports that they now have 4G showing with the prepaid wireless provider (although this maybe a bit odd without a SIM card. The reader has since rescinded their statement citing confusion between Total Wireless and BYO Wireless) .  Confirmation of the service is not yet showing on either Total Wireless's website or Walmart's website, although that may happen in the next day couple of days given the rumors and the fact that Verizon must allow its MVNOs to have LTE access for them to survive and be competitive in the marketplace.  Currently Total Wireless is the only Verizon based Tracfone brand to not offer LTE access.
Total Wireless offers several base plans as well as data add on cards (3 GB with data carryover for $10) to expand on those plans.  The base plans are as follows:

If and when LTE becomes available (now available as of 5/13/2016), the $35 plan would be one of the best and cheapest plans on the market when you consider the amount of LTE data you would get per network coverage area.  With autopay you can save even more as the plan price becomes $33.25.  A bit to note though is that Verizon MVNOs are limited to about 5 Mbps download speeds and 2 Mbps up.
Total Wireless supports Bring Your Own Device.
For more on this LTE rumor, see the comment below.
---
---