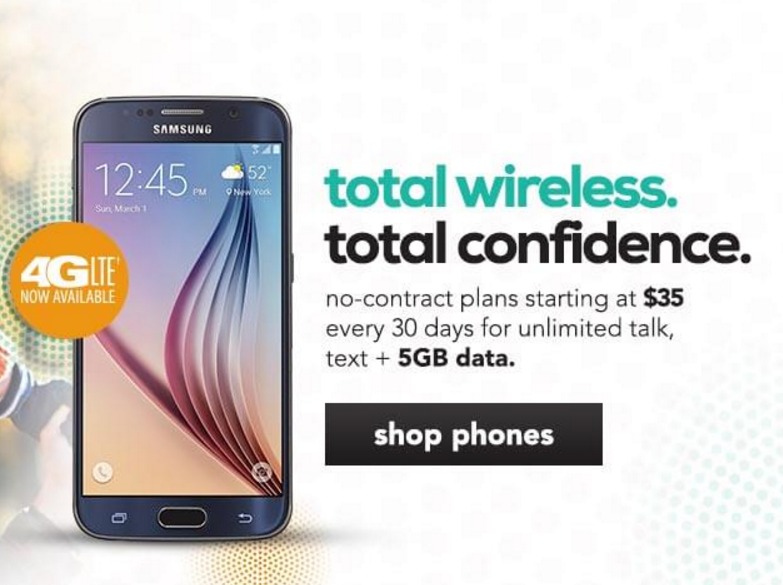 ---
Updated: 9/09/2017 
If you're thinking of switching to Total Wireless, I tried their service for a full month and you can read a review of my experience with Total Wireless here.
UPDATED: 5/13/2016
Total Wireless is now selling 4G LTE phones and offering 4G LTE data. The rumors of 4G LTE data coming to Total Wireless in May have now proven to be true, although with a little bit of a delay.
With the addition of 4G LTE data, Total Wireless is now offering the best all around value for your money as an MVNO on Verizon's network. In fact some could make the case that this is now one of the best valued plans on the market given the amount of data you're getting for the price as well as the great network coverage.
Shop Total Wireless Exclusively At Walmart
There is one downside to the joining any Verizon MVNO and that is that LTE data speeds are limited to 5 Mbps download and 2 Mbps upload (update 9/9/17 there are no longer any speed restrictions on download and upload speeds with Total Wireless.  Customers now have the ability to get the same download and upload speeds as Verizon postpaid customers do.)  The only way to get full speed LTE on the Verizon network is to signup with Verizon directly, either as a prepaid or post paid customer.
May 10, 2016
New Total Wireless Cell Phone Plans
Just like fellow Tracfone brand Page Plus Cellular, Total Wireless has increased the amount of data included with its plans.
Although Total Wireless only offers 3G data at this time, the amount of data included with each plan is far and away more than any other Verizon based offering for the price.
Total Wireless Plan Changes
Total Wireless's $35/month plan previously included 2.5 GB of data, now it includes 5 GB.
The $60 two line family plan previously contained 5 GB of shared data, now it has 8 GB.
The $85 3 line plan previously contained 9 GB of shared data, now it has 12 GB.
A new 4 line plan has been released priced at $100 containing 15 GB of shared data.  This new plan replaces one that was priced at $110 with 12 GB of shared data.
All plans include unlimited talk and text.  For those that need more data, a data add on card is available containing 3GB of shared data for $10.  The data add on contains rollover data that never expires as long as your service remains active.
Users who subscribe to auto-refill can save further on these new plans by getting an additional 5% off of their phone bill.
BYOD, purchase Total Wireless 4G LTE SIM card
As far as I can tell through my online research, the average user should expect to attain download speeds of about 1 Mbps with Total Wireless.
Unfortunately, it appears as of now, the rumor that Total Wireless would launch 4G LTE data in May has proven untrue, however, those that are willing to forego 4G LTE data I imagine will find these new plans to be quite a bargain.
Total Wireless plans are available exclusively at Walmart and online via the Total Wireless website.
---
---