Total Wireless Giving Away 5GB Of Free Data To New Lines, Plus 90 Day Pandora Subscription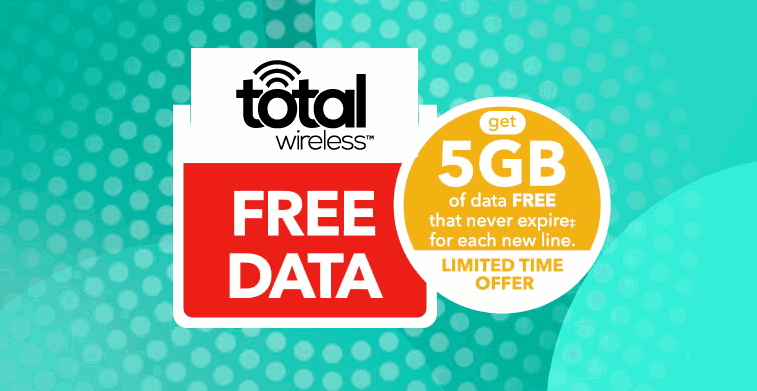 Total Wireless is offering bonus data to new subscribers.  The Verizon MVNO is giving away 5GB of free data to each new line ported in.  The data will carryover from month to month and never expires.  Additionally, Total Wireless is trying to woo new customers with a free 90 day trial of Pandora Premium.  Those curious about the brand can head on over to their local Target store for what Total Wireless is referring to as a "Target Demo Day."  Demo Days are only available on select dates at select times.  There you'll have the opportunity to meet with a Total Wireless expert to learn more about their service.  You can see when a demo day will be available in your location by visiting https://get.totalwireless.com/demo-days/
Bonus Data Offer Fine Print And Details
The bonus data offer will be available until 9/30/18.  It is only available to those porting-in with a new line activation.  Each line that ports in on an account will receive the 5GB of bonus data.  To get the bonus data allotment, a customer must also subscribe to a Total Wireless data containing phone plan.  Total Wireless's $25 phone plan with unlimited talk and text only is excluded from the offer.  Total Wireless's data containing plans are as follows:
$35/month ($33.20 with auto pay)- 5GB of LTE data
$60/month ($57 with auto pay)- for up to 2 lines, includes 15GB of shared data
$85/month ($80.70 with auto pay) - for up to 3 lines, includes 20GB of shared data
$100/month ($95 with auto pay) - for up to 4 lines, includes 25GB of shared data
All plans include unlimited talk and text with hard capped 4G LTE data. Taxes and fees cost extra and are not included in the prices shown.  Mobile hotspot is technically not allowed, although when I reviewed Total Wireless I had it working.
Pandora Premium Trial Offer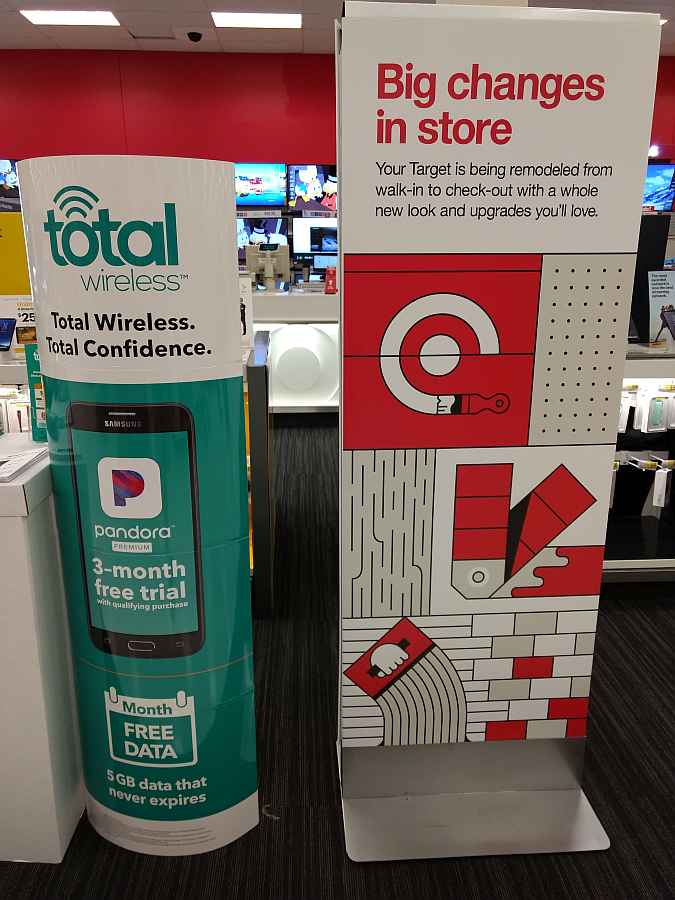 The free 90 day trial of Pandora premium is available to those who activate a new Total Wireless line or service or bring their number to Total Wireless through a Total Wireless exclusive store.  Total Wireless exclusive stores should include Target, Walmart and Best Buy.  I found the offer advertised and on display at my local Target (pictured).
Be informed of the latest deals, plans and promotions from Verizon and every one of its MVNO's when you subscribe to the Verizon weekly newsletter. No spam and you can unsubscribe at any time!
The offer is unavailable to those who subscribe to the $25 unlimited talk and text plan.  Those coming from other TracFone owned brands such as Straight Talk and Simple Mobile are also excluded.
---
---