Total Wireless Continues To Offer Bonus Data Via Walmart, $35 Plan Now Includes 11GB Of 4G LTE Data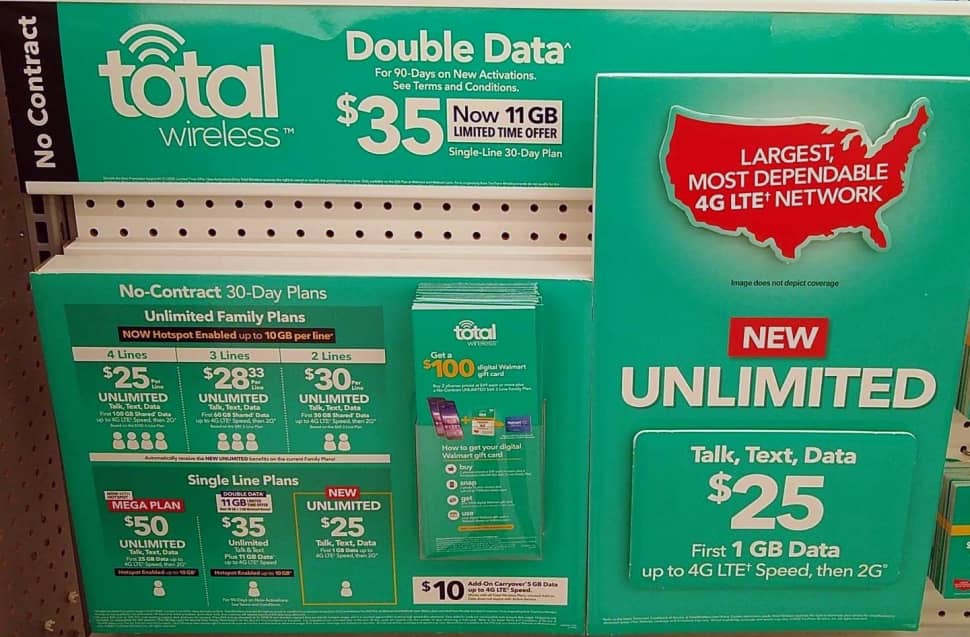 Last week Total Wireless updated its plans to include more data and more features.  Most plans got mobile hotspot enabled, the MVNO's $25 unlimited talk and text plan got a 1GB data allotment added to it, and a double data promo was added to the $35 plan.  The double data promo gives new customers 10GB of 4G LTE data on the plan for their first 3-months of service instead of 5GB.
Walmart has long offered exclusive bonus data on Total Wireless's $35 plan.  Customers who subscribe to the plan through Walmart get 6GB of 4G LTE data each month for life instead of 5GB.  With the update to Total Wireless's plans and the new double data promo, the 1GB bonus data offer will continue to remain in place at Walmart.  Customers who subscribe to Total Wireless's $35 plan via Walmart will now get 11GB of 4G LTE data with their plan for their first 3 months of service instead of the 10GB that it would come with if purchased directly from Total Wireless.  Hotspot, however, will still be limited to 10GB of usage.
Total Wireless Walmart $100 eGift Card Promo And Phone Deals
Besides the bonus data offer, Walmart continues to offer a $100 eGift card to customers who purchase two Total Wireless phones priced $49 or higher simultaneously with a $60 service plan.  The $60 2-line service plan is priced at $57/month with auto-refill enabled and includes unlimited talk, text, and data with the first 25GB of data each month at 4G LTE data speeds before throttle to 2G data speeds.  Taxes and fees cost extra.  The offer expires on 2/29/2020.
Walmart also continues to offer rollback pricing on several devices.  Featured offers previously covered at BestMVNO include the iPhone 6s for $99 and the iPhone 6s+ for $149 and the Samsung Galaxy A20 for $179 down from $229.  Also rolled back and on sale are the following Total Wireless devices:
Samsung Galaxy J7 Crown, $67.97 down from $189
LG Rebel 4, $39.84 down from $49.99
iPhone 7 32GB $199 with a list price of $649 although regularly sells for $249
iPhone 7 Plus $349 with a list price of $769 although regularly sells for $399
Moto G6 $88.36 down from $149
LG Solo $69 down from $129.99
Samsung Galaxy S10+ $849 down from $999
Samsung Galaxy S10e $599 down from $749
iPhone 8 Plus 64GB $449 list price of $799.99
Samsung Galaxy A10e $99 down from $139
Moto G7 Optimo Maxx $129.99 down from $179
Moto G7 Optimo $99 down from $139
In some cases, Walmart is not exactly honest about rollback pricing, particularly in regards to the listed iPhone models.  Walmart seems to be showing inflated and perhaps original list pricing instead of what the devices normally sell for.  So where you see "list pricing" in the device price list above, keep in mind that is not what Walmart regularly sells the devices for.
If you are interested in any of the phone deals, please note that the devices are sold locked to Total Wireless for a period of 12 months.  After 12 months of use on the network, you can request a device unlock so that you can use the phone with another provider.
---
---