Total Wireless Updates Wireless Plans And Promos, New Customers Get 10GB Of Data For $35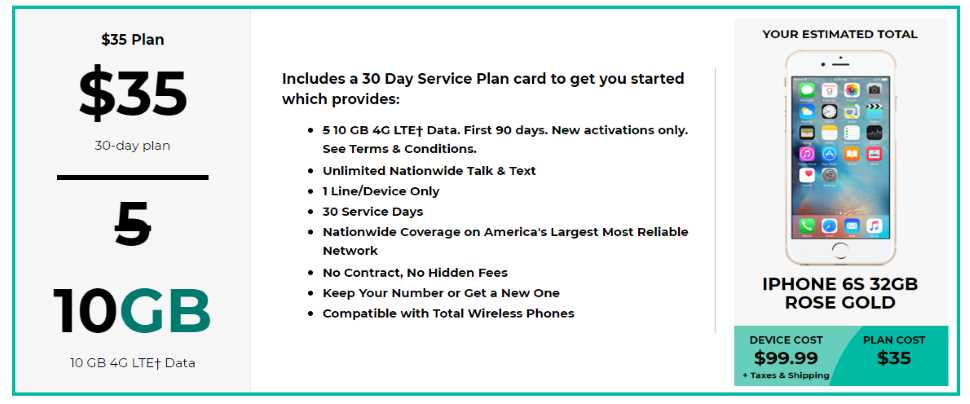 Thanks to a reader tip from Danielle Aaron Chaprnka, BestMVNO has learned that Total Wireless has updated its wireless plans. The Verizon MVNO's $25 plan now includes 1GB of high-speed data. It previously came with zero data and strictly offered unlimited talk and text. A new customer promo has also been announced. New subscribers who pickup Total Wireless's $35 plan will get 10GB of data for a limited time, instead of its usual allotment of 5GB.
Total Wireless's Updated Plans And Promos Highlighted
Total Wireless's updated $25 phone plan includes unlimited data with the first 1GB at 4G LTE data speeds before throttling to 2G data speeds. Interestingly, Total Wireless has elected to keep its $35 plan hard-capped. The $35 plan is the only plan to not include unlimited data at 2G data speeds.
The $35 bonus data promo offer is for new customers only. New customers will get 10GB of 4G LTE data for their first 90 days of service. After that, data allotment will revert back down to 5GB. This offer is not yet showing on Total Wireless's plan details page, however, if you add the 5GB plan to your shopping cart and go through the checkout process, you will see the bonus data allotment. The bonus data is good for new customers who bring their own phones and also customers that need to purchase one from Total Wireless. The plan also comes with unlimited talk and text as do all of the company's other wireless plans which remain unchanged at this time.
Unfortunately, still no word as to when Total Wireless will officially announce support for mobile hotspot which is a feature the company teased was coming several weeks ago.
Update: Total Wireless has updated their plans page to show the new bonus data offer, AND has now officially launched Mobile hotspot with the plan.
Total Wireless Phone Deals
Those interested in switching to one of Total Wireless's updated phone plans and in need of a phone may want to check out the following offers that the company has made available.
iPhone 6s $99.99 down from $149.99
iPhone 6s Plus $149.99 down from $199.99
Samsung Galaxy A10e $99.99 down from $139.99
Samsung Galaxy A20 $179.99 down from $229.99
LG Journey $69.99 down from $129.99
LG Stylo 5 $129.99 down from $199.99
Moto G7 Optimo $59.99 down from $139.99
LG Premier Pro $59.99 down from $179.99
---
---