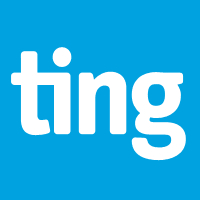 ---
Ting Mobile, the Sprint MVNO owned by Tucows has announced that they have added fewer net customers in the third quarter than they did a year ago.  Gross additions however were the best ever for the MVNO.
Ting Mobile had 9,000 new accounts and 14,000 devices added for the third quarter representing an 8% increase in the customer base, however, 11,000 accounts and 17,000 devices were added in the prior years quarter.
Tucows CEO Elliot Noss had this to say about its subsidiary Ting Mobile,
"We're not satisfied that the net adds have essentially stayed the same over the past few quarters, but we're comforted that gross adds continue to grow."
Besides having their best ever quarter for gross additions, Noss stated that this was also the biggest quarter for new visitors and total traffic to their website https://ting.com.  Noss went on to further state that this indicates that Ting has developed good brand awareness and they are converting well based on that brand awareness.
On the other side of things, the company has also stated that they've seen a higher churn rate for the quarter, just below 2.5%.  Noss blames this on a more transient customer base as a result of recently launching GSM based service.  He says GSM service allows customers greater device portability and the ability to move more freely between providers.  Ting now offers service utilizing T-Mobile's network.
Noss claims that a lot of the issues Ting has faced in regards to declining net additions have to do with Sprint's FED which was implemented in February.  Sprint's FED was designed to check whether or not a device was eligible for activation on Sprints network.  Unfortunately it caused headaches for many MVNOs as there was an issue with the system which made it difficult for customers to port their Sprint device to an MVNO as many devices that were supposed to pass the FED did not.  Noss states that those issues created customer support problems for Ting, and he thinks that those problems are still affecting the company and its reputation today.  He says Ting is now well staffed and is hopeful that customer confidence can be restored resulting in more customer referrals and less churn.
Customer revenue however is up over the past few months at around $37/month with phone bills of $23-$24 per device.  Gross margins are just over 50% and customer acquisition costs are under $100.  Ting has also announced a partnership with supermarket chain Krogers and retailer Staples to distribute their SIM cards in nearly 2,000 stores nationwide.
Analysis
While I'm not privy to all of Ting's user data, I suspect there is a little more to it as to why the company has had less net additions.  One obvious thing not mentioned by Noss is that Ting is facing increased competition these days and a constantly changing MVNO and even parent network landscape.  Over the past year to year and a half providers such as Pix Wireless and US Mobile have jumped on the MVNO train and are offering build your own customized plan just like Ting does, but in several instances they do it at a cheaper rate.  Ringplus's constant onslaught of promotional plans with free service also have to be damaging.  Customer awareness of other brands may also be a factor given that more MVNOs and prepaid providers are trying to establish their retail presence in big box stores, something I've written about several times throughout the past year.
One thing that I can understand is that their customer support issues and subsequent damaged reputation probably did have some impact on churn.  Ting had been well respected by consumers for their great customer support and service as documented by a Consumer Reports customer satisfaction survey last year.  I believe the company will in fact get this back on track as they claim.
So what do you think about Tings financial status and network?  Are you a customer of Ting?  Do you find it interesting to know how much money your subscription means to Ting?
---
---