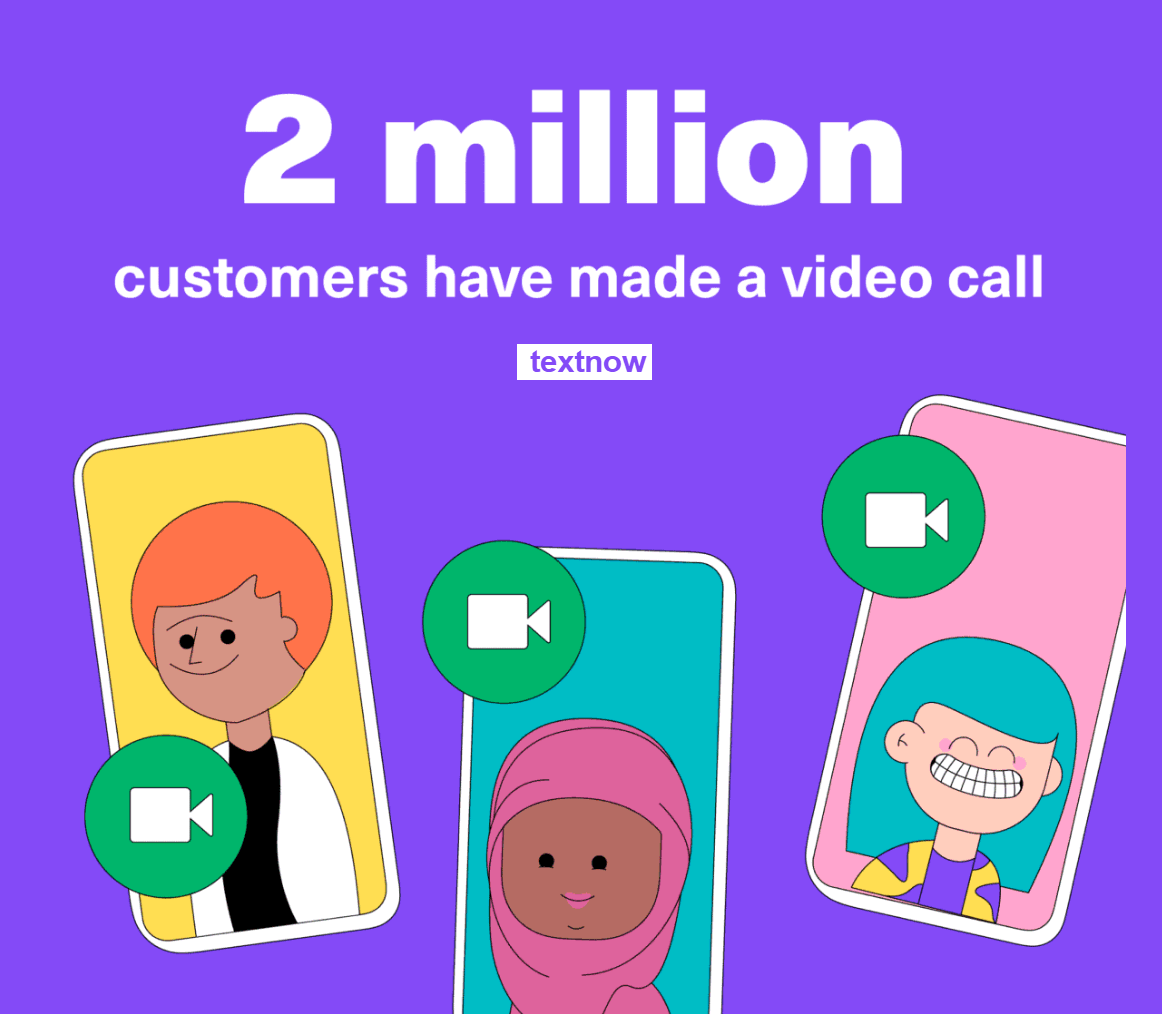 ---
Wave7 Research noted in a recent prepaid report that TextNow boasted in July that its customers had placed more than 5 million video calls just one month after first launching the video calling service. TextNow first made video calling available through its app in June to coincide with the launch of its free talk and text plan on the T-Mobile network. The company also stated in late August that 2 million customers were responsible for those calls.
A representative from TextNow told BestMVNO that as of September, the number has grown to over 12 million video calls placed. And the number shared on Facebook in August was not actually the current count for that time.
TextNow does have a lot of users, so it's not that surprising to find out they are taking advantage of the video calling feature and that its use is growing rapidly. According to data from the Google Play store, the TextNow app has been installed on more than 50 million Android devices. The app is also available for iOS devices and it's ranked the 8th most popular Social Networking app on that platform.
A recent press release from the company stated that they have more than 10 million monthly active users. The users have helped TextNow reach an annual revenue run rate of $100 million. The revenue growth is driven by growing advertising revenue and a 300% increase in in-app purchases. TextNow says that it's significantly outpacing the industry average after the Covid pandemic-related slowdown in the first half of 2020. The provider says that its advertising revenue is on track to finish the year up 70% thanks to demand from its "highly engaged, young and multicultural user base" and its "brand-safe environment."
The fact that TextNow has been able to achieve this growth on the heals of a free unlimited calling and texting platform is rather astounding. Other MVNOs such as RingPlus and FreedomPop have attempted to accomplish a similar feat but have failed. RingPlus is no longer in business, and FreedomPop is a shadow of its former self only allowing just 10 free monthly text messages over a cellular network, no minutes over cellular and 25MB of data. Unlimited calling and texting are still available for free over WiFi. According to the Google Play store, the FreedomPop app has been installed over 500,000 times. A far cry from TextNow's 50 million plus installs.
"There are abundant signs that TextNow has a lot of momentum.  This is an MVNO to watch." – Jeff Moore, Principal of Wave7 Research
TextNow has used its revenue to continue to fuel growth through advertising. The brand has been regularly airing ads on TV throughout the year. It's "Give Out Your Number And Nothing More" ad which launched late last year continues to run as does its "Priceless Connections" ad which originally aired around October of 2020. According to Wave7 Research, the ads collectively have aired more than 30k times.
The TextNow app can be used for ad-supported free VoIP calling and texting over T-Mobile's network or WiFi. It is the largest provider of free phone service in the U.S. Subscribers can upgrade to an ad-free experience for $9.99/month. They can also upgrade to unlimited data for $19.99/month with the first 2GB of data each month available at high-speeds before throttling 2G data speeds. A plan with 23GB of high-speed data is available for $39.99/month.
---
---