Tello Offering $19 Account Credit To Port-Ins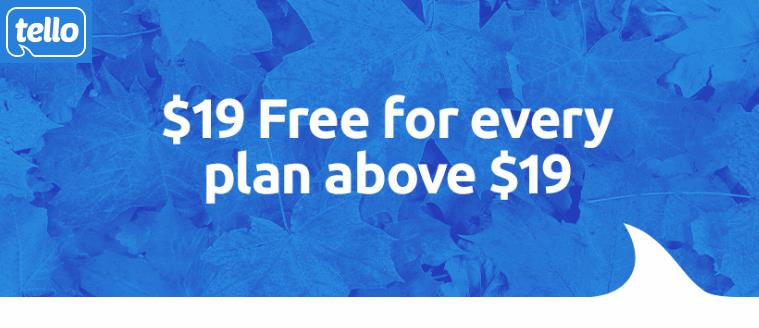 Tello Mobile has just launched a new promotion with the tagline "leaves are falling, savings are calling."  Customers that port-in and activate on a Tello plan costing $19 or higher will get a free $19 account credit.
Promo Details And Eligibility Requirements
This offer is for new Tello customers only.  It is scheduled to be available until October 28, 2019.
Tello is promoting the offer by highlighting their $19/month plan.  The $19 plan includes unlimited talk, text, and data with the first 4GB of data each month at 4G LTE data speeds.  The plan also includes unlimited calling to Canada, Mexico, and China at no extra cost.  Mobile hotspot is also supported and allowed.  Customers that subscribe to this plan will get their first month of wireless service free of charge except for taxes and fees.  For most people, taxes and fees will amount to around $2.  That is about what I paid when I reviewed Tello Mobile awhile back and subscribed to their $24 plan which now includes 6GB of 4G LTE data.
Once the subscriber's first month of service is up, they can elect to keep their plan, switch to another plan or port back out of Tello.
Tello offers customers the ability to custom build their own phone plan.  Subscribers can choose to build a data only plan that also includes unlimited texting, or a talk and text only plan.  There are a few plan options that Tello likes to highlight and they are as follows:
$9/month - 500MB LTE data
$10/month - 1GB LTE data
$14/month - 2GB LTE data
$19/month - 4GB LTE data
$24/month - 6GB LTE data
$29/month - 8GB LTE data
$39/month - 12GB LTE data
The plans just described all come with unlimited talk, text, and data with the specified amount of data at 4G LTE data speeds before throttling to 2G or about 64Kbps.  Mobile hotspot, and unlimited calling to Canada, Mexico, and China are included at no extra charge.
Tello Mobile is an MVNO powered by the Sprint network.  Customers that would like to switch to Tello must either already have their own phone that is unlocked and compatible with the Sprint network, or they can purchase one of a handful of devices that are available through the Tello Mobile online store.  You can check if your phone is compatible with the network by using Tello's IMEI device checker.
---
---