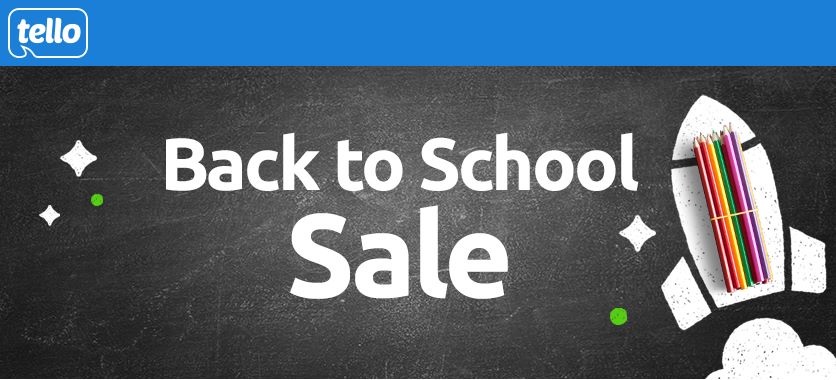 ---
Tello has launched a Back-To-School sale.  Customers can choose to purchase one of several phone models and get a free month of service.  The free month of service includes unlimited talk, text, and data with the first 1GB each month at 4G LTE data speeds.  Unlimited calling to Mexico, China, and Canada is also included as is mobile hotspot.  Once the free month of service is up customers can elect to keep their plan which is regularly billed at a rate of $10/month plus tax, switch to another plan, or port out of Tello and take their phone elsewhere.
Tello sells all of its phones unlocked.  The language highlighting this fact was recently removed from the Tello website.  I reached out to the MVNO for an explanation, and the company confirmed to me that there has been no policy change, and all phones are still sold unlocked.  The phones being offered as part of this bundle sale are priced as follows:
Samsung Galaxy J3 Achieve Refurbished 16GB $99
Motorola E5 Play 16GB $99
LG Tribute Empire 16GB $99
LG Stylo 3 $99
Samsung Galaxy J7 Perx $149
Moto G6 Play 16GB $149
The offers will be available until 8/22/2019.  Phones should ship free of charge via USPS.  Tello operates on the Sprint network.
Editor's Take
I generally haven't been a big fan of Tello's phone plan bundle sales.  I don't think the phones are discounted enough and they typically only offer small savings if they offer any at all.  For instance, the Samsung Galaxy J3 Achieve is available used and unlocked on eBay starting at $50.  The Moto E5 Play is available for the same $99 price on Amazon but without the $10 phone plan that's included in the offer above free of charge.  The LG Stylo 3 is an older device and LG recently released the Stylo 5.  Carrier and prepaid brands such as Boost Mobile are giving away those newer devices for free to new customers.  Although those provider phone plans cost significantly more than Tello's and those phones are sold locked.
---
---