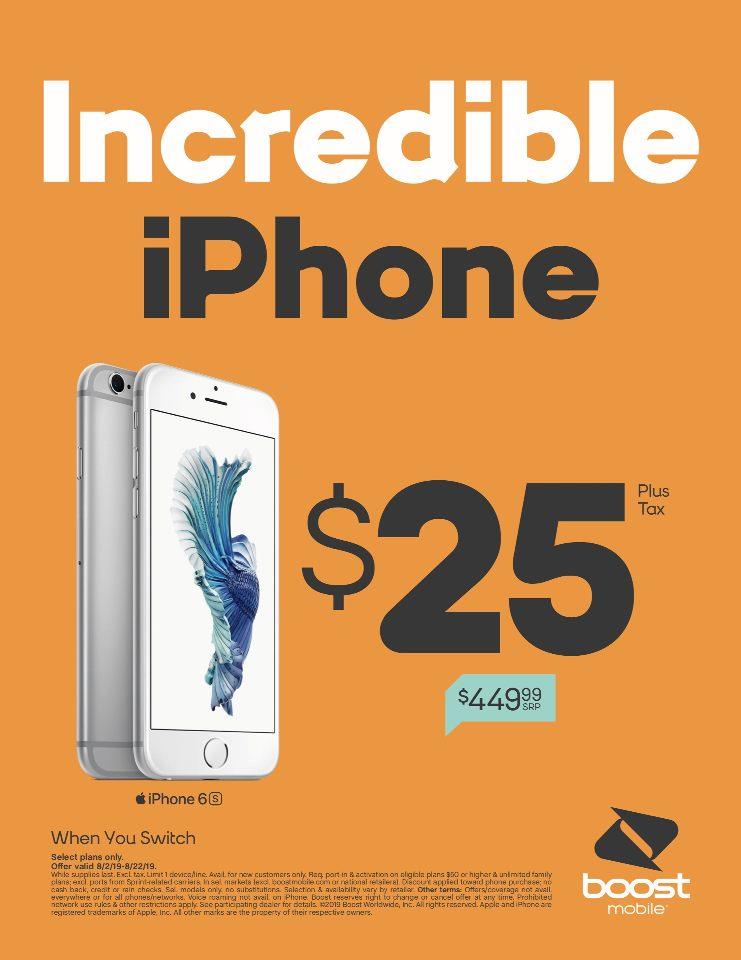 ---
Boost Mobile is currently running several new offers as well as some recycled promos.  One offer, which has been repeated and varied multiple times over the last several months is switchers can get an iPhone 6s for $25.  From May through July it was available for $49.99, while in January of this year it was also available for $25.
Other deals now currently available include a BOGO offer on the Samsung Galaxy A10e, and multiple free phone offers that feature the Samsung Galaxy A10e, LG Stylo 5, Moto G7 Play and LG Tribute Empire.
Boost Mobile also continues to offer 4 lines for $100.
The Fine Print
All free phone offers and the iPhone 6s for $25 deal come with the same basic set of stipulations.  Customers must port to Boost Mobile and activate on a plan priced $50 or higher.  Those porting in from a Sprint-related carrier are not eligible for the promos.  The offers are unavailable via boostmobile.com and national retailers.  They are in-store-only and dealer exclusives.  There is a limit of one device allowed per line and customers must pay tax on each device.  All offers except for the iPhone 6s deal became available on 7/30/2019 and will last until 9/16/19.  The iPhone 6s offer started 8/2/2019 and will be available while supplies last or until 8/22/2019.
The Samsung Galaxy A10e BOGO offer has basically the same set of stipulations as above.  However, customers who are not porting in can buy one get one free.  The device is currently available for $99.  Those who do port in are eligible to get it for free under the same set of stipulations described for the other free phone offers.  The BOGO offer went live on 7/30/19 and will last at least until 9/16/19.
4 Unlimited Lines For $100
Boost Mobile is also again offering 4 unlimited lines for $100 with taxes and fees included. The current iteration of this deal comes with the following set of restrictions:
 Video streams limited to a resolution of 480p
Music streaming limited to 500kbps
Gaming streams limited to 2Mbps
Data prioritization occurs any time the network gets congested
Available for new customers only and at least 1 line must be a port-in from a provider other than a Sprint-related carrier
This plan includes unlimited talk, text and LTE data and a total of 1GB per line of mobile hotspot is included.  The offer is available in-store only and expected to be available until 9/16/19.
---
---