Boost Mobile Has The iPhone 6S For $25, LG Stylo 4 Free To Switchers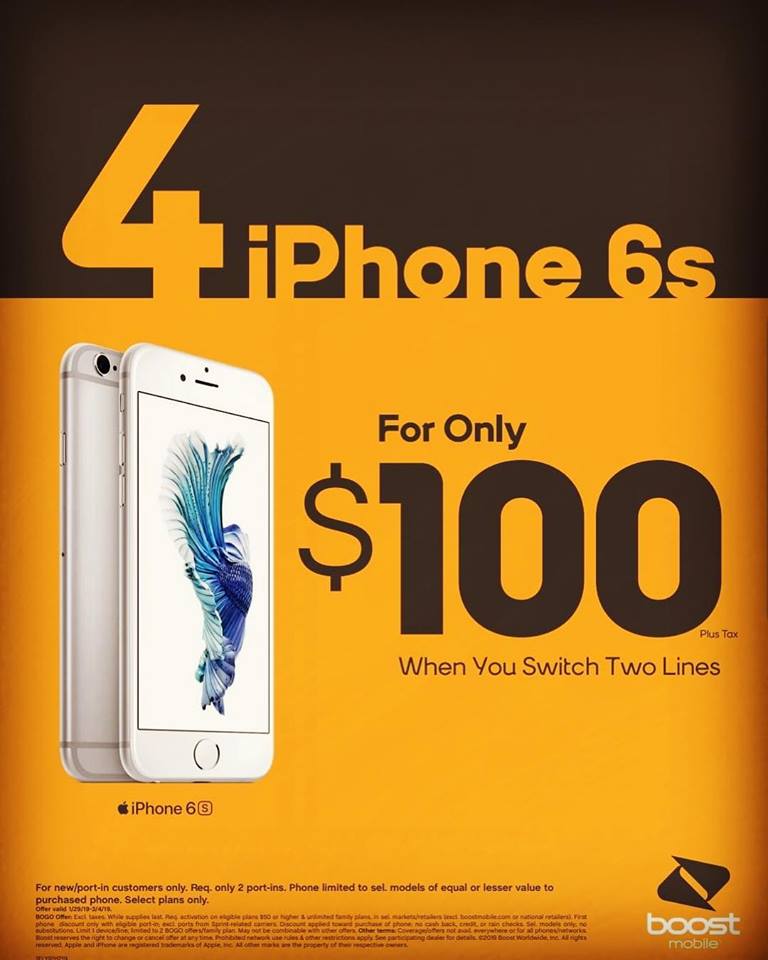 Boost Mobile is now running several different exclusive in-store only deals.  One deal has the iPhone 6s available for $25 to switchers.  Other offers include the LG Stylo 4 for free, the Samsung Galaxy J7 Refine for $19.99, the Samsung Galaxy J3 Achieve for $10 and the Moto G6 Play for $20.  Of course, each offer comes with its own fine print.
Requirements For All Offers
All offers share the following requirements.  Those coming from Sprint related carriers are ineligible for each deal. Customers must pay for the taxes on each phone.  If you want to take advantage of any of the deals just mentioned you'll have to activate on either a $50, $60, or $80 Boost Mobile plan by 3/4/19.  (The iPhone 6S and LG Stylo 4 offers have been extended until 4/15/19). Boost Mobile's $50, $60, and $80 plans are priced as follows:
All plans include unlimited talk, text and LTE data.  Each plan differs by the amount of hotspot data included, as well as by certain little extras which are highlighted.
$50/Month Plan Details
12GB of hotspot at LTE data speeds
Video streaming limited to a resolution of 480p
Music streaming limited to 500 Kbps
Gaming streams limited to 2 Mbps
Up to 4 additional basic unlimited data lines can be added to the account priced at $30/month
Available with only 1GB of mobile hotspot per line at a rate of $100 for 4 lines
$60/Month Plan Details
30GB of hotspot at LTE data speeds
Video streams at up to 1080p
Limited time offer of unlimited talk and text to Mexico for $1/month.  Includes up to 8GB of data roaming in Mexico at 2g/3g speeds.
2 lines for $100, $40 for each additional line
$80/Month Plan Details
50GB of hotspot at LTE data speeds
Video streaming at 1080p
Music streaming at 1.5 Mbps
Gaming streams at a maximum of 8 Mbps
Includes a subscription to TIDAL Premium streaming music service
Prioritized customer care
Includes unlimited international talk and text to landlines and mobiles in Mexico & Canada, excludes area code 867.  Also includes unlimited calls to landlines in over 70 countries, and 200 international mobile minutes.
2 lines for $140, $60 for each additional line
All unlimited plans include a data prioritization policy.  Customers that use more than 35GB of LTE data in a month may have their data speeds temporarily slowed during times of network congestion.  All plans include 50 domestic voice roaming minutes.
Subscribe to BestMVNO and always be informed of the latest deals, plans and carrier promotions!
If you're satisfied with the plans that are required to get a phone deal from Boost Mobile, read on for the rest of the fine print for each deal.
iPhone 6s For $25 Offer Details
The iPhone 6s is available as a BOGO for $25 each. To get the deal at least one line must be a port-in.  Boost Mobile is offering customers up to 4 iPhone 6s's for $100.  At least two numbers must be port-ins to get 4 for $100.
Free LG Stylo 4 Offer Details
This is another one that is for new customers only.  Up to 4 phones will be given away for free, however, all 4 lines must switch to Boost Mobile to get them for free.
$19.99 Samsung Galaxy J7 Refine
Customers can get up to 4 Samsung Galaxy J7 Refines for $19.99.  However, each line must be a port-in to get that pricing.
$10 Samsung Galaxy J3 Achieve, $20 Moto G6 Pay
These two phone offers are available to customers who add a line on one of the previously described wireless plans.  A maximum of 5 lines and 4 discounted phones are available per account.
Editor's Take
Boost Mobile does offer a lot for the money with its phone plans, but it is a Sprint owned and operated brand.  That means that network coverage will be lacking a bit compared to the other big 3 major wireless providers.  The iPhone 6s and free LG Stylo 4 are probably the best offers of the bunch.  The other promotional deals are not as good as what were previously offered.  For instance, the Moto G6 Play was being given away for free just a few weeks ago, but now it will cost new customers $20 to pick one up.  Still, pricing is not too bad, it's just that there have been better offers available in the past.
---
---