Boost Mobile Now Offering Free Moto G6 Play To Switchers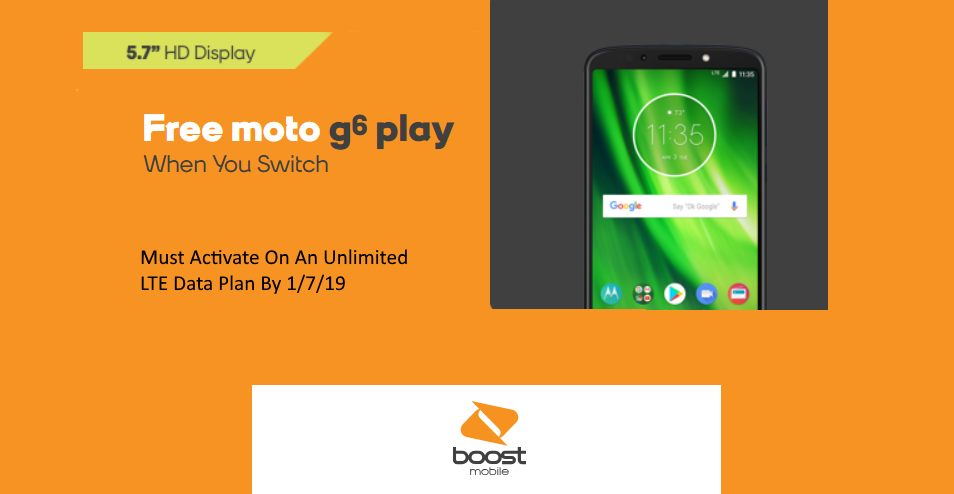 It seems that every few weeks Boost Mobile has a new free phone offer for switchers.  Just weeks ago we saw the Sprint owned brand give away the Samsung Galaxy J3 Achieve and LG Stylo 4 free to switchers.  The offer was followed up just days ago with the Samsung Galaxy J7 Refine being given away free to new customers.  Now Boost Mobile has added another free phone offer, switch over and the Moto G6 Play is yours.  Boost Mobile is also offering 4 lines of unlimited LTE data among many other deals.
Moto G6 Play Offer Details
Although the phone is being given away for "free," you will still have to pay taxes on it.  Boost Mobile is regularly selling the Moto G6 Play for $129.99, so expect to pay taxes based on that price.
The offer is available to new customers only, and those coming from a Sprint related carrier are not eligible for the deal.  A maximum of 4 Moto G6 Plays can be claimed per account and 4 lines must be switching over to get all 4 devices.  Customers also must subscribe to an unlimited LTE data plan priced $50 or higher.  This offer is available in store only until 1/7/19 or while supplies last.
Moto G6 Play Device Specifications
The Moto G6 Play features the following:
5.7" 720p display
Quad-core 1.4 GHz Snapdragon 427 processor
13MP rear camera with a 5MP selfie camera
16GB internal storage expandable with a microSD card
2GB RAM
4,000 mAh battery
Android™ Oreo 8.0
Support for the following LTE bands:
1,2,3,4,5,7,8,12,13,14,17,25,26,29,30,66
Keep in mind that you can't go pick up this phone for free and expect to take it to another carrier.  Boost Mobile requires it to be used on the network for 12 months before it can be unlocked for use on another network.
Other Current In Store Only Offers
Boost Mobile still has several other in store only offers available.  They are all available to new customers only and are described below.  All offers unless specified are good until 1/7/19
4 Unlimited LTE data Lines $100/month
Free Samsung Galaxy J7 Refine
iPhone 6s 32GB $99.99
Add a line get the first month free
Bring your own phone, activate on the $50 Unlimited Gigs plan and get a free month
Online, Boost Mobile is offering up to 60% off select phones as part of its Thanksgiving Day sale.
---
---