Boost Mobile's Latest Weekly Offers Include The LG G6 For $215.99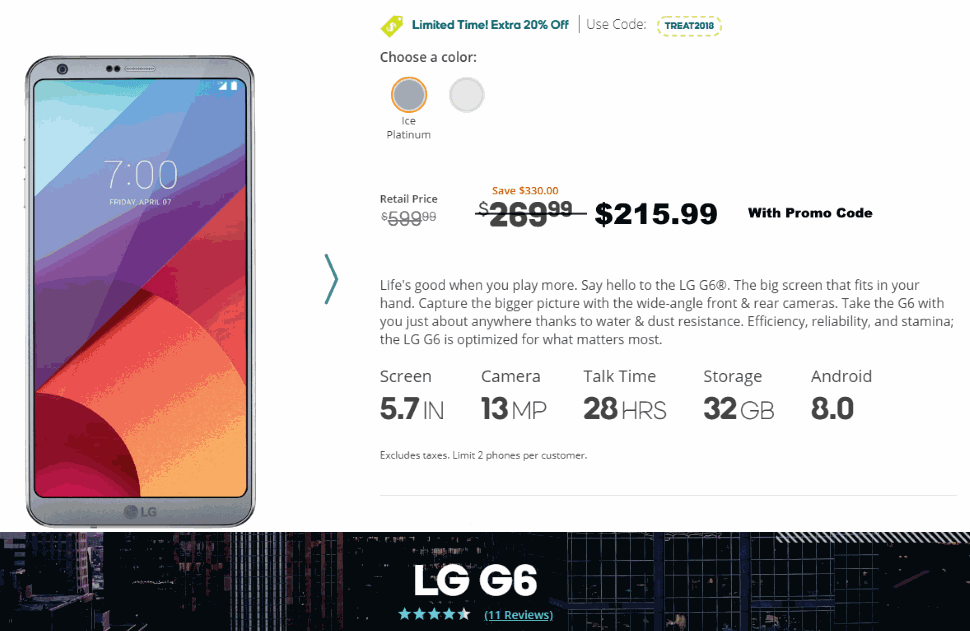 Boost Mobile has a few limited time promotions that are running this week.  For starters, all new Android phones are priced 20% off with use of the coupon code TREAT2018.  The device is already on sale for $269.99 without the use of a coupon code.  With the coupon code, the price drops down to just $215.99.  There are a few other deals available including offers for pre-owned iPhone 6's and a double your trade-in promotion when you purchase a Samsung Galaxy S9.
Android Offers And Details Explained
The promo code TREAT2018 for 20% off will be valid until 10/31/18 and is for online orders only.  Here are the discounted Android phones that will be available to you during the promotional period.
Prices shown are with the promo code already applied.  Keep in mind that if you are interested in buying one of these phones to use with a new carrier, you must keep your phone active with a service plan for 12 consecutive months before Boost Mobile will unlock it.
Available For Under $40
Coolpad Ilumina - $32
ZTE Prestige 2 -  $32
LG Tribute Dynasty - $39.99
ZTE Blade Force - $39.99
On Sale For $63.99
Samsung J3 Achieve
Motorola Moto E4
LG X Charge
Motorola Moto E4  Plus - out of stock at press time
On Sale For $79.99
Motorola Moto G6 Play
LG Stylo 3
LG K30
Motorola Moto E5 Play
ZTE Max XL
On Sale For $119.99
LG Stylo 4
Samsung J7 Refine
Motorola Moto E5 Plus
Samsung J7 Perx
On Sale For $180+
LG Stylo 4 Plus - $183.99
LG G6 - $215.99
Samsung Galaxy A6 - $279.99
Samsung Galaxy S8 - $479.99
Samsung Galaxy S9 - $559.99 plus a double your trade-in promotional offer
Samsung Galaxy S9 Double Your Trade-In Offer
The double your trade-in offer will be available until 11/3/18.  This is actually a promotion from Samsung that is also available through Boost Mobile. There are over 30 devices that Samsung is offering double the trade-in value on.  You can view the list of devices here.  A couple of offers include getting $600 for an iPhone 8 Plus instead of $317, trading in a Samsung Galaxy S6 for $75 instead of $30.  What's also interesting is that you can trade-in an LG G6 for $300 instead of $150.  That's more than what Boost Mobile is currently selling the LG G6 for.
Apple iPhone Offers
There are 3 iPhone offers will be available until 10/29/18.  The offers are for certified pre-owned devices only.  Offers include the following:
16GB iPhone 6S for $129.99, a savings of $200
16GB iPhone 6S Plus for $179.99, a savings of $200
64GB iphone 6 for $159.99, a savings of $120, out of stock at press time
In Store Only Phone Deals
Boost Mobile is still offering brand new iPhone 6's for $99.99 to those who switch to Boost by 11/15/18.  Subscribers must port in to an unlimited LTE data plan priced $50 or higher to get the deal.  The Samsung Galaxy J3 Achieve and the LG Stylo 4 are being given away for free to switchers under the same terms.
Those porting from Sprint or a Sprint related carrier are not eligible for the in store only phone deals.
---
---