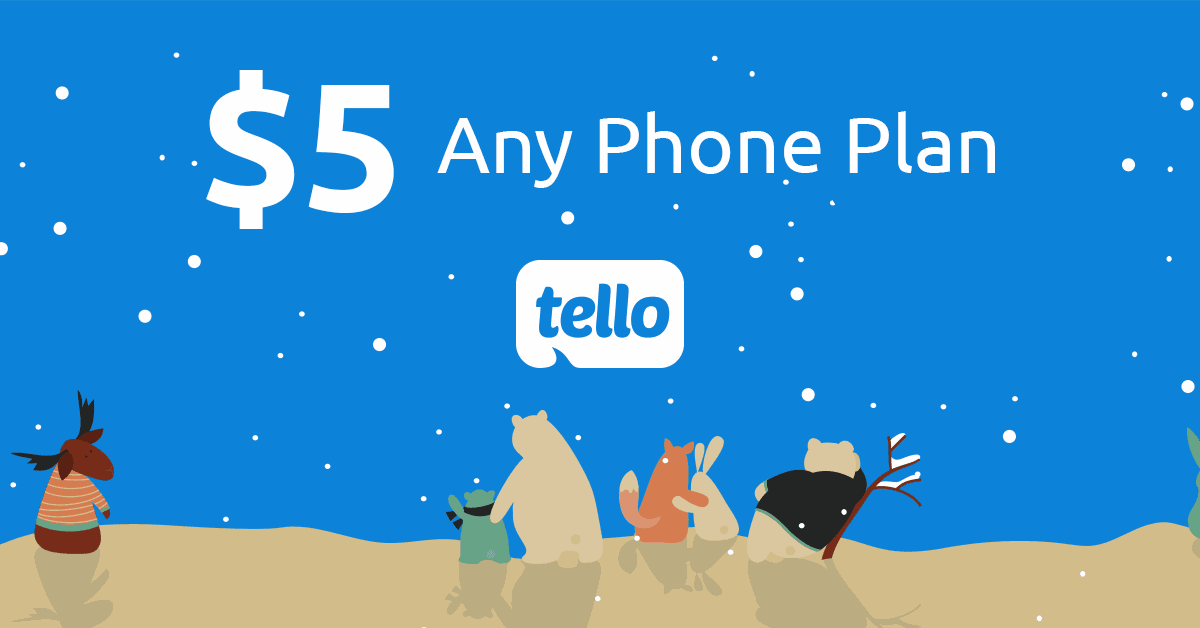 ---
Tello Mobile launched a new promotion today to celebrate the Christmas holiday season.  The promotion is called "Tello's 12 Day's Of Christmas" and it offers new subscribers one month of service on any mobile plan for just $5.
Offer Details Explained
This offer is for new customers only.  If you previously had an account with Tello you won't be eligible for the discount.  The offer will be available until 12/23/2018.
To switch to Tello you will need to have a phone that is compatible with the Sprint network.  Any Sprint branded out of contract phone can easily be brought over to Tello.  Many universally unlocked phones from Samsung, Motorola and Apple will also work provided that they are approved by Sprint for use on the network.
Tello offers its subscribers the ability to custom build their own phone plans.  Subscribers can build a data only plan that includes texting, or a talk and text only plan if they so choose.  In all their are a total of 48 different plan combinations that a customer can put together.  All plans with data include mobile hotspot, and all plans with minutes include calling to Mexico, Canada and China at no extra charge.
Given the vast combination of phone plans that are available, there are simply too many to list here.  Tello Mobile does however have a few pre-configured and popular plans that it likes to promote.  Those plans with their regular pricing shown are as follows:
Economy Plan $10/month- 200 minutes, unlimited texts, 500MB LTE data
Value Plan $14/month - unlimited talk, unlimited text, 1GB LTE data
Smart Plan $24/month - unlimited talk, unlimited text, 3GB LTE data
Data $39/month - unlimited talk, unlimited text, 10GB LTE data
All plans with data include unlimited data at 2G speeds once the plans LTE data allotment gets consumed.  Taxes and fees cost extra and in my area add about 10% more to the cost of a plan.
Subscribe to Tello today and any of the plans described above can be yours for just $5 for your first month of service.  You may also want to check out my review of Tello before you switch, or any of the other phone plan deals that are available for this month only.
---
---