Tello Mobile Flash Sale Offers 70% Off Any Plan For One Month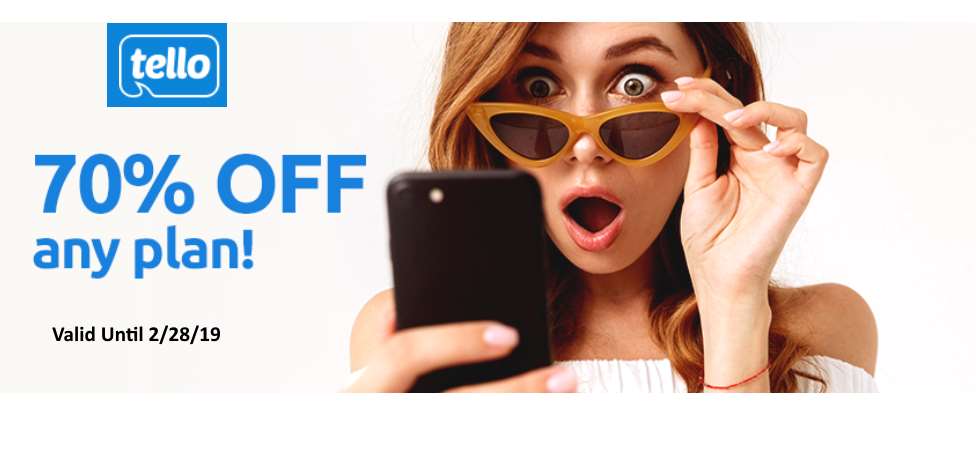 ---
Did you know BestMVNO is available to follow for free in Google News? Follow BestMVNO in your Google News app and keep up to date on wireless.
Follow BestMVNO In Google News
---
---
Tello Mobile is running another promotion.  New customers who signup for service by 2/28/19 will get 70% off any plan for their first month of service.  That means you can get Tello's top plan with 10GB of LTE data with unlimited talk and text for just $11.70. There is no coupon code required to take advantage of this offer.
This offer is available to new customers only.  If you previously had an account with Tello you are ineligible for this limited time offer.
Other Available Tello Discounted Plans
Tello is a Sprint MVNO that allows you to custom build your own phone plans.  Subscribers can build a data and text only plan, a talk only plan, or a talk, text and data plan if they so choose.  All plans with talk include calling to Mexico, Canada and China.  All plans with high speed data include unlimited 2G data once the plans high speed data allotment gets used up.  Plans with data also include mobile hotspot.
Here's what some of Tello's most popular phone plans look like with the discounts highlighted.  All plans shown include unlimited talk and text.
$4.2 - 1GB of 4G LTE data, regularly priced at $14/month
$5.7 - 2GB of 4G LTE data, regularly priced at $19/month
$7.2 - 3GB of 4G LTE data, regularly priced at $24/month
$8.7 - 4GB of 4G LTE data, regularly priced at $29/month
$11.7 - 10GB of 4G LTE data, regularly priced at $39/month
Plans do not include taxes and fees, they cost extra.  Taxes should amount to an additional cost of $1-$3/month on your phone bill.
| See BestMVNO's personal review of Tello Mobile
---
Be sure to follow BestMVNO on Twitter for additional wireless coverage, deals, insights, and even debates!
Follow @BestMVNO Twitter
---
---