T-Mobile Prepaid's Tax Season Offers Feature Free Phones, 2 Line For $65, And 4 Lines For $100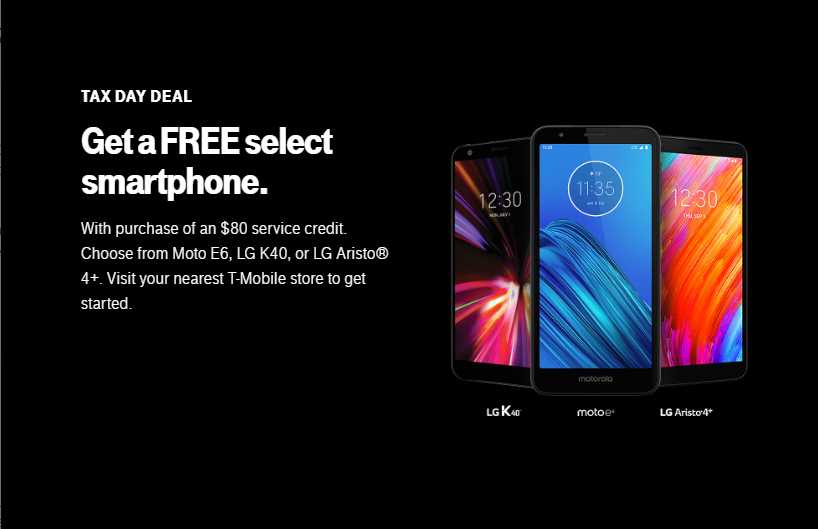 ---
Did you know BestMVNO is available to follow for free in Google News? Follow BestMVNO in your Google News app and keep up to date on wireless.
Follow BestMVNO In Google News
---
---
T-Mobile Prepaid's tax season offers are here.  The lead offer is for one of several free smartphones including the Moto E6 when customers purchase an $80 service credit.  Another offer being promoted as a tax day deal is 2 unlimited lines for $65/month.  There's also an offer of 4 lines for $100 with each line getting up to 10GB of high-speed data to use each month.
T-Mobile appears to be recycling previous offers for the tax season which I've got mixed feelings about.  The 2 unlimited lines deal, first announced way back in September of 2019 is a very good one so I'm content it's at the very least still in place.  A refresh of the free phone deals would have been nice to see, and the 4 lines for $100 is just an ok deal given that prepaid carrier brands like Boost Mobile are offering 4 unlimited lines for $100.  But let's take a deeper dive into all offers.
Free Phone Offers
There are currently three phones that are being given away for free.  The Moto E6, LG K40, and LG Aristo 4+.  Customers will be responsible for paying tax on their "free" phone based on the full retail price of the phone.  Retail pricing for each phone is as follows:
Moto E6 - $150
LG K40 - $185
LG Aristo 4+ - $150
In order to get one of the free phones, customers must head on over to their local T-Mobile store and purchase a  refill card valued at $80 or more.  The purchase of a $10 SIM starter kit may also be required but this may vary based on the individual dealer and store offering the phones.
Be informed of the latest deals, plans and promotions from T-Mobile and every one of its MVNO's when you subscribe to the T-Mobile weekly newsletter. No spam and you can unsubscribe at any time!
2 Unlimited High-Speed Data Lines For $65/Month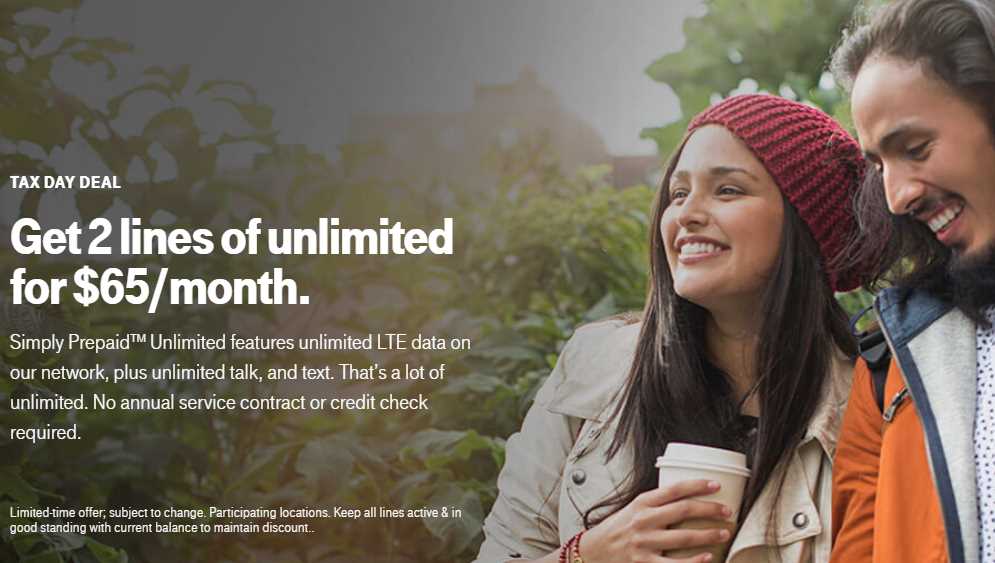 This deal was covered at BestMVNO back when it was first announced.  In brief, it gives customers 2 lines with each line getting unlimited talk, text, and high-speed data.  The data prioritization policy states that customers who consume more than 50GB of data in a month may have their data speeds temporarily slowed during times of heavy network congestion.  That's pretty much par for the course compared to other unlimited data plans that are available on the market.  Video streaming on the plan is also limited to a resolution of 480p.  Unlimited mobile hotspot is also included.  Mobile hotspot data speeds are at 3G, which for T-Mobile means up to 600Kbps.  200MB of domestic data roaming is included with the plan.  Taxes and fees cost extra.
4 Lines For $100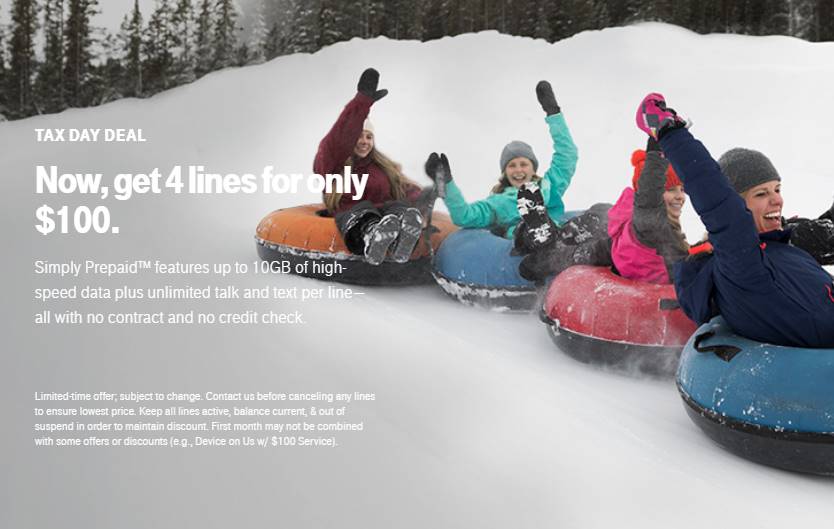 The 4 lines for $100 offer gives each line unlimited talk, text, and data with the first 10GB of data each month at high-speeds before throttling to 2G data speeds.  Mobile hotspot is also included.  All lines on the account must stay active without suspension to maintain pricing.  This plan is normally priced at $40/month for a single line, so multi-line customers save $60 over buying 4 individual account lines.  Taxes and fees cost extra.
---
Be sure to follow BestMVNO on Twitter for additional wireless coverage, deals, insights, and even debates!
Follow @BestMVNO Twitter
---
---