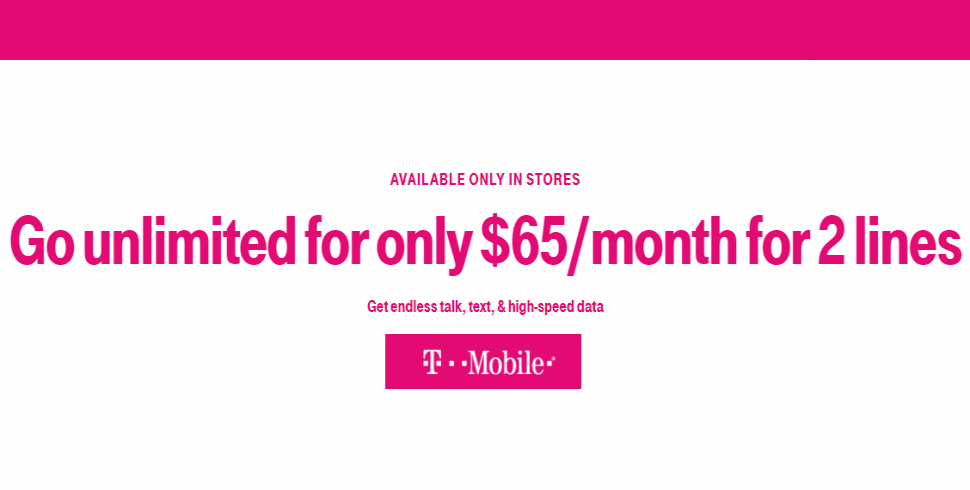 ---
T-Mobile Prepaid has quietly launched a hot new deal.  Customers who need 2 lines of service can now get a plan with unlimited talk, text and LTE data for $65/month.  The plan is not featured on the T-Mobile Prepaid website, but the carrier is sending out text messages to select customers notifying them of the offer.  It is unknown how many T-Mobile customers are receiving the notification, but as of this writing, I have not received one. (Update: I finally received the text message 12h after this article was originally published, so it seems the offer is being sent out slowly to customers.)
T-Mobile 2 For $65 Offer Fine Print
This offer is available in-store only.  This is a limited time offer, but there is no end date specified.
Be informed of the latest deals, plans and promotions from T-Mobile and every one of its MVNO's when you subscribe to the T-Mobile weekly newsletter. No spam and you can unsubscribe at any time!
Like all unlimited LTE data plans on the market, there is a data prioritization policy in place.  Customers who consume more than 50GB of LTE data in a month may temporarily experience slower data speeds during times of heavy network congestion.  Furthermore, video streams are limited to a resolution of 480p or a download speed of 1.5Mbps.  Customers can add an HD Streaming Day pass to their plan for $3/day.
Besides unlimited talk and text, the plan also includes mobile hotspot usage.  Mobile hotspot speeds are limited to 3G data speeds which should equate to about 600Kbps.
The plan also includes domestic roaming.  Subscribers get 200MB of data roaming data to use each month.  Taxes and fees are not included in the price, they cost extra.
This offer does come with some confusing fine print.  According to the fine print, customers will be required to keep a "sufficient balance" in their account if they'd like to renew the plan for the same price moving forward.  If the proper balance is kept, the plan will automatically renew.  T-Mobile says " Features available until 30th day; if sufficient balance, services automatically renew at expiration. If balance is insufficient to renew all lines on your account for 120 days, all lines will be suspended for 30 days. If you have an account balance, all lines will convert to Pay As You Go for 30 day increments with $3/mo. for 30 voice min./SMS messages per line. After your account balance is depleted, then account is suspended."  The wording of this fine print is a little bit unclear to me and may be interpreted that customers will be required to prepay for 4-month of service in advance to renew the plan after the first month.  A support specialist I spoke to over the phone said that is not the case and that customers must simply have a balance of at least $65 in their account to renew or have auto-pay billing enabled.  I plan to double-check this with an in-store representative later.
Update: I went into a local T-Mobile store, and the representative confirmed to me that this is just a standard 30-day prepaid plan.  Subscribers do not need to keep and prepay for several months of service in advance.  The fine print simply means that if a customer fails to renew their plan within 120 days after expiration, their account will either be suspended or they'll be put on a Pay As You Go plan depending on if they have a balance in their account or not.
Editor's Take
This is certainly a hot offer and one of the best carrier deals I can ever remember seeing.  The only better carrier deals I can recall include Sprint's unlimited kickstart plan, and Sprint's 1 year of free service deals.
As great as this offer might be for some, it is still may not be the best deal in wireless right now.  Altice Mobile is offering Altice Optimum and Suddenlink customers unlimited talk, text, and data for just $20 per line. Customers who don't have Optimum or Suddenlink can get the plan for $30 per line.  However, Altice Mobile's footprint is much smaller than T-Mobile's, so that will make T-Mobile the deal of choice for many by default.
---
---