T-Mobile Business Plan Reseller Teltik Offering 3 Months Of Unlimited LTE Data For $30/Month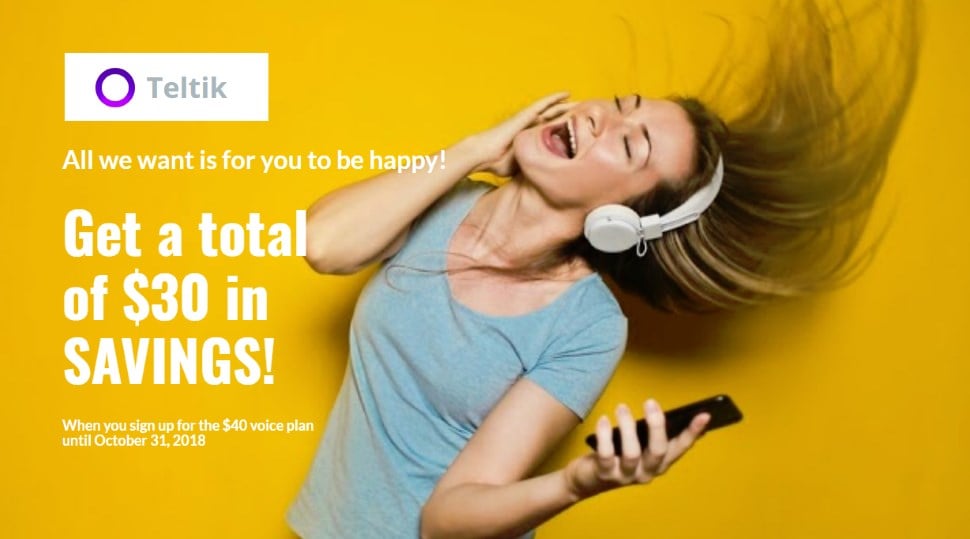 Teltik is offering its $40/month unlimited LTE data plan for $30/month to new customers for their first 3 months of service.  This is the same deal that Teltik offered for Labor Day.  The plan also comes with unlimited talk, text and mobile hotspot.  Mobile hotspot data speeds are limited to 3G or about 600Kbps.
The Fine Print
Teltik wireless service is only available to businesses, those that are sole proprietors or self employed. The company will verify your business by requesting your Tax ID or EIN at signup
This limited time offer is set to expire on October 31, 2018.  It is for new lines of activation only.  Those that are currently with T-Mobile cannot port directly to this plan.  They would have to port out to somewhere else first.  T-Mobile MVNO customers however can port to this plan.
To get the discount a promo code is required.  The promo code is UNLITALK.
Be informed of the latest deals, plans and promotions from T-Mobile and every one of its MVNO's when you subscribe to the T-Mobile weekly newsletter. No spam and you can unsubscribe at any time!
Besides including the features already described, Teltik's $40 unlimited plan also has WiFi calling and texting.  Video streaming is limited to a maximum resolution of 480p.  International calling is available for an additional $15/month.   International calling includes unlimited mobile to mobile to over 30 countries and unlimited mobile to landline to over 70 countries.  Name ID (caller ID) is available for an additional $5/month.  Taxes and fees cost extra.
New subscribers may also have to purchase a SIM card.  SIM cards are priced at $10.  If you already have an unopened and unused SIM card from T-Mobile you can simply use that instead.
More About Teltik
Teltik was founded in 2016.  The company operates on the T-Mobile network and is a T-Mobile business plan reseller.  A business plan reseller differs from an MVNO in that the reseller offers the same plans that are sold by major carriers.  An MVNO purchases airtime and data from major carriers to custom builds its own phone plans to sell to consumers.
---
---