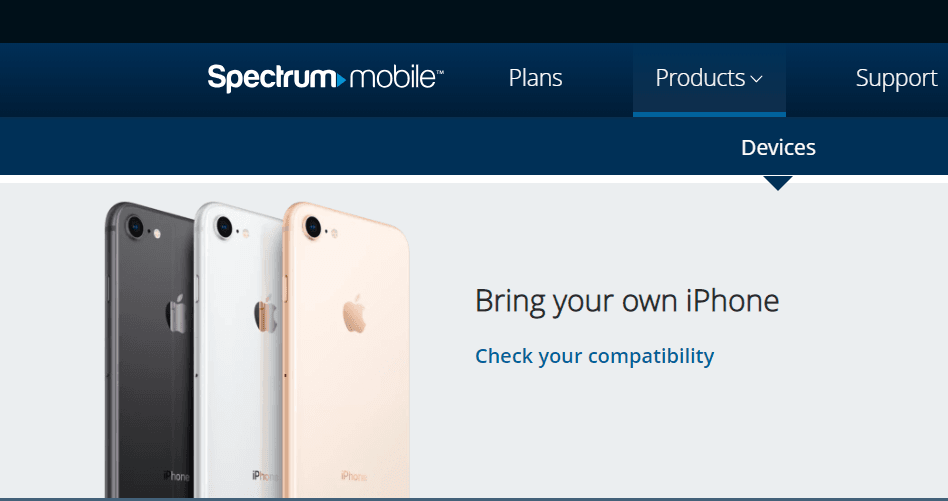 ---
---
A long awaited feature has begun to arrive at Spectrum Mobile.  The cable giant has launched support for bring your own device to its Verizon powered MVNO service.  For now, support is limited to select iPhone models only.  Android owners will have to wait until a later time if they own a device that they'd like to switch over.
Supported iPhone Models
Spectrum Mobile will allow you to bring your own iPhone as long as it is one of the following models; iPhone SE, iPhone 6S or 6S Plus, iPhone 7 or 7 Plus, iPhone 8 or 8 Plus, or the iPhone X.  Which model you can bring over depends on whether or not you bought it SIM free and unlocked or from another carrier.  Here's which iPhone models you can port over based on the carrier that sold it.
iPhone SE - Verizon model supported.  AT&T and T-Mobile models also supported but they must first be unlocked.  Sprint model is not supported.
iPhone 6S and 6S Plus - All carrier models are supported, but if it is an AT&T, T-Mobile or Sprint model you may have to have it unlocked before porting over.
iPhone 7 and 7 Plus - Verizon and Sprint models are compatible.  The Sprint model must be unlocked before transferring it to Spectrum Mobile.  AT&T and T-Mobile sold iPhones are not compatible with the network.
iPhone 8 and 8 Plus - All carrier models are supported, but if it's from AT&T, Sprint or T-Mobile it may need to be unlocked first before it can be used on the network.
iPhone X - All carrier models are supported, but if it's from AT&T, Sprint or T-Mobile it may need to be unlocked first before it can be used on the network.
The newest iPhone models, the Xs, Xs Max and Xr are not listed as being supported on the website.  A representative from Spectrum Mobile confirmed to me that they are not yet eligible for the bring your own device program.  The devices may be supported soon though.  The representative said the bring your own device program is very new right now.  It only launched in testing a few weeks ago in select markets.  However, it now appears to be available in all markets as it is now shown at the bottom of the Spectrum Mobile website when you choose to shop for a device.  (Update: It seems Spectrum Mobile made the BYOD program available on their website to everyone earlier than intended.  It has since been pulled from the website, but it is still available and in testing in select markets. Sources tell BestMVNO that BYOD is only available in stores and not online or over the phone.  A Spectrum Mobile forum admin has also publicly confirmed this. )  They also have a BYOD web page setup. (The BYOD page has been pulled since the article was originally published).
More About Spectrum Mobile
Spectrum Mobile launched in the summer of 2018.  Wireless service is provided using the Verizon network.
Two wireless phone plans are offered, a By-The-Gig plan and an unlimited plan.  The By-The-Gig plan bills subscribers $14 for every GB of data that they consume.  The unlimited plan comes with 20GB of high-speed data for $45/month.  After the high-speed data allotment gets consumed, data speeds may slow down.  The unlimited plan also comes with 5GB of mobile hotspot data at LTE data speeds before slowing down to a maximum speed of 600Kbps.  Both plans include unlimited talk and text and require you to be a Spectrum Internet subscriber in order to be able to sign up for them.  Taxes and fees are not included in the price and cost extra.
---
---
---
---